Harvard Medical School Bolsters Code on Conflicts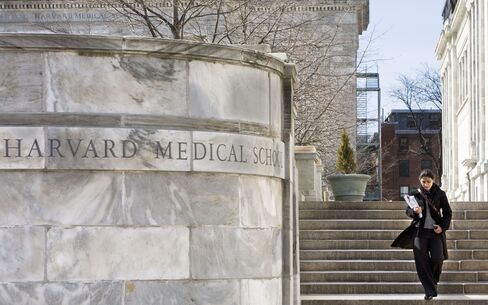 Harvard Medical School tightened its policy on conflicts of interest, banning faculty members from receiving corporate gifts and meals, and restricting them from speaking on behalf of companies.
The policy is "one of the most stringent of any medical college in the country," the medical school, in Boston, said today in an e-mailed statement. Dean Jeffrey Flier approved the revisions, which were produced by a faculty review committee and will be introduced in January, Harvard said.
Harvard, Columbia University in New York and Johns Hopkins University's School of Medicine in Baltimore have stepped up oversight of interactions with companies after reports of doctors who hold financial ties to enterprises whose products they were evaluating. Stiffening the guidelines was an important measure toward expanding the medical school's collaboration with industry, Flier said.
"My hope is that by getting this policy behind us and correcting several things that needed correcting, we could put our attention on how to develop our discoveries for public benefit that involve interfacing with industry," Flier said in a telephone interview.
The medical school has been increasing its focus on working with companies and finding commercial applications for its research, Flier said. Harvard hired Chief Technology Development Officer Isaac Kohlberg away from New York University in 2005 and brought William Chin from Indianapolis-based Eli Lilly & Co. to become the medical school's executive dean for research in February. Harvard had a reputation for being difficult for industry to interact with, Flier said.
'Aggressive Strategy'
"At some point in the past that was probably true and it certainly is not true now," he said. "One of the things I'm trying to do is develop a very aggressive strategy for industry-academic interactions that would meet our needs and industry needs within the guidelines that we've put together."
Harvard University also adopted a campus-wide policy on conflict of interest, the Cambridge, Massachusetts-based institution said on its website. The rules were cleared by Harvard's board.
It's the first time such guidance has been created to cover faculty members across the campus, the university said. The policy is intended to serve as a framework for schools to craft their own sets of conflict-of-interest rules, Harvard said.
'Financial Conflicts'
"We're living in a period of history when the news media, the general public, and members of Congress and government agencies are very concerned that potential financial conflicts might interfere with the kind of objective exploration and reporting of science that is at the very heart of the academic enterprise," said Harvard Provost Steven Hyman in the statement on its website.
The medical school was stung in 2008 when Senator Charles Grassley said Harvard psychiatrist Joseph Biederman failed to disclose certain payments from drug companies while he conducted research recommending their medications for treating children with mental disorders. Grassley, an Iowa Republican, questioned the value of Biederman's research on medicines.
Flier declined to discuss Biederman's case.
Updated Guidelines
The guidelines update recommendations that Harvard Medical School first approved in 1990, according to the statement. Under the revised policy, all relevant financial interests of the school's faculty will be disclosed on a website. In addition to the prohibition on participation in speaker's bureaus, faculty will be barred from speaking engagements that limit intellectual independence.
The medical school said it will continue to educate students, doctors-in-training and faculty members about the importance and potential pitfalls of such conflicts, and restrict drug and device sales officials from accessing the campus. Industry advertising programs and exhibits will also be separated from Harvard educational events, the school said.
The school also restricted the financial benefits scientists may get from companies for which they're doing research. For example, faculty members had been barred from performing human trials for companies from which they get more than $20,000 in annual income; that limit was lowered to $10,000 under the new guidelines.
Harvard Medical School has more than 7,500 full-time faculty working at its campus and in 17 affiliated hospitals and research institutes, the school said.
Before it's here, it's on the Bloomberg Terminal.
LEARN MORE