Australian Leaders Debate Rescheduled to Avoid MasterChef Clash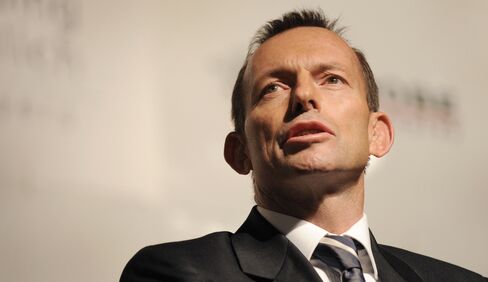 Australian Prime Minister Julia Gillard's only campaign debate with Liberal-National opposition leader Tony Abbott has been rescheduled to avoid clashing with the final of the popular cooking show MasterChef.
The debate was moved to 6:30 p.m. on July 25, the National Press Club said in an e-mailed statement. The one-hour debate was originally to start an hour later, the same time as Ten Network's broadcast of the knock-out cooking competition. Last year's final set a ratings record when almost one in five Australians tuned in to watch.
"It says something about the stuff of real life," Gillard told Sydney radio 2UE today when asked about the changed time. "People care about who the prime minister and who the government is, but people are also pretty keen about what's on the dinner table."
Twenty-four contestants were chosen in April from 8,000 applicants for the second season of MasterChef, an adaptation of the BBC reality show. They have faced 14 weeks of cooking challenges, broadcast on Ten Network Holdings Ltd. six nights a week. About 4.1 million viewers watched last year's finale.
The ruling Labor party leads the opposition Liberal-National coalition by 10 percentage points with 55 percent of voters preferring Gillard, up from a 53 to 47 percent split three weeks ago after she ousted Kevin Rudd, a Newspoll published in the Australian newspaper on July 19 showed. The margin of error is plus or minus three percentage points.
Before it's here, it's on the Bloomberg Terminal.
LEARN MORE