Credit Suisse May Report Drop in Earnings on Debt Trading Slump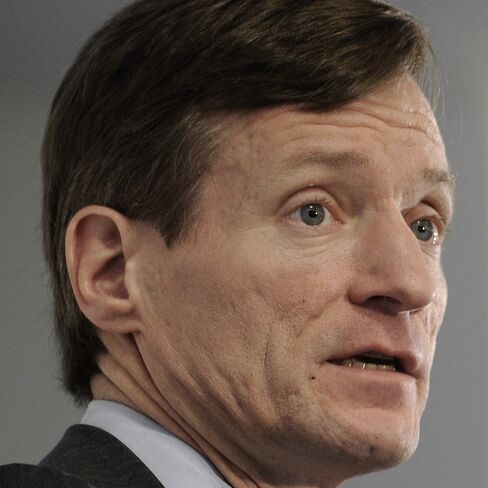 Credit Suisse Group AG, Switzerland's second-largest bank, may report lower second-quarter earnings tomorrow, after Europe's sovereign-debt crisis made clients more reluctant to trade.
Credit Suisse will say net income fell 22 percent from a year earlier to 1.23 billion Swiss francs ($1.17 billion), according to the median estimate of 14 analysts surveyed by Bloomberg News. The Zurich-based bank's earnings probably dropped 40 percent from the first quarter.
Chief Executive Officer Brady Dougan is building up the bank's debt trading unit to gain market share in a business that propelled earnings at investment-banking rivals in the first three months of the year. In the second quarter, swings in bond and stock markets and doubts about the strength of the U.S. economic recovery led clients to curb risk-taking, weighing on earnings at Goldman Sachs Group Inc. and Citigroup Inc.
"The second quarter has been relatively weak for investment banks and particularly for fixed-income trading," said Florian Esterer, who helps manage about $48 billion at Swisscanto Asset Management in Zurich. "The question for Credit Suisse is how sustainable its investment bank proves to be."
Credit Suisse declined 16 percent in Swiss trading this year through yesterday, compared with a 6.7 percent drop in UBS AG, the largest Swiss bank. The 54-company Bloomberg Europe Banks and Financial Services Index shed 7.9 percent in the period.
Falling Revenue
New York-based Goldman, Citigroup and JPMorgan Chase & Co., as well as Bank of America Corp. of Charlotte, North Carolina, on average reported a 41 percent drop in trading revenue in the second quarter from the first. The total revenue decline at their investment banks averaged 31 percent.
The analysts surveyed forecast a 23 percent slump in investment-banking revenue at Credit Suisse from the first quarter, and a 21 percent drop for Zurich-based UBS.
Credit Suisse and UBS reported the lowest trading revenues among their biggest competitors in the first quarter after cutting risk-taking. While UBS is still rebuilding its securities unit after amassing $57.4 billion in writedowns and losses in the credit crisis, Credit Suisse's second-quarter results will be "particularly important," Matt Spick, an analyst at Deutsche Bank AG in London, said in a note.
"If Credit Suisse doesn't demonstrate lower earnings volatility, we expect the market to be disappointed," Spick said. He has a "buy" rating on Credit Suisse and "hold" on UBS.
UBS Client Redemptions
UBS may report net income of 1.12 billion francs when it publishes earnings on July 27, compared with a loss of 1.4 billion francs a year earlier, according to analysts. Earnings may decline 49 percent from the first quarter, the survey found.
Europe's debt crisis may make it more difficult for UBS to reverse withdrawals by wealthy clients this year, Juerg Zeltner, who heads wealth management at the bank, said in an interview this month. He declined to comment on second-quarter developments.
Net redemptions from UBS's wealth management units may have slowed to 12.1 billion francs from 15.4 billion francs in the first quarter, according to the survey of analysts. Credit Suisse may have added 13 billion francs in net new funds at its private bank in the same period, according to analysts.
While UBS has attracted funds from rich customers over the past couple of quarters, that hasn't offset money leaving UBS as a result of pressure on Swiss banking secrecy and departing client advisers, Zeltner said. He added that the bank is "relieved" the U.S. cross-border case, in which UBS was accused of helping clients evade taxes, is drawing to a close.
The Swiss parliament last month approved the agreement with the U.S. to disclose information on as many as 4,450 accounts of UBS's American clients suspected of evading taxes. The Swiss tax authorities have until Aug. 24 to issue decisions on all accounts.
The 18-month deferred prosecution agreement that UBS signed to avoid criminal charges in the U.S. also runs out in August, after which the U.S. government may seek dismissal of the case against the bank.
Before it's here, it's on the Bloomberg Terminal.
LEARN MORE