VW CEO Targets U.S. With Jetta Hybrid, Electric Cars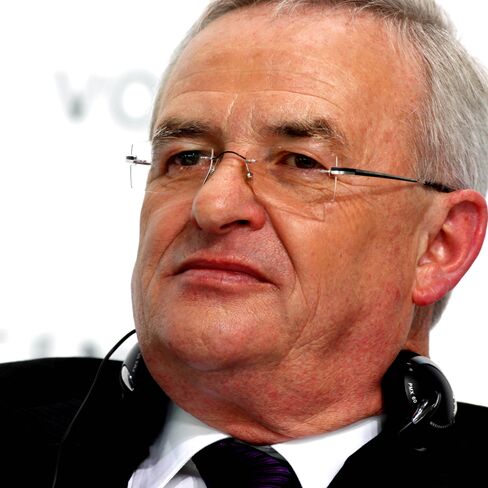 Volkswagen AG unveiled plans for a range of hybrid and electric vehicles that Chief Executive Officer Martin Winterkorn said will account for 3 percent of the German carmaker's global sales by 2018.
VW will introduce either the Up! city-car or the Golf compact, its best-selling model, as an all-electric vehicle in the U.S. by 2013, Winterkorn said. The automaker also plans to sell a gas-electric hybrid version of the Touareg sport-utility vehicle later this year, followed by a Jetta hybrid in 2011.
Europe's largest carmaker joins Toyota Motor Corp., Honda Motor Co. and Nissan Motor Co. in planning plug-ins and battery-powered cars as governments tighten rules to cut emissions. In California, the most populous U.S. state, the largest carmakers by volume must sell about 60,000 plug-in hybrids and electric cars combined from model years 2012 through 2014, according to the state's Air Resources Board.
"VW is trying to prove that being a latecomer isn't necessarily a bad thing," said Christian Aust, an analyst at UniCredit in Munich who rates the stock "buy." "They've rarely been the first mover, but have often entered the market with mature products. They've got a strong development department and their comfortable market position in Europe."
Honda Motor Co., whose fleet of vehicles is rated the most fuel-efficient in the U.S., announced plans today to introduce an all-electric car and a plug-in hybrid in 2012 as rival carmakers threaten its leading position.
Chevrolet Volt
General Motors Co. is planning to build 10,000 units of its new Chevrolet Volt electric car next year, and Nissan Motor Co. will begin selling its all-electric Leaf compact. Tesla Motors Inc. sells the $109,000 Roadster, an electric sports car powered by 1,000 pounds of lithium-ion battery cells.
VW spends more than 5 billion euros ($6.5 billion) a year on vehicle research and development. Winterkorn, who will test drive a revamped Jetta compact sedan near San Francisco today, reiterated his goal of surpassing Toyota, the world's largest auto manufacturer, in profitability and deliveries by 2018.
"Our goal is clear and ambitious," Winterkorn said yesterday at VW's research laboratory in Palo Alto, California. "Volkswagen will be the automaker to mass produce the electric car for everyone."
Volkswagen's preferred shares rose as much as 85 cents, or 1.1 percent, to 75.48 euros and traded at 74.29 euros as of 12:27 p.m. in Frankfurt, valuing the carmaker at 33.7 billion euros.
'Important' Market
VW will test an electric version of the Lavida model in China as preparation for a broader launch, as well as the second generation of the Golf TwinDrive, a plug-in hybrid that can run about 50 kilometers on electric drive, in Berlin later this year, the carmaker said.
The U.S. will be an "important" market for electric vehicle for Wolfsburg, Germany-based VW, which will make research on electric cars a "top priority," Winterkorn said.
VW aims to almost to triple its share in the U.S., the world's second-biggest auto market, to 6 percent by 2018 and boost deliveries to 1 million cars, including 200,000 Audi luxury vehicles.
In the first six months, VW's U.S. deliveries climbed 30 percent to 126,000. Jetta sales increased 19 percent to 55,258 cars, accounting for 44 percent of the total. Other models that posted gains included the Tiguan, Passat CC and Rabbit.
Winterkorn, 63, is banking on localization of models and giving up VW carmaker's premium-pricing strategy in the U.S. to compete with small-car leaders Toyota and Honda.
Unexpected Change
VW unexpectedly named Mark Barnes and Michael Lohscheller on June 24 to run the U.S. operations on an interim basis, saying the company was holding contract talks with U.S. chief Stefan Jacoby, a VW veteran of 25 years. The negotiations focused on Jacoby's obligations to VW before he takes over as CEO at Volvo Cars, people familiar with the matter said June 25.
Winterkorn plans to appoint a chief for the unit soon, he said yesterday, without elaborating.
Jacoby's exit coincides with the final phase of introducing a new Jetta compact, VW's best-selling American model, and as VW prepares to open a factory in Tennessee and present the first car built exclusively for the U.S. market.
Volkswagen is targeting a second consecutive year of record deliveries as it adds about 70 models, including upgrades in 2010. VW, which increased first-half deliveries 15 percent to more than 3.5 million units, sold 6.29 million cars and sport-utility vehicles in 2009.
"Our efforts to become the world's No. 1 also involve the U.S. as we have chances to achieve considerable growth here," Winterkorn said. "It's our goal to make Volkswagen the leading volume brand here too."