Bachmann, an 'Internet Rock Star,' Outraises Pelosi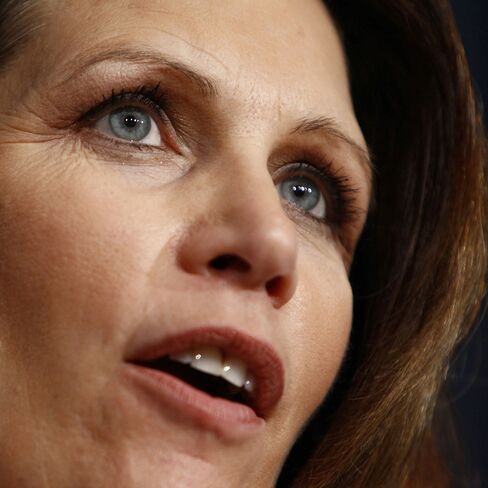 One of the U.S. House's most prolific fundraisers this year is not rated an endangered incumbent and holds no congressional leadership position.
Representative Michele Bachmann, a Minnesota Republican, raised $4.1 million for her campaign committee through June 30, an amount exceeded among House members only by the chamber's two top Republican leaders, John Boehner of Ohio and Eric Cantor of Virginia, Federal Election Commission records show. House Speaker Nancy Pelosi, a California Democrat, took in $2 million.
Bachmann, 54, raised $1.7 million between April 1 and June 30, more than any other House member during that period.
The figures illustrate how Bachmann's political profile has grown since she gained national attention when, weeks before the 2008 presidential elections, she questioned whether Democratic nominee Barack Obama held anti-American views. Now, when she speaks, her comments typically dart through the conservative blogosphere.
"She's one of the first Internet rock stars," said Adam Brandon, a spokesman for FreedomWorks, a Washington-based group headed by former House Majority Leader Dick Armey, a Texas Republican, that is allied with the Tea Party movement that promotes significantly limited government.
'Gangster Government'
Bachmann, a former Democrat who worked for Jimmy Carter's successful 1976 presidential campaign and then supported Republican Ronald Reagan in the 1980 election, has become a frequent speaker at Tea Party rallies. At one such gathering in Washington on April 15, she denounced "gangster government."
Endorsed for re-election by Tea Party activists, she last week announced plans to form a Tea Party Caucus in the House. On a talk radio program last month, she said there was "no question" Obama is the worst president in U.S. history.
With a perfect 100 percent rating for her House votes from the American Conservative Union, she opposed the taxpayer aid to financial institutions passed in 2008, the economic stimulus package approved in 2009 and this year's health-care overhaul legislation. She initially called for boycotting the decennial U.S. Census.
Opponents of Bachmann's views, including unions, have helped pump more than $2 million into the campaign of her Democratic challenger in this November's election, state Senator Tarryl Clark. The Democratic Congressional Campaign Committee has targeted Bachmann for defeat and is raising money for Clark.
'Lightning Rod'
Bachmann "is a national lightning rod, who can raise conservative money for herself and liberal money for her opponent," said John Fortier, a fellow at the American Enterprise Institute, a Washington-based research group.
A lawyer and former state senator, Bachmann was first elected to the House in 2006. She sits on the House Financial Services Committee.
Bachmann has received donations from political action committees set up by companies including Bank of America Corp., General Electric Co. and Honeywell International Inc. "Honeywell's political action committee supports those who support the policies that are most important to our company," said Rob Ferris, a spokesman for the Morris Township, New Jersey-based company.
Small Donors
Most of Bachmann's money has come in through small-dollar donations. She raised more than $1 million in the last three months in contributions of less than $200 apiece.
Her supporters are "speaking with their pocketbooks in support of Congresswoman Bachmann's message to restrain out-of-control government spending and say, 'Enough is enough,'" said her campaign manager, Gina Countryman.
Another outspoken Republican, Representative Joe Wilson of South Carolina, also raised $4.1 million for his re-election through June 30. Wilson shouted "you lie" at Obama during the president's speech to a joint session of Congress in September. Democratic challenger Rob Miller raised $2.5 million.
Cantor, the Republican whip, led all House candidates by raising $4.7 million through June 30, FEC records show. Boehner, the Republican leader, raised $4.5 million. House Majority Leader Steny Hoyer, a Maryland Democrat, raised $3.3 million.
Congressional leaders typically use some of the donations they amass to help their party's candidates.
Bachmann spent $1.9 million through June 30, including $905,709 in the second quarter, according to the FEC records. More than half of her expenditures between April and June, almost $560,000, was spent on fundraising efforts.
Favored for Re-election
The nonpartisan Cook Political Report, which tracks congressional races, said Bachmann is favored for re-election in the largely suburban district comprised of communities surrounding Minneapolis and St. Paul. Republican presidential nominee John McCain carried the district with 53 percent of the vote two years ago.
In mid-October of the 2008 campaign, Bachmann said of Obama that she was "very concerned that he may have anti-American views." She also suggested that the media investigate members of Congress to see if they were "pro-American or anti-American."
Following those comments, Bachmann's Democratic opponent in that year's election, Elwyn Tinklenberg, collected $1.3 million in a week; overall, he raised $3 million. Bachmann raised $3.5 million, including $1 million following her comments, and defeated Tinklenberg, 46 percent to 43 percent.
In this year's campaign, Clark, 48, raised $2.1 million through June 30. Clark reported more than 24,000 donors, with an average contribution of $54, said Carrie Lucking, her spokeswoman.
Union Backing
Her biggest contributions have come from organized labor, including maximum $10,000 donations from the PACs of the Service Employees International Union, the Communications Workers of America and the Teamsters union.
Bachmann's national profile has helped the challenger fill her campaign coffers, Lucking said. "She needs to be held accountable for her comments and positions," Lucking said.
Before it's here, it's on the Bloomberg Terminal.
LEARN MORE