Soros Says U.S. Shouldn't Cut Stimulus as Inflation Contained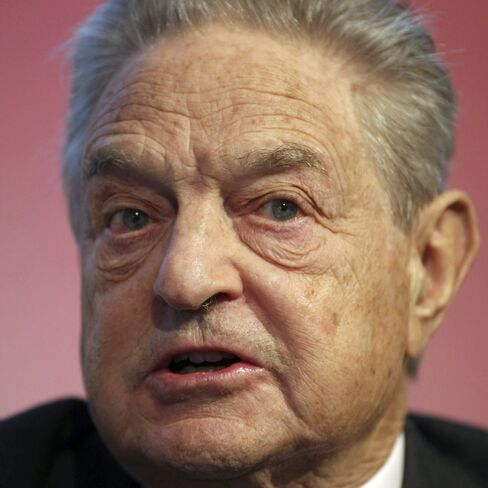 July 19 (Bloomberg) -- Billionaire investor George Soros said U.S. lawmakers should refrain from withdrawing stimulus measures because the economy hasn't strengthened enough.
"I think the timing is wrong with withdrawing the stimulus," Soros said at the Hamptons Institute in East Hampton, New York on July 16. "Cutting employment benefits, cutting aid to states that are losing tax revenue, these are counterproductive because you can only grow your way out" of the financial crisis, said Soros, who turns 80 next month.
Soros said that there are no signs of inflation in the U.S., where 10-year Treasury notes are now trading below 3 percent, the lowest level so far this year. Soros, who is the chairman of New York-based Soros Fund Management LLC, has made similar comments about Europe and the need for Germany to refrain from cutting back its own deficit spending. The result will send Europe into a deflationary cycle, he said.
President Barack Obama over the weekend called on Republicans to stop blocking legislation in the U.S. Senate extending unemployment benefits and to support measures making it easier for small businesses to expand. In his weekly address on radio and the Internet, Obama criticized Senate Republicans for preventing action on another extension of long-term unemployment benefits that millions of Americans rely on to pay their bills.
"Think about what these stalling tactics mean for the millions of Americans who've lost their jobs since the recession began," he said. "For many, it was the only way to make ends meet while searching for work."
'When Demand Comes'
Soros, who spoke on a panel with Elizabeth Warren, chairwoman of the Congressional Oversight Panel for the Troubled Asset Relief Program, and Michael Greenberger, professor at the Maryland School of Law, said the bond markets would tell the U.S. government when it is safe to cut spending.
"When the demand comes back, you will see it in interest rates beginning to move out," he said. "That's the time to cut back, not now."
In speaking about the European debt crisis, Soros said that Greek debt would eventually have to be restructured "in an orderly manner."
Banks in Europe are undercapitalized and the stress tests, the results of which will be published later this month, won't reflect how serious the situation is because the tests are based on old and inadequate capitalization rules, Soros said.
Budget Targets
In a recent article Soros wrote for the New York Review of Books, he criticized Germany for insisting on strict fiscal discipline for weaker countries as well as reducing its own fiscal deficit.
"Even if budgetary targets were met, it is difficult to see how the weaker countries could regain their competitiveness and start growing again because, in the absence of exchange rate depreciation, the adjustment process would require reductions in wages and prices, producing deflation," Soros wrote.
Soros gained fame in the 1990s when he reportedly made $1 billion correctly betting against the British pound. He also wagered that Germany's mark would appreciate after the collapse of the Berlin Wall in 1989 and that Japanese stocks would start to fall in the same year.
To contact the reporters on this story: Laura Marcinek in New York at lmarcinek3@bloomberg.net; Katherine Burton in New York at kburton@bloomberg.net
To contact the editors responsible for this story: Tom Contiliano at tconciliano@bloomberg.net; Christian Baumgaertel at cbaumgaertel@bloomberg.net