Goldman's Tourre Denies Wrongdoing, Knew of Paulson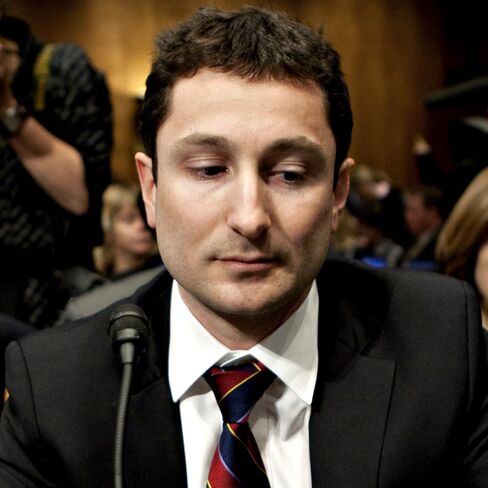 July 19 (Bloomberg) -- Fabrice Tourre, the Goldman Sachs Group Inc. executive director sued by the Securities and Exchange Commission for fraud, disputed regulators' allegations and asked dismissal of the case against him in a filing today.
Tourre in his filing in federal court in Manhattan denied wrongdoing and said he was aware that hedge fund Paulson & Co. "was considering taking some or all of the short side" of a transaction involving the 2007 sale of a collateralized debt obligation called Abacus 2007-AC1 that was linked to subprime mortgages.
Tourre responded four days after Goldman Sachs, the most profitable securities firm in Wall Street history, agreed to settle its role in the case for $550 million. The firm also will cooperate in the SEC's investigation of Tourre, 31, who remains an employee. Tourre is on leave and his legal expenses are being paid by New York-based Goldman Sachs.
"The purported claims against Mr. Tourre and the allegations upon which they are based are improperly vague, ambiguous and confusing, and omit critical facts," the filing said. "Mr. Tourre, a French citizen and engineer by training, reasonably relied on Goldman Sachs' institutional process to ensure adequate legal review and disclosure of material information, and cannot be held liable for any alleged failings of that process."
April Testimony
In April, Tourre testified alongside two Goldman Sachs colleagues and one former employee at a Senate subcommittee hearing about the company's business practices. Tourre, 31, told the panel he planned to fight the suit.
Lloyd C. Blankfein, Goldman Sachs's chairman and chief executive officer, also testified about the firm's mortgage-securities business in the years leading up to the biggest financial crisis since the Great Depression.
The dispute revolves around the 2007 sale of a collateralized debt obligation called Abacus 2007-AC1. Goldman Sachs created and sold the CDO, which was linked to subprime mortgages, without disclosing to investors ACA Management LLC and IKB Deutsche Industriebank AG that Paulson & Co. helped pick the underlying securities and bet against the vehicle, the SEC said.
Mistake
Goldman Sachs didn't admit or deny wrongdoing in the SEC accord, disclosed on July 15. The firm acknowledged it made a "mistake" and that marketing materials tied to the offering had "incomplete information," according to the agency.
In its complaint, the SEC alleged that Tourre misled ACA into thinking that Paulson planned to invest in the equity, or riskiest piece, of the deal instead of betting against it by buying credit protection.
In a March 7, 2007, e-mail released by the firm, Tourre described the U.S. subprime mortgage market as "not too brilliant" and that one of the firm's managers told him the "poor little subprime borrowers will not last too long!!!"
In another e-mail released by the firm, Tourre said an index tied to derivatives trading in the market was "like Frankenstein."
Senator Tom Coburn, a Republican from Oklahoma who serves on the Permanent Subcommittee on Investigations, repeatedly questioned Tourre and other Goldman Sachs executives on why the firm decided to release Tourre's e-mails, including some that seemed unrelated to the hearing.
"If I worked for Goldman Sachs, I'd be real worried that somebody has made a decision, 'he's going to be a whipping boy, he's the guy that's getting hung out to dry,'" Coburn told Blankfein during the hearing.
To contact the reporters on this story: Christine Harper in New York at charper@bloomberg.net;
To contact the editor responsible for this story: Alec McCabe at amccabe@bloomberg.net