Louis Oosthuizen Wins British Open for First Major Golf Title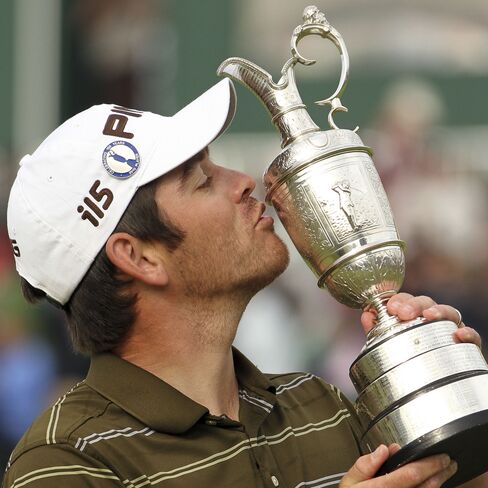 South Africa's Louis Oosthuizen won his first major golf title yesterday with a seven-stroke victory in the British Open at St. Andrews.
Oosthuizen, who plays on the European Tour, shot 71 on the Old Course in Scotland to finish with a four-round total of 16-under-par 272. The 27-year-old never relinquished the lead after taking it in the second round.
"I'm proud of the way I held my nerves and everything around the back nine," Oosthuizen, who earned 850,000 pounds ($1.3 million), told reporters.
England's Lee Westwood finish second at 9-under, one shot better than countryman Paul Casey, Rory McIlroy of Northern Ireland and Henrik Stenson of Sweden.
Casey who shot 3-over-par 75, was four shots behind when he triple-bogeyed the 12th hole and Oosthuizen birdied to push the lead to eight.
"Even if you take away the mistakes I made, the couple of sevens I've had this week, I don't think it was good enough to get near Louis," Casey said. "I'm disappointed, but the emphasis has to be on that performance, because that was fantastic."
Westwood, ranked No. 3 in the world, birdied the 18th hole to take sole possession of second place. It was his best finish at the Open following his tie for third last year.
'In Contention'
"I'm showing a lot of consistency, but it's not been enough (to win a major)," Westwood said. "I keep putting myself in contention, that's all I can do."
Tiger Woods, who won the British Open the last two times it was held at St. Andrews, in 2000 and 2005, shot even-par 72 to finish tied for 23rd at 3-under.
Woods switched back to his old putter on the final day after changing before the tournament because of the slower greens on the Old Course. He took 99 putts in the first three rounds to rank 71st of 77 players who made the halfway cut. He finished with 27 putts yesterday.
"I did not putt well at all," Woods told reporters. "You just can't play and expect to win golf tournaments if you have nine or 10 three-putts for a week. No one can win doing that."
Oosthuizen's win came on Nelson Mandela's 92nd birthday, which he said made it feel "special."
Oosthuizen brought a four-shot lead into the fourth round and quickly saw it increase to five as Casey bogeyed the second hole. The South African then saved par on the par-5 fifth after pulling his second shot well left of the double green.
Casey birdied the sixth hole, pumping his fist as he left the green, and Oosthuizen followed with a bogey at the par-3 eighth after pulling his tee shot left, reducing the lead to three.
Lead Doubles
Both players drove the 352-yard ninth hole and Oosthuizen rolled in a 50-foot putt for eagle. Casey settled for birdie and the lead was back to four.
Oosthuizen reached 17-under with his second birdie on the 12th hole and saw his lead double when Casey had to take a drop after putting his tee shot into a gorse bush.
Casey then wound up with a triple-bogey after putting his approach shot through the green, all but ending his chances of being the first Englishman to win the Open since Nick Faldo in
1992.
Oosthuizen strung together four straight pars before making bogey on the 17th hole. He then drove the 18th green and was greeted by applause as he made his way up the fairway.
After putting out for par, he hugged his caddie and kissed his wife Nel-Mare and baby daughter Jana, who had come onto the green to greet him.
"It's probably going to hit me tomorrow or the week after, what I did," Oosthuizen, who won his first European Tour event in March, told the British Broadcasting Corp. "I felt like I played really well the whole week."
Before it's here, it's on the Bloomberg Terminal.
LEARN MORE