Airbus, Boeing Double Orders on Leasing Demand as Show Opens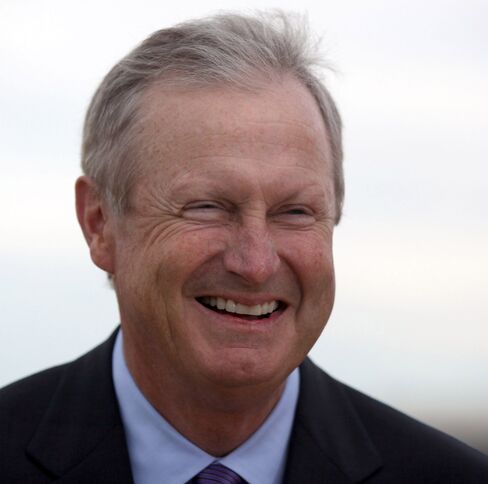 Airbus SAS and Boeing Co. announced 189 orders on the first day of the Farnborough Air Show, more than double the total from last year's event, as leasing companies returned to the market after the recession.
Airbus won contracts yesterday for 122 planes worth $11.6 billion at list prices, while Boeing logged 67 orders valued at $7.5 billion. They had 69 and 9 respectively at the 2009 Paris Air Show, which alternates annually with Farnborough, England.
Leasing companies led by General Electric Co.'s GECAS unit accounted for 151 of the contracts, eclipsing the business done by airlines. The biggest airline order was from Emirates, which agreed to buy 12 Boeing 777-300ERs with a list price of $3.3 billion.
"Much was written about the leasing companies' demise, but not only have they survived, their portfolios have performed remarkably well," Mike Cave, president of Boeing's finance unit, said in an interview. "You're also seeing private equity come in and start up new leasing companies, so the aggregate appetite to be in the leasing business is as large as ever."
GECAS ordered 40 Boeing 737-800s and 60 Airbus A320s in Farnborough with a value of about $8 billion, while Steven Udvar-Hazy's Air Lease Corp. bought 51 Airbus single-aisle jets worth about $4.4 billion. Hazy said more will follow today.
Air Lease, Boeing
Air Lease will buy about 50 additional planes from Boeing, according to two people, who spoke on condition of anonymity because the agreement hasn't been made public.
Royal Bank of Scotland Group Plc is also set to buy planes, two people familiar with the negotiations have said. RBS spokesman Nigel Meffen said he had no comment on order prospects for his company.
"The conditions for the aircraft placements are good because of the growth in emerging markets and fleet replacement needs in developed markets," said Norman Liu, president and chief executive officer of GECAS, the world's largest plane lessor. The GE unit has about 1,800 leased aircraft.
Boeing and Airbus's parent, European Aeronautic Defence & Space Co., both gained yesterday. Chicago-based Boeing jumped $1.28, or 2.1 percent, to $63.18 for the biggest advance among the 12 companies in the Standard and Poor's 500 Aerospace & Defense Index. EADS, based in Paris and Munich, rose 14 cents to 16.56 euros in Paris.
Biggest Customers
Leasing companies are usually planemakers' biggest customers. The purchases reflect airlines' demand for replacement planes as well as for fleet expansion.
In the market for smaller planes, Sukhoi Civil Aircraft Co., the maker of Russia's first post-Soviet passenger airplane, concluded a deal to sell 30 of its new SuperJets with a book value of $951 million to Indonesian carrier Kartika Airlines.
Qatar Airways Ltd. placed an order for two Global 5000 business jets from Bombardier Inc., the third-biggest planemaker after Boeing and Airbus, plus a single Challenger 605.
Empresa Brasileira de Aeronautica SA, the No. 4 aircraft maker, won a $211 million order for five 120-seat 195 regional jets from Azul Linhas Aereas Brasileiras, and one worth $80 million for two 100-seat 190s from Trip Linhas Aereas. Both carriers operate in Brazil, where Embraer is based.