Waiter-in-Chief Prepares Last Drink for Argentina's Ministers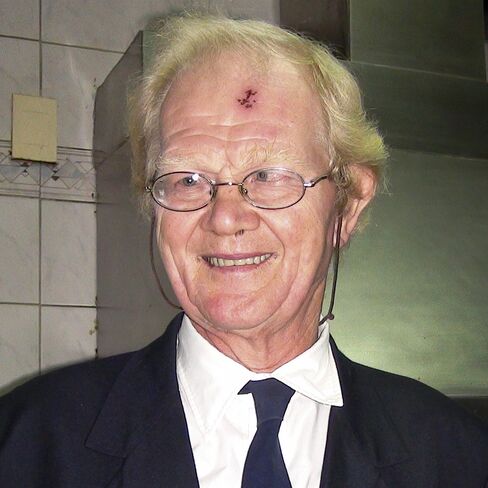 The man known as Miguelito has provided soda and coffee to 41 Argentine economy ministers since 1965. He waited on three-time President Juan Peron and Domingo Cavallo, who as minister oversaw a 2001 default on $95 billion in bonds, the biggest ever.
The 64-year-old Miguel Wolbann is weighing retirement just as his country tries to put its latest debt crisis behind it.
"I've met so many economy ministers, it's hard to remember them all," the blue-suited Miguelito said in a June 4 interview. His long tenure at the ministry's fifth-floor kitchen results from being "discreet," he said.
Economy ministers tend to have much shorter careers in Argentina. The country's history of financial turmoil and suspicions of manipulation of official statistics are signs of institutional weakness that concern investors, said Sebastian Briozzo, an analyst at Standard & Poor's in Buenos Aires.
"This is a problem in Argentina going back for several governments -- they change policies along with the ministers," said Pablo Cisilino, an Argentine who helps manage $14 billion in emerging market debt at Stone Harbor Investment Partners in New York. "In countries such as Mexico, Brazil and Chile they change governments and ministers but there are certain economic policies that are respected and maintained and that's why the risk perception is different."
45 Years
Miguelito says one of his most memorable experiences came amid a 1976 military coup, when soldiers blocked him from entering the ministry. The junta began a seven-year fight against guerillas that killed as many as 30,000 and undertook a failed invasion of the U.K.-controlled Falkland Islands.
In 1985, two years after the return of democracy, President Raul Alfonsin created a new currency, the austral, in a bid to contain accelerating inflation.
Four years later Miguelito told Economy Minister Jesus Rodriguez how price increases heading toward 5,000 percent were eating into the currency's purchasing power. He recalled the day Rodriguez gave him 50 australes to buy coffee. When Rodriguez gave him the same amount a few days later, he explained that it wasn't enough.
"The minister stared at me and said 'What do you mean, are prices rising? What is the economy minister doing?'" Miguelito said.
Rodriguez, 55, remembers Miguelito as a "polite, attentive" employee.
"They were unhappy times, but the work had to be done," Rodriguez said about his two-month tenure in a July 7 telephone interview in Buenos Aires.
Alfonsin stepped down in July 1989, five months before his term was due to end, as inflation, recession and rising unemployment provoked looting across the country.
Brown Paper Bag
The austral survived until the early 1990s, when Cavallo replaced it with a peso that was worth the same as the U.S. dollar. The fixed rate lasted until early 2002, when a financial crisis led the government to abandon the peg, leaving the peso to lose about two-thirds of its value.
Since then, Miguelito has witnessed the coming and going of five ministers, including Felisa Miceli, who was sacked after about $60,000 was found in a brown paper bag in her office bathroom. Two who left were appointed by President Cristina Fernandez de Kirchner, 57, who took office in December 2007.
The first, Martin Lousteau, stepped down after four months, following nationwide protests against his plans to increase agricultural export taxes. His successor, Carlos Fernandez, resigned a year later, after the president's party lost its Congressional majority in mid-term elections.
Amado Boudou, 47, succeeded Fernandez at the ministry in 2009 and was asked to restructure $18.3 billion in defaulted bonds from the 2001 crisis.
Inflation Doubts
Any improvement in the country's B- credit rating, six levels below investment grade, depends on Argentina's ability to tap international markets after last month's restructuring of $12.9 billion of the eligible debt, Briozzo of Standard & Poor's said. Argentina's benchmark 7 percent dollar bonds due in 2015 yield 11.74 percent.
The extra yield, or spread, that investors demand to hold Argentine bonds over U.S. Treasuries is 733 basis points, or 7.33 percentage points. For Brazil and Mexico the spread is 223 and 173 basis points, respectively, according to JPMorgan indexes.
The debt swap results prompted Fitch Ratings to upgrade the country to a B rating on July 12. Moody's Investors Service is considering raising its B3 credit rating on Argentina, analyst Gabriel Torres said in a telephone interview from New York.
Doubts about the accuracy of official statistics since 2007, when Fernandez's husband and predecessor Nestor Kirchner changed personnel at the National Statistics Institute, known as Indec, may be an obstacle, he said.
'High Volatility'
"What remains to be resolved is Indec," Torres said. "We wonder whether the swap alone is sufficient reason to raise the rating."
The unpredictability of a country that has restored government control of state-owned companies, including the national airline and Buenos Aires water company, which were sold in the 1990s, also deters investors, Torres said.
"Historically, Argentina is a country with high volatility in its public policies," Torres said. "In neighboring countries such as Chile, Uruguay and Brazil you can clearly foresee where they are heading, but with Argentina it's much more difficult."
Pension Fund Takeover
In 2008, the government seized about $24 billion in private pensions, ending a system designed to replace the state-run retirement program 14 years earlier.
Miguelito, who started working at the ministry when he was 19, said he's concerned he won't be able to live off his pension.
"I'll need to keep working," he said. "I may sell goods from my house, both for economic reasons and because I would need to do something to entertain myself."
Miguelito doesn't display any such worries at work, Boudou said in a June 7 interview. "Miguelito is a character who is part of the ministry's history," said the current economy minister. "He's always in a good mood."