Pugs, Bulldogs More Likely to Die on U.S. Flights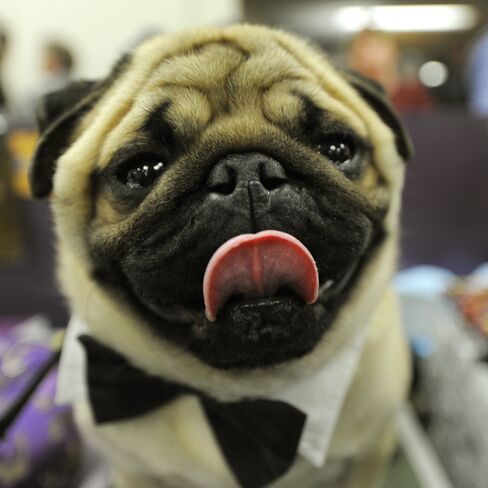 Bulldogs and pugs are more likely than other canines to die on airplanes, according to U.S. Transportation Department data.
In the past five years, 122 dogs have died on flights in the U.S., with about half of them short-faced breeds such as pugs and the American Staffordshire terrier, the agency said today in an e-mailed statement.
These types of dogs are more prone to breathing difficulties and overheating because they have been bred to have shorter snouts and flatter faces, said Kimberly May, a veterinarian and assistant director of professional and public affairs at the American Veterinary Medical Association.
"It is harder for these dogs to move air when they breathe," said May, whose group is based in Schaumburg, Illinois. It's similar to breathing through a straw, she said.
About 2 million pets are transported each year in the U.S. by plane, according to the Transportation Department, which collects monthly reports of deaths, injuries and losses of pets in air transport. In the past five years, 22 pets that weren't dogs died in air transport, according to the data.
"People, if they're concerned, should check with their veterinarian before flying," said Bill Mosley, a Transportation Department spokesman. Most of the dogs that died were being transported in cargo holds rather than in passenger compartments, he said today in a telephone interview.
'Breed-Related' Death
The one dog death reported to the Transportation Department in May, the most recent month for which data are available, was a 6-year-old pug named Pixie, who died during a Continental Airlines Inc. flight from Houston to San Jose, Costa Rica. According to the report, the death was likely "breed-related" and unrelated to Continental Airlines' handling of the dog.
May, of the veterinary association, said owners of these types of dogs should bring them in the passenger cabin in an approved carrier if they must fly with them.
Owners should have dogs examined by a veterinarian before flying, talk with airlines about how they handle traveling pets and use tranquilizers only if a vet "has determined it's absolutely necessary," May said.
Before it's here, it's on the Bloomberg Terminal.
LEARN MORE