Hayward to Get 'Life Back' as BP Shrinks After Blowout Cap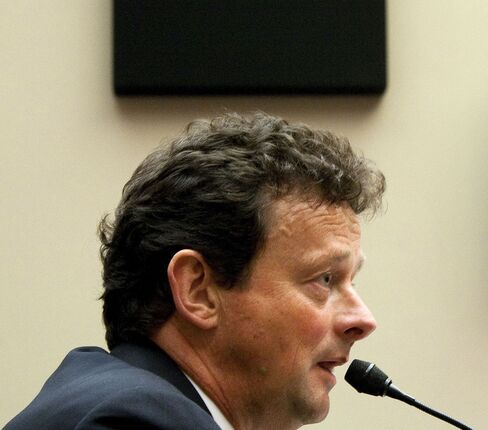 July 17 (Bloomberg) -- BP Plc Chief Executive Officer Tony Hayward, who drew fire for saying he wanted his life back at the peak of the U.S. oil spill crisis, may get his wish.
With its Gulf of Mexico well under control for the first time in three months, Europe's largest oil producer may look to change leadership as it starts rebuilding its reputation, management experts, industry analysts and investors said.
Hayward, 53, has been the focus of criticism for BP's handling of a disaster that wiped out 47 billion pounds ($73 billion) of market value and led the U.S. Congress to introduce legislation that would bar the company from new drilling leases.
"It's much easier to rebuild trust with the public with some new faces rather than the same ones that are being mocked," said David Henderson, a lecturer in corporate leadership at the London School of Economics. "So much of investor confidence is based on perceptions of credibility."
Any successor would lead a shrinking BP as the company sells oil and gas fields to raise cash for the $20 billion fund Hayward and Chairman Carl-Henric Svanberg promised President Barack Obama that will compensate shrimpers, restaurateurs and other Gulf Coast residents.
BP is near the sale of assets including a stake in Alaska's Prudhoe Bay field to Apache Corp. for as much as $11 billion, people familiar with the situation said July 15. Holdings in Argentina, Venezuela, Colombia and Vietnam may also be sold.
BP Spokeswoman Sheila Williams said Hayward remains chief executive and has no plans to step down.
Asset Sales
BP has been forced to sell assets because of rising costs from the damaged well that's spilled millions of barrels of oil into the Gulf since the April 20 rig explosion. BP has already spent more than $3.5 billion trying to stop the leak and clean up the crude. Liabilities could reach $60 billion, according to Oppenheimer & Co.
Hayward's early optimism that the leak could be contained waned after repeated failures to stop it, prompting the New York Daily News to dub him "the most hated man in America." On May 30, he said: "Nobody wants this over more than I do. I want my life back." The comment prompted criticism from families of the 11 people killed in the rig blast.
This month, after handing over responsibility for fighting the spill to Executive Director Robert Dudley, Hayward visited Russia, Azerbaijan, Abu Dhabi and Angola to persuade other nations where BP operates of the company's viability.
'Restore Credibility'
"Hayward has done a lot in the past weeks to restore his credibility, but it's still really damaged, particularly in the States," said Dougie Youngson, an analyst at Arbuthnot Securities Ltd. in London who has a "sell" recommendation on the stock. "Common sense says that once the well is capped, for good and permanently, it would probably be an opportunity to move on."
Billionaire investor Warren Buffett told Yahoo! News and the Huffington Post July 8 that Hayward will have to go as CEO because of the spill.
BP shares plunged as much as 55 percent since the explosion, then rallied since bottoming on June 25, as the company moved closer to capping the well and ending the gusher of crude. BP rose 5.4 pence to 407.15 in London trading yesterday.
Iain Conn, head of refining and marketing at BP and one of the main executives under Hayward, said June 29 the chief executive is backed by the board and is not about to resign.
Conn may be a candidate to replace Hayward if he decides to move aside, analysts said. Andy Inglis, the head of exploration and production, may be another, though the accident occurred within his unit. Dudley also has been identified by analysts as a possible successor.
Job Candidates
Outside candidates for the job may include Frank Chapman, chief executive officer of U.K. oil and gas producer BG Group Plc, or Charles "Chip" Goodyear, the former CEO of BHP Billiton Ltd., the Australian mining and oil company.
Hayward, who took the top job in 2007, pledged to apply a "laser like focus" on safety as he sought to lower BP's operating costs and bolster production. He took office from John Browne two years after a deadly explosion at the company's Texas City, Texas, refinery.
Ending the leak and plugging the well would allow BP to assess its liabilities and plan a turnaround. That's likely to take place without both Hayward and Svanberg, Colin McLean, who helps manage about $950 million at SVM Asset Management Ltd. in Edinburgh and has sold all his BP shares.
"It will be easier for them to step down when the well is killed," McLean said in an interview. "Hayward has been a very visible embodiment of the safety record and the problems, but the company needs to draw a line under the expansion of liabilities before he goes."
Rivaling Exxon
The company plans to raise money to pay those liabilities through asset sales, primarily oil and gas fields.
BP produced 3.95 million barrels of oil and gas in the first quarter, second only to Exxon Mobil Corp. among non-state companies. Selling half of its Prudhoe Bay stake and its 60 percent holding in Argentina's Pan American Energy LLC would lop more than 100,000 barrels from that total. A halt to drilling in the Gulf of Mexico will cut another 50,000 barrels of BP output next year, according to the company.
"They could just become an operator with a declining production profile," said McLean, of SVM. "There is a real risk that they can't grow."
BP reports second-quarter earnings on July 27. Production is likely to have dropped 4 percent from a year earlier because of field maintenance and less output from the Gulf of Mexico, according to broker Collins Stewart Plc in London, where BP also is based.
Safety Focus
Before the spill, Hayward said he wanted to increase production by between 1 percent and 2 percent a year. The biggest stream of new output comes in the U.S. Gulf, home to about 25 percent of the 40 projects planned by 2015.
"Clearly BP's original production targets are likely to change," said Ivor Pether, who helps manage $9.2 billion at Royal London Asset Management, including 70 million BP shares. "It depends on what assets they sell. They might have a lower production base, but with higher growth prospects."
To contact the reporter on this story: Brian Swint in London at bswint@bloomberg.net; Eduard Gismatullin in London at egismatullin@bloomberg.net.
To contact the editor responsible for this story: Will Kennedy at wkennedy3@bloomberg.net