Electronic Arts Sells 15% Stake in France's Ubisoft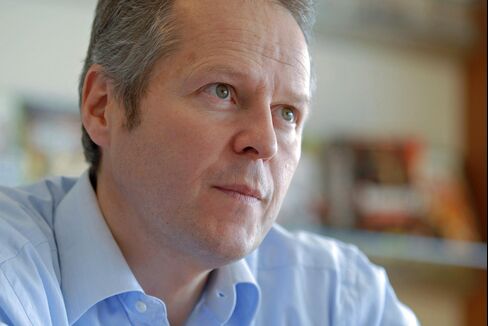 July 16 (Bloomberg) -- Electronic Arts Inc. sold its 15 percent in Ubisoft Entertainment SA, Europe's largest video-game producer, valuing the stake at about 94 million euros ($122 million), according to two people close to the deal.
UBS AG, the sole bookrunner, placed about 14 million Ubisoft shares at 6.75 euros, said the people, who asked not to be identified. UBS earlier offered the shares at a price range of 6.48 euros to market, according to sale terms obtained by Bloomberg News.
The stake "has been viewed as a portfolio holding, rather than a strategic holding," Electronic Arts said in an e-mailed statement. It didn't disclose details of the sale. Electronic Arts was Ubisoft's largest shareholder, according to Bloomberg data. It bought 19.9 percent in Ubisoft in 2005 for 68.9 million euros, in a bid that the French company considered hostile.
The latest stake sale "opens the door for somebody else to potentially look at Ubisoft," Conor O'Shea, an analyst at Kepler Capital Markets in Paris, said by phone. "The stumbling block would be what the founders have in mind."
Ubisoft was founded by the five Guillemot brothers, whose holding company Guillemot Brothers SA holds 7.2 percent of the company, according to Bloomberg data. Yves Guillemot is the current chief executive officer.
Ubisoft shares rose 1.7 percent to 7.09 euros at the close of Paris trading.
Activision Interest
Electronic Arts put up all its Ubisoft shares for sale, Ubisoft said in an e-mailed statement today, without giving further details. While Ubisoft's relationship with Electronic Arts has been positive, "we feel that this transaction is in Ubisoft's best interest," it said.
Electronic Arts, based in Redwood City, California, is the world's second-biggest video game publisher, after Vivendi SA unit Activision Blizzard.
Activision, which publishes "Call of Duty" and "Guitar Hero," might be interested in acquiring Ubisoft with its rival no longer a shareholder, Kepler's O'Shea said.
Ubisoft this week reported first-quarter sales that almost doubled to 160 million euros from a year earlier on sales of its "Splinter Cell" and "Assassin's Creed" video-game titles. The company also confirmed its full-year forecast for a return to profitable growth.
To contact the reporters responsible for this story: Sarah Jones at sjones35@bloomberg.net; Alexis Xydias at axydias@bloomberg.net.
To contact the editor responsible for this story: Vidya Root at vroot@bloomberg.net.