Burberry to Get Profit Boost From Chinese Acquisition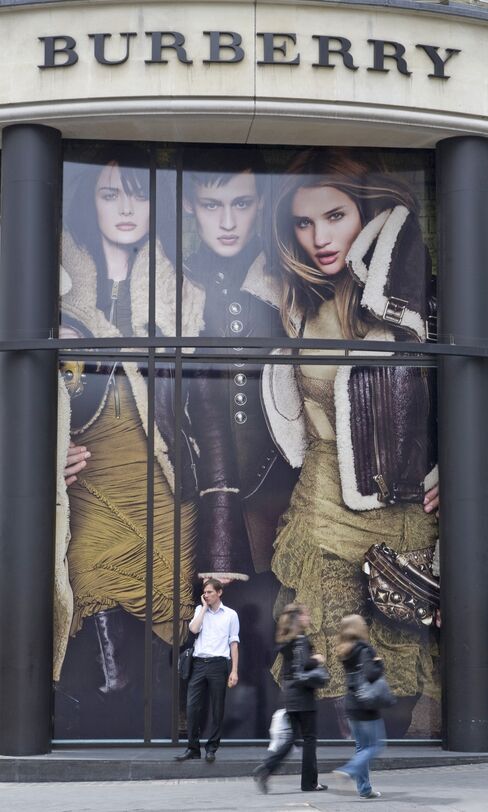 Burberry Group Plc, the U.K.'s largest luxury retailer, will take control of its franchised stores in China for 70 million pounds ($108 million) in a transaction that may boost earnings by almost 10 percent.
The acquisition of 50 stores and related assets from franchise partner Kwok Hang Holdings Ltd. will add as much as 20 million pounds to operating profit in the year through March 2012, the London-based company said today.
"Financially, the deal is excellent," Dennis Weber, an analyst at Evolution Securities in London, said in a note. Earnings per share may be enhanced by about 6 percent in fiscal 2012, said Weber, who has a "neutral" rating on the stock.
Luxury companies are seeking to tap growth potential in China, where the number of millionaires soared 31 percent last year, according to research by Capgemini SA and Merrill Lynch & Co. The country's luxury goods market will be worth $14.6 billion in five years, making it the world's largest, the Chinese Academy of Social Sciences said in May.
Burberry rose 9 pence, or 1.1 percent, to close at 799.5 pence as of 4:30 p.m. in London trading. The shares have gained about 33 percent this year, giving the company a market value of about 3.5 billion pounds.
'Very Attractive'
"This is a very attractive deal from a strategic and financial perspective, giving us control in a key growth luxury market," Chief Executive Officer Angela Ahrendts said on a conference call. "We can see clear opportunities to further increase sales and profits."
Retail sales in the Chinese stores, which were previously reported as wholesale revenue, totaled 75 million pounds in the year through December 2009, generating profit of about 14 million pounds for the local franchisees, Burberry said. Had Burberry owned the stores in the financial year ended March 2010, retail revenue would have represented 63 percent of total sales, up from 58 percent without them, Ahrendts said.
The value of the gross assets being acquired is about 30 million pounds, according to Burberry, which had group operating profit of 219.9 million pounds in fiscal 2010, excluding exceptional costs. The all-cash transaction is due to be completed later in 2010, the company said.
Under the new agreement, Burberry will take over the outlets' operational management, while existing franchisees will hold a 15 percent stake in their business, the company said. Burberry, which currently has 13 directly operated stores in Hong Kong, one in Macau and 19 in Taiwan, plans to open 10 more units in China this year, Ahrendts said.