Glaxo Sees $2.4 Billion Charge for Avandia, Paxil; Shares Gain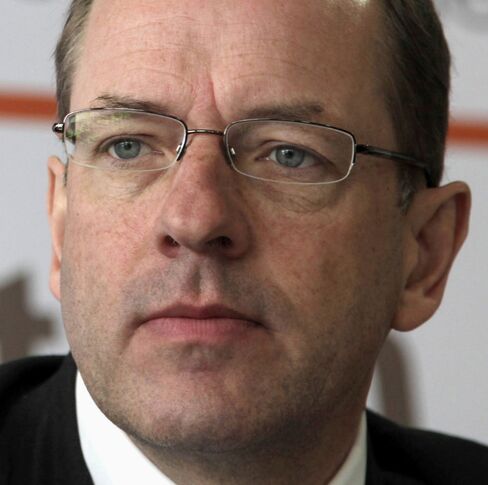 GlaxoSmithKline Plc, the U.K.'s largest drugmaker, expects to record a 1.57 billion-pound ($2.4 billion) charge in the second quarter to settle cases including claims that its Avandia diabetes treatment led to heart attacks.
The charge equates to an after-tax cost of 1.35 billion pounds, the London-based company said in a statement today. It covers settlements over a U.S. government probe into the company's former manufacturing site at Cidra, Puerto Rico; product-liability and antitrust cases relating to the Paxil antidepressant; and lawsuits regarding Avandia and other products, Glaxo said.
Glaxo said it has settled the majority of product liability cases linked to Paxil and Avandia. The sum set aside includes provisions for cases that have been concluded and estimates for those that are still under way, Glaxo said. The company is trying to "put the Avandia litigation issue behind them before earnings and get the story as clean as possible going forward," Mark Clark, an analyst at Deutsche Bank AG in London, said in a telephone interview.
"Most people are going to say this settles a substantial portion of their litigation and say it's a positive, and some will balk at the size of the charge," Clark said. "By any standard, $2.4 billion is a big charge for a quarter."
Shares Gain
Glaxo shares gained 1.8 percent to close at 1,203 pence in London trading. The stock has fallen 8.8 percent this year including reinvested dividends, giving the company a market value of 62.5 billion pounds. Glaxo reports second-quarter earnings on July 21. The 1.57 billion-pound charge is in addition to 2.3 billion pounds the company had previously set aside for legal costs.
"The substantial majority" of the product-liability cases related to Avandia have been settled, the company said today. Glaxo agreed to pay about $460 million to resolve a majority of lawsuits over Avandia, people familiar with the accords said in a July 13 Bloomberg News article.
A 2007 study led by Steven Nissen, head of cardiology at the Cleveland Clinic in Ohio, found that Avandia was linked to a 43 percent increased risk of heart attacks. The U.S. Food and Drug Administration began re-examining its 2007 decision to keep Avandia on the market after members of Congress voiced concerns and data emerged from almost a dozen new studies. A panel of advisers to yesterday recommended that the agency keep Avandia on the market with stronger warnings about the risks of heart ailments and with restrictions on which patients can be prescribed the medicine.
'Vast Majority'
Glaxo has also settled the "vast majority" of product- liability cases related to Paxil. Glaxo's 2009 annual report describes U.S. and Canadian cases "alleging failure to disclose data" on the drug's use by children under the age of 18.
Bloomberg News reported in December that the company had paid almost $1 billion to resolve lawsuits over Paxil since it introduced the antidepressant in 1993, including about $390 million for suicides or attempted suicides said to be linked to the drug, according to court records and people familiar with the cases.
The drugmaker also resolved a dispute over Paxil with generic-drug maker Apotex Inc. for "alleged violations of federal antitrust laws, as well as those involving advertising and state antitrust and consumer protection laws," the annual report said.
Plant Investigation
Glaxo agreed in principle with the U.S. attorney in Massachusetts and the U.S. Justice Department to pay 500 million pounds to settle the Cidra investigation, the company said today.
U.S. regulators in 2005 seized some lots of Paxil CR when it was discovered that pills made at the plant sometimes split inappropriately, Bloomberg reported in 2006. The final settlement related to tablets made at the plant, agreed in September 2009, is subject to the negotiation and execution of definitive agreements.
The terms of settlements are confidential, Glaxo said. Claire Brough, a spokeswoman for the company, declined to comment beyond today's statement.
Before it's here, it's on the Bloomberg Terminal.
LEARN MORE