Delta Fare Sale to Fill Jets in Autumn Beats Rivals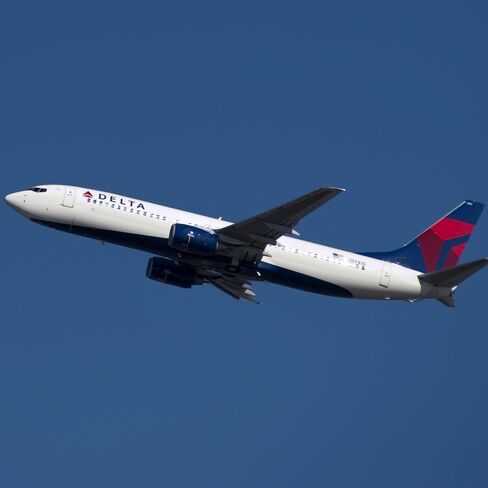 Delta Air Lines Inc. moved ahead of UAL Corp.'s United Airlines and other competitors by offering a fare sale to help fill its planes this fall, when demand traditionally slows.
The sale, effective today for travel through Nov. 17, is being offered earlier than last year, when Delta waited until the end of July to discount fares for November and December. It covers both domestic and international routes. Delta is the world's biggest airline.
"Delta has a lot of airplanes out there, a lot of seats to fill," Terry Trippler of Rulestoknow.com, a website explaining airline fare and airport travel rules. "They're making a wise move to say, 'We're going to fill the seats as soon as possible.'"
Under the sale, a one-way fare between Chicago and New York, purchased 21 days in advance, is $89. A ticket to fly from Los Angeles to Sydney is priced at $429. Delta declined to provide an average percentage discount in the fall promotion, said Trebor Banstetter, a spokesman for the Atlanta-based carrier.
Delta's fare sale amounts to about 10 percent to 20 percent discount on those routes, and is probably being used as an early tool to gauge demand after the peak summer leisure season ends, said Rick Seaney, chief executive officer of FareCompare.com, a ticket research firm in Dallas.
Early Look at Demand
"The sale ends at the end of the month, and that's going to give them some good data on what early bookings and demand look like for the fall," Seaney said in an interview. "Sales like this can be a powerful tool to help them manage pricing on the back end."
Having fewer seats available closer to the date of a flight gives airlines more power to raise prices for passengers who decide to fly at the last minute. Since many airlines are already flying planes at near-record full levels, Delta's fare sale isn't a desperation move, Seaney said.
"Airlines are on the right side of supply and demand right now," he said.
AMR Corp.'s American Airlines matched the sale on competing routes, said Tim Smith, a spokesman for the Fort Worth, Texas- based carrier. Continental Airlines Inc. also matched, said Christen David, a spokeswoman for the Houston-based company.
The lack of major international business routes on the sale indicates the airlines aren't seeing a slowing of corporate travelers, who generally pay higher fares, said Dan McKenzie, a Hudson Securities Inc. analyst in Chicago.
Tactical Move
The sale is a "more tactical and competitive move by Delta," he said. McKenzie recommends buying Delta.
U.S. airlines are expected to report their first quarterly profit as a group in two and a half years starting next week. Delta is scheduled to report results first, on July 19.
Southwest Airlines Co., the largest low-fare carrier, announced its own fall sale on June 22, also about two weeks ahead of last year. The carrier "was trying to get customers to book early and start thinking about fall travel a little earlier in the summer," said Ashley Dillon, a spokeswoman for Dallas- based Southwest.
Delta fell 20 cents, or 1.6 percent, to $12.01 at 4 p.m. in New York Stock Exchange composite trading.