Blue Cheese, Peanut Wontons Lure London Diners: Richard Vines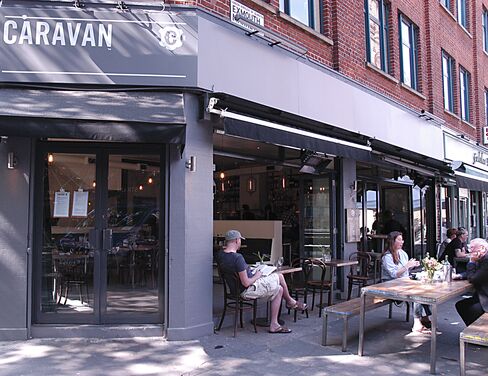 Blue cheese and peanut wontons? That's a dish I never knew I wanted until I tasted it.
This genre-busting snack -- Chinese historically view cheese as an unedifying lump of fat -- sets out the stall of Caravan. The establishment's name suggests a journey or a recreational vehicle and its menu reads more like a car crash of cuisines, with all the subtlety of a Dutch soccer tackle.
Yet this new bar-eatery in London's Clerkenwell is likeable. It's partly the friendly antipodean service and the informal ambience. What better than to sit outside on Exmouth Market in the sunshine and watch the world amble by while enjoying a bottle of Vinho Verde or an Espresso Martini?
It's also about the food, which mostly comes on small plates. The chef, New Zealander Miles Kirby, formerly headed the kitchen at the Providores and Tapa and knows his fusion fare. If there's a cheerful irreverence about mixing and matching cuisines, there's seriousness about flavor.
When I visited, there was a good butternut squash, ginger and coconut soup, balancing sweetness with a hint of spice. The goat's curd, tomato, lentils and a sumac cracker is light and fresh enough for summer, without being bland. If you're going for bigger flavors, there's salt-and-Sichuan squid with chili mayonnaise.
Shitake Jelly
My favorites include the duck-liver pate, served in a glass and topped with a layer of shitake jelly, with toast on the side. The meat is well seasoned and the jelly cuts through the richness. You may love or hate the wontons. I always order them, even though finer cases and lighter cooking would help.
Avocado, olive oil and chili flakes on grain toast (4 pounds or $6.14) is a generous serving and I wouldn't miss it.
The desserts are no less adventurous. Orange water blancmange, guava sorbet and pistachio is pleasingly light, or there's coconut rice, banana caramel and tamarind sorbet if you're looking for something a little stickier.
The presence of a Probat roaster in the basement means you're unlikely to find fresher coffee. There's a private dining table in the roastery. The wine list isn't greedy, with plenty of choice between 20 pounds and 30 pounds. Champagne starts at 40 pounds and most cocktails are 7.50 pounds.
The weekend brunch is particularly popular. The fry-up costs 8 pounds and it's easy to imagine passing a lazy day with crumpets in one hand and a bloody mary in the other.
If you want somewhere for a quiet bite, it's worth noting that most Caravan customers are youngish habitues of Clerkenwell, many of whom embrace noise and tobacco with equal enthusiasm. So you may have to choose between loud music indoors or trying to bag a seat outside, where you share a table with the smokers.
Even there, the combination of street noise and the racket from within means you may have trouble hearing yourself cough as you light up. Now, I'm going to rest my voice.
Caravan, 11-13 Exmouth Market, London, EC1R 4QD. Tel. +44-20-7833-8115 or click on http://www.caravanonexmouth.com.
The Bloomberg Questions
Cost? Wontons: 4 pounds; top-priced small plate: 8 pounds.
Sound level? Up to 80 decibels outside; vuvuzelatic inside.
Inside tip? Sit outside.
Special feature? Coffee roaster.
Will I be back? Yes.
Date place? Yes.
Rating? ***
What the Stars Mean
**** Incomparable food, service, ambience
***  First-class of its kind.
**   Good, reliable.
*    Fair.
0    (no stars) Poor.
(Richard Vines is the chief food critic for Muse, the arts and leisure section of Bloomberg News. Opinions expressed are his own.)