Bailouts Failed to Aid Small U.S. Banks, Warren Says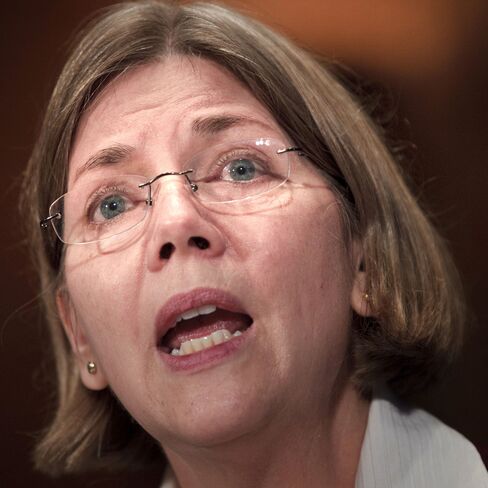 July 14 (Bloomberg) -- Elizabeth Warren, who leads the congressional panel overseeing the Troubled Asset Relief Program, said U.S. taxpayer bailouts helped Wall Street and not small banks.
TARP "worked really well for the Wall Street banks, but it didn't work well for the rest of the banks in the system," Warren said today on Bloomberg Television's "In the Loop with Betty Liu."
Warren said small banks are burdened by soured loans extended to commercial property developers during the real-estate boom. Her comments underscore concerns by policy makers including Federal Reserve Chairman Ben S. Bernanke that a lack of bank lending is impeding the economic recovery.
"The commercial real estate problem for small banks is huge," Warren said. "The overall economy obviously is a problem for them."
Last month, Bernanke and fellow Fed policy makers reiterated a pledge to keep the main interest rate close to zero for an "extended period" and said "tight credit" is restraining spending. Banks' loans to small businesses fell to $670 billion from $710 billion over the past two years, Bernanke said this week, citing government data.
"So long as small banks remain weak, their lending to customers -- especially to small businesses -- will remain constricted and will have a dampening effect on any economic recovery," Warren's Congressional Oversight Panel said in a report released today.
Repayment Obligations
Small banks that took money from TARP may struggle under the weight of their repayment obligations, the report said. As a result, the Treasury Department may be stuck with stakes in banks that can't raise replacement capital, the panel said.
Also, there's little evidence that TARP helped the small banks, the panel said. Unless the banking sector and the economy recovers, the Treasury may not have any options other than "wait and see" for managing its investment in these banks, the report said.
Banks that don't repay TARP capital by 2013 will have their dividend payment grow to 9 percent from the current 5 percent. About 10 percent of the participating smaller banks have repaid taxpayers, and another 15 percent are late on at least one dividend payment, according to the report.
Congress authorized TARP in October 2008 to prevent a collapse of the U.S. financial system. Large companies including Goldman Sachs Group Inc. and Bank of America Corp. that took funds have since repaid the government.
Consumer Protection Agency
Warren declined to comment on whether she's interested in heading a consumer protection agency that's part of the overhaul of financial-services regulations the Senate may approve this week. The proposed agency "is strong, it has a lot of teeth," Warren said.
The oversight panel recommended that the Treasury clarify its exit strategy and also develop a policy for how to handle banks that miss six or more dividend payments and trigger a provision that lets the government replace board members. The Treasury injected about $205 billion in capital into 707 banks, including 690 with assets of less than $100 billion, the report said.
Treasury spokesman Mark Paustenbach said TARP is "still providing relief" to participating small banks. He said there have been four failures of small banks that accepted capital injections, or 0.6 percent of banks that took TARP funds. Out of all U.S. banks, 2.9 percent have failed since the end of 2007, he said.
Treasury Secretary Timothy F. Geithner said last month that the capital injections for small banks were designed to help them weather the economic crisis. The Treasury will work with the banks to give them alternatives to slashing lending in a way that would harm the recovery, he told Warren's panel in a June 22 hearing.
The oversight panel has five members, three appointed by Democrats and two by Republicans. Four Republicans have left the panel since it was created in October 2008.
To contact the reporter on this story: Ian Katz in Washington at Ikatz2@bloomberg.net;
To contact the editor responsible for this story: Christopher Wellisz at cwellisz@bloomberg.net