Cage's Sorcerer Battles Charging Bull, Ferocious Dragon: Movies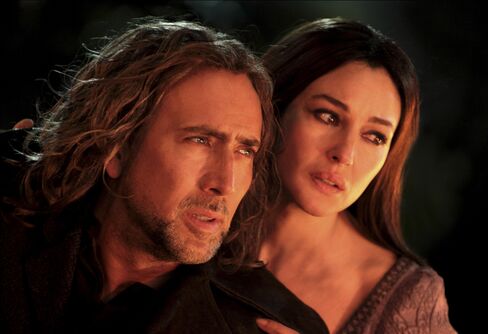 "The Sorcerer's Apprentice" is crammed with magic tricks: fire-shooting hands, a parade float turning into a ferocious dragon and a giant eagle carrying a man over the Manhattan skyline. This Disney movie is anything but magical, though.
Despite all the computer wizardry and pyrotechnics, it's a lackluster pastiche that will remind no one of the brilliant work that inspired it -- the "Fantasia" segment in which Mickey Mouse plays the hapless apprentice who accidentally floods his master's laboratory.
Jon Turteltaub's new version is a Mickey Mouse imitation whose frenzied action and convoluted story make you want to wave a magic wand and make it disappear. It's too disturbing for kids, too silly for adults and too shabbily made for anyone in between.
Nicolas Cage plays Balthazar, an ancient sorcerer who recruits nerdy college student Dave (Jay Baruchel) to help him battle evil wizard Horvath (a goateed Alfred Molina) in modern-day New York. Balthazar and Horvath have fought through the ages, ever since they split over their love for the sorceress Veronica more than 1,000 years ago. Horvath wants to rule the world, and only Balthazar can stop him.
Cage's Coat
With his shoulder-length hair, scruffy beard and long leather coat, Cage looks like a cross between a goth punker and Clint Eastwood's preacher/gunfighter in "Pale Rider." While he generally avoids the egregious overacting that has marred so many of his adventure movies, Cage is sometimes funny when he means to be serious and vice versa.
Baruchel reprises his role from "She's Out of My League" as a geek who somehow hooks up with a gorgeous blonde (Teresa Palmer). Dave is a New York University physics whiz who, 10 years after first encountering Balthazar in a bizarre incident at his curio shop, is lured into the sorcerer's apocalyptic showdown with Horvath and his young assistant Drake, a spike-haired illusionist who acts like a rock star.
While "The Sorcerer's Apprentice" was inspired by the animated segment in "Fantasia," only one scene is directly copied from that 1940 film. It's the one where Dave, abusing his magic powers, directs mops, brooms and buckets to clean up his underground lab as he gets ready for a date with his blond bombshell.
Charging Bull
For all its computerized special effects, the scene can't touch the legendary original and its majestic score by Paul Dukas. Turteltaub, who directed Cage in the two "National Treasure" blockbusters, confuses technical mastery with inspired imagination.
The movie was shot in New York and includes a car chase through Times Square, a New Year's celebration in Chinatown and a climactic battle at Bowling Green park, where the famous Charging Bull sculpture comes alive and attacks Balthazar.
Bull is an appropriate symbol here.
"The Sorcerer's Apprentice," from Walt Disney Pictures, opens today across the U.S. Rating: *1/2
What the Stars Mean:

****          Excellent
***           Good
**            Average
*             Poor
(No stars)    Worthless
(Rick Warner is the movie critic for Muse, the arts and leisure section of Bloomberg News. The opinions expressed are his own.)