Action-Figure Jindal, No-Party Crist Gain on BP Spill Response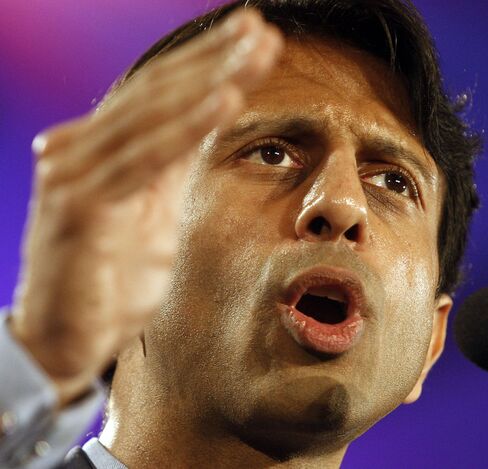 Louisiana Governor Bobby Jindal says he delivered an ultimatum on the Obama administration's handling of the BP Plc oil spill to Vice President Joe Biden: "Lead or get out of the way."
The Republican recounted the June 29 conversation, held during a Biden visit to the Gulf Coast, to reporters at a subsequent press conference. Jindal, whose state has been hit hardest by the disaster, has been a vocal critic of the federal response, and it's paying off. His approval rating has jumped as much as 10 percentage points in state polls.
Florida Governor Charlie Crist, running for the U.S. Senate as an independent, also has gotten a lift from his reaction to the spill, helping him move into a statistical tie with Marco Rubio. Rubio's lead of as much as 34 points had forced Crist out of the Republican primary earlier this year.
"Disasters like oil spills, hurricanes, tornadoes, they are the ultimate test for governors," said Jennifer Duffy, senior editor at the nonpartisan Cook Political Report in Washington. "Both Crist and Jindal seem to have passed the test."
The Obama administration rejects any suggestion that it hasn't taken a lead role in the response, Biden spokeswoman Elizabeth Alexander said. "We are leading," she said. "We are overseeing the largest response to an environmental disaster in U.S. history."
Jindal, who at 39 is the youngest U.S. governor, is seen as an "action-figure governor on the front lines" in his handling of the spill, said John Maginnis, a Baton Rouge political author and journalist, referring to Jindal's frequent flyovers, boat trips and meetings with local officials and cleanup crews.
More Popular
Jindal's approval rating among Louisianans rose 10 points from April, when the leak began, to 74 percent in a Rasmussen Poll of 500 adults conducted June 24. The margin of error was plus-or-minus 4.5 percentage points.
"He's one of the very few politicians getting more popular in what's a very anti-politician environment," Tom Jensen, director of Public Policy Polling, a Democrat-oriented firm in Raleigh, North Carolina, said in an interview.
Jindal's approach to the spill has helped him rebound politically following his widely panned response to President Barack Obama's first address to a joint session of Congress in February 2009.
"He seemed more like a high school student giving a valedictory speech than a potential future leader of the party," Philip Klein wrote at the time on a blog of the American Spectator, a magazine that shares Jindal's political views.
Jindal's performance on the spill is "redeeming," Duffy said. " The speech becomes an aberration and not a defining moment."
Crist Against Rubio
Crist, in a July 6 Rasmussen Poll, was two points behind Rubio with 34 percent of the favorable responses in a three-way general-election race, within the survey's margin of error of 4.5 percentage points. U.S. Representative Kendrick Meek, a Democrat from the North Miami area, finished third with 15 percent.
In an earlier survey by the Quinnipiac University Polling Institute, taken as concern grew that the spill was headed for Florida's northwestern Panhandle, the 53-year-old Crist topped Rubio 37 percent to 34 percent. The June 1-17 poll had a margin of error of plus-or-minus 2.9 percentage points.
"When the spill first happened, Crist's job approval ratings went up," said Scott Rasmussen, president of Rasmussen Research, based in Asbury Park, New Jersey.
Quiet Walk
Jindal and Crist, who both declined requests for interviews, have taken different approaches to the spill. While Jindal lambasts federal officials before television cameras, demanding more dredging to build barriers against the oil, Crist has been less confrontational.
When Obama visited Florida last month, TV shots showed Crist and the president walking along Pensacola Beach quietly discussing the crisis. The scene might have been unthinkable two months earlier, before Crist decided to run on the November ballot as the "no party" candidate.
"If Crist were still a Republican there's no way he would go near Obama," said Aubrey Jewett, a political scientist at the University of Central Florida in Orlando, in an interview. Rubio faulted Crist for supporting Democrat Obama's stimulus measure last year, and for literally embracing the president when he visited the state.
Crist has won voter approval by coaxing the president to provide more help for Florida's beaches and its tourism-dependent economy, said political scientist Susan MacManus.
"Voters are seeing a governor who is leveraging the president, not someone cozying up," said MacManus, a professor at the University of South Florida in Tampa, in an interview.
Ephemeral Gains?
While Crist is seeking a state constitutional ban on oil exploration off of Florida, where anti-drilling sentiment has long run high, Jindal has denounced the Obama administration's moratorium on deepwater drilling as economically devastating.
Jindal also has successfully pushed federal officials for approval to build sand barriers in an attempt to safeguard the coast from oil.
"I thank God for Bobby Jindal," said Billy Nungesser, Republican president of Plaquemines Parish, the largest in Louisiana and the one with the most exposure to the coast. "He's made things happen a lot quicker."
Jindal and Crist may see the benefits of being in charge become liabilities should developments cause voters to direct their frustrations closer to home, said Bernie Pinosat, an opinion researcher who was an aide to former Senator Bennett Johnston, a Louisiana Democrat.
"If and when we lose 10,000, 20,000, 30,000 jobs, there better be a solution," Pinosat said in an interview. "People won't blame BP and Obama. They will be looking at them."