Petrobras 2nd-Worst Oil Stock as Politics Hurt Offer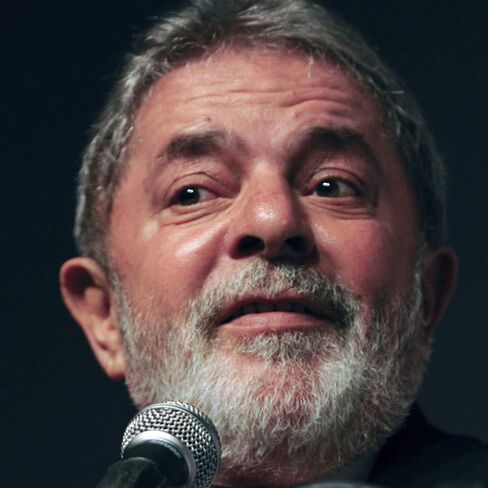 Petroleo Brasileiro SA is the world's second-worst performing oil company this year, behind only BP Plc, on concern Brazil's government will force the producer to pay more than investors originally expected for crude reserves.
The value of the 5 billion barrels of reserves, which the government plans to swap for new stock, will determine the size of the state-run company's planned share sale this year and may signal the extent to which President Luiz Inacio Lula da Silva's administration can increase control. A higher price may force Petrobras to sell more shares to pay for the oil, diluting minority shareholders, said Max Bueno, an analyst with brokerage Spinelli Corretora.
"The government wants to go back to the populace and say 'we have a fair value on the reserves'," Ted Harper, who helps manage $6.8 billion at Frost Investment Advisors, said yesterday in a telephone interview from Houston. A postponement of the share sale, which moved it closer to the October presidential elections, "totally muddies the water and makes it potentially politically charged," he said.
Petrobras sank 27 percent in the first half of 2010, its worst start to a year since 1995. That compares with a 47 percent drop for BP, which faces tens of billions of dollars in damages from an April explosion that led to the biggest oil spill in U.S. history. Irving, Texas-based Exxon Mobil Corp., the largest U.S. oil producer, and Europe's biggest, Royal Dutch Shell Plc, lost 16 percent and 10 percent, respectively.
Rising Estimates
Rio de Janeiro-based Petrobras may need to pay the government as much as $8 a barrel for reserves, or up to $40 billion, Credit Suisse analysts led by Emerson Leite said in a June 30 investor note. Earlier this year, the bank predicted Petrobras would pay $5 to $6 a barrel for the oil, or as much as $30 billion in new stock.
Petrobras's press office declined to comment on the share sale or recent share performance when contacted yesterday.
Shareholders in a meeting last month authorized a total capital increase of 150 billion reais ($85 billion), including stock to be issued in exchange for the reserves. Petrobras has said it expects to raise as much as $25 billion from minority shareholders.
Petrobras on June 22 delayed the sale until September, postponing cash needed for a $224 billion spending plan to develop the Americas' largest oil find in three decades. The company said it needed to wait for the government's valuation of the reserves before the public offering.
'Lost Credibility'
"What's been haunting the shares for weeks now is this high level of political intervention, and now it has lost credibility among shareholders" after the delay, Christopher Palmer, who oversees $5 billion as head of global emerging- market stocks at Gartmore Investment Management Ltd., said June 29 in an interview from London. "How many billions of dollars of shareholder value has been destroyed due to a lack of credibility and communication?"
Brazilian presidential elections in October may lead the government to put a high price on the reserves to avoid a "political backlash," Leite said.
Brazil Energy Minister Marcio Zimmermann said yesterday through his press office in Brasilia that the government won't interfere with the price of the reserves. The process won't "suffer electoral influence," he said, according to the press office.
Lula and Dilma Rousseff, his party's candidate, will "have a hard time justifying" a value below $30 billion for the oil, Eurasia Group analysts led by Christopher Garman said in a June 23 report. The opposition may argue it's a "sweet-heart deal" for Petrobras and foreign investors during the campaign, he said.
'Billions of Dollars'
If the government adds a "dollar or two" to the price per barrel, it will cause "billions of dollars in impact" on the size of the share offering and the reduction in earnings per share, Eric Conrads, a hedge fund manager at Mexico City-based Armada Capital SA, said in an interview on June 25.
Petrobras rose 7 centavos, or 0.3 percent, to 27.30 reais in Sao Paulo trading. Petrobras's loss this year is the second worst out of the world's 35 biggest oil companies by market value, according to data compiled by Bloomberg.
BP jumped the most in 20 months in London trading yesterday on speculation the company may succeed in halting the oil spill. BP extended its gains today, rising 2.9 percent to 410.35 pence.
Petrobras plans to issue enough shares in the deal to allow the government and minority investors to maintain their stakes. Brazil's oil regulator hired Gaffney, Cline & Associates to assess how much the reserves are worth.
Americas' Largest Find
The swap and public offering are part of plans to finance the development of fields including the offshore Tupi, the Americas' largest oil discovery since Mexico's Cantarell in 1976. Petrobras may need to spend more than $224 billion after the BP spill in the Gulf of Mexico increased insurance premiums and deepwater drilling costs, Spinelli's Bueno said in a telephone interview from Sao Paulo on July 8.
Concern that deep-water drilling costs will jump is driving up the cost of protecting against a default by Petrobras, the largest oil producer in waters below 1,000 feet, relative to Petroleos Mexicanos, which has no output in deep waters.
Credit default swaps that protect against non-payment by Petrobras over five years cost 177 basis points on July 9, or 35 more than its Mexican counterpart, according to prices compiled by CMA DataVision. The gap reached a 17-month high of 47 basis points, or 0.47 percentage point, on June 30, up from 19 on April 20, when London-based BP's rig explosion in the Gulf of Mexico sent oil spewing into the ocean.
Before it's here, it's on the Bloomberg Terminal.
LEARN MORE