Jack Lew, Surplus-Seasoned Budget Chief, Tackles Obama Deficit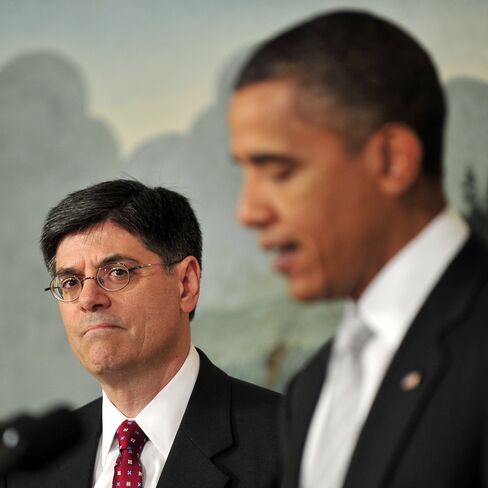 When Jack Lew left the White House as President Bill Clinton's budget director, the annual federal budget surplus stood at $236 billion. As Lew returns to run President Barack Obama's budget office, the deficit stands at an estimated $1.6 trillion.
"Jack's challenge over the next few years is to use his extraordinary skill and experience to cut down that deficit and put our nation back on a fiscally responsible path," Obama said yesterday in announcing his nomination of Lew as director of the Office of Management and Budget.
The resume for Lew, 54, includes a stint as policy director for House Speaker Thomas P. "Tip" O'Neill, a Massachusetts Democrat. Currently, he serves as Secretary of State Hillary Clinton's chief operating officer and, according to the agency's website, her "alter ego."
A graduate of Harvard University and Georgetown Law School, his experience also runs from academia, as chief operating officer at New York University for five years, to the private sector, as managing director of Citigroup Inc.'s Alternative Investments until January 2009 and COO of Citi's Global Wealth Management before that.
Political Skills
Associates and lawmakers attest to the political skills of Lew, whose new responsibilities will involve more than attempting to balance record government spending and borrowing. His task will include trying to persuade a divided Congress to embrace Obama's tactics for both stimulating the economy and controlling spending. Obama has pledged to cut in half an annual deficit that stood at $1.4 trillion during his first year as president.
"I find him to be very thoughtful, very smart, very capable," said Senator Judd Gregg of New Hampshire, one of the Republicans most critical of deficit spending. "He's taking on a job, however, where the numbers don't match up."
Federal spending has outrun receipts by $100 billion per month at its peak. The Treasury Department yesterday reported a deficit of $68.4 billion last month, down from $94.3 billion in June 2009. The annual deficit is forecast at $1.6 trillion.
"This country does not have a policy which is going to lead us out of what is a disastrous financial situation," Gregg said.
Obama has appointed a bipartisan commission to recommend ways out of a politically volatile budgetary imbalance which could include raising taxes, cutting spending or both.
Orszag Replacement
Lew, facing confirmation by the Senate, is to replace Peter Orszag as budget director. Lew's first job will be fashioning a 2012 budget that Obama will recommend in February.
"Jack is the ideal person to lead OMB," partly because "he knows how to make the tough choices," Democratic Senate Budget Committee Chairman Kent Conrad of North Dakota said in a statement yesterday. "And he knows how to reach across the aisle to find bipartisan solutions."
Representative Paul Ryan of Wisconsin, a Republican House leader, called Lew "pragmatic" and "well-qualified."
"The grave threat posed by our looming fiscal crisis will require leaders to chart a new course and get a grip on the explosion of government spending," Ryan said. "I anticipate a spirited debate on how to lift this crushing debt burden."
Orszag, 41, the first member of Obama's Cabinet and first economic adviser to leave the administration, last month asked federal agencies to reduce their fiscal 2012 budget requests by 5 percent. He inherited a decade of deficits fueled by former President George W. Bush's tax cuts and war spending.
Clinton Administration
Lew served as Clinton's budget director from mid-1998 to the end of the administration in January 2001, when the OMB's website puts the surplus at the $236 billion figure. He was the budget office's deputy director before that.
Joseph Minarik, chief economist at OMB from 1993 to 2001, recalled that his former boss worked long hours and sometimes brought his children to work on weekends. He said Lew faces a tougher situation now.
"In many ways the circumstances of economic and budget policy making have become more difficult than they were" when Obama took office in January 2009 and "inherited the biggest fiscal mess probably in the history of the United States, possibly in the history of the world," Minarik said in an interview.
Lew is "extremely careful and meticulous. He's earned respect on both sides of the political aisle," Minarik said. People on Capitol Hill, he added, "will welcome him back."
Lew served as O'Neill's principal domestic policy adviser from 1979 to 1987. His policy portfolio included Social Security and Medicare, taxes and trade.
He assumed his current post at the State Department at the start of the Obama administration.
Clinton, in staff email yesterday, greeted Obama's announcement as "obviously bittersweet." Lew's experience in her husband's administration, she said, "makes him uniquely prepared to lead at this time."
"I was actually worried that Hillary would not let him go," Obama joked yesterday. "I had to trade a number of number one draft picks to get Jack back at OMB."