Colombian Armed Forces Will Scout for Oil Reserves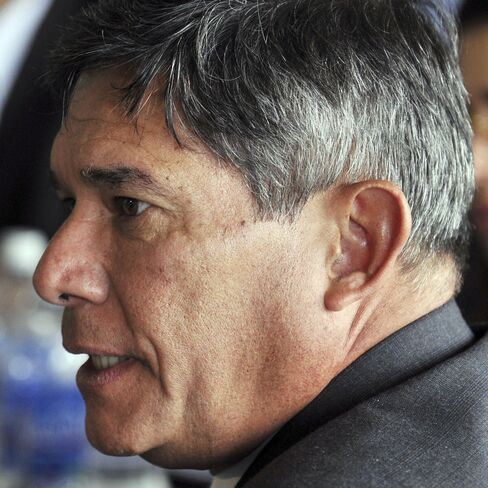 Colombia plans to use its armed forces to help scout for new reserves of crude as it seeks to push output to a record, the commander of the armed forces said.
South America's third-largest oil producer after Venezuela and Brazil is training a military unit to help perform seismic testing to locate potential reserves, General Freddy Padilla said in an interview yesterday. Until now, the armed forces only deployed soldiers to protect companies exploring for crude and at production sites.
"It's about finding a way to make it easier for companies to do their work," said Padilla, wearing a green camouflage uniform and black boots in his Bogota office. "It will make logistics easier."
The strategy will speed Colombia's search for oil as improved security spurs investment even in remote swaths of jungle, Padilla said. Since 2002, President Alvaro Uribe has increased military strikes to drive guerrilla forces from areas once considered too risky for oil and metals exploration. President-elect Juan Manuel Santos, who takes office Aug. 7, has pledged to maintain those security policies.
"They want to hold onto the investors who are here and keep the new ones coming," Gerson Arias, a researcher at Fundacion Ideas para la Paz, said in an interview from Bogota.
Basic Training
The military has begun training members of a group that will total about 450 people, including civilians, and will be ready to start work at year-end, Padilla said. Oil companies will be able to do their own seismic testing or choose to employ the new unit, he said.
Colombia has opened territory to oil exploration under Uribe including blocks auctioned last month that will drum up more than $1.2 billion of investment from companies including Pacific Rubiales Energy Corp. and OGX Petroleo & Gas Participacoes SA, according to the nation's Mines and Energy Ministry.
International investment in the nation's oil and natural gas fields may reach a record $4 billion this year, regulator Armando Zamora said in January. Output will rise to almost 1 million barrels daily next year from a record of almost 900,000 barrels per day at year end, Energy and Mines Minister Hernan Martinez said last month.
Within four years, the military will wipe out the ability of the Revolutionary Armed Forces of Colombia, the country's largest guerrilla group known as the FARC, and the smaller ELN rebel group to pose a threat to the state, Padilla said, seated next to a table decorated with a model of the Empresa Brasileira de Aeronautica SA-Super Tucano aircraft used by his military.
'Dramatic Decline'
"Colombia can end the problem it has with two of the armed groups that attack the population," he said. "Both are in a period of dramatic decline."
The military killed Raul Reyes, then the FARC's second-in-command, in 2008 at a camp within Ecuadorean territory. Reyes was "irreplaceable" for the FARC because he was a "fundamental link" within the group, Padilla said.
The armed forces are closing in on FARC leaders known by their aliases Alfonso Cano and Mono Jojoy, he said.
Colombia is modernizing its air force and navy to improve detection of shipments of illegal drugs, Padilla said.
Colombia doesn't have the resources for an arms race with its neighbors and won't upgrade its air force to compete with Venezuela's fighters, he said.
"If we went down that road, it would generate a spiral," he said. "It would be mad to take that route."
Venezuela's Russian-made Sukhois are superior to Colombia's Israeli-made Kfir fighters, although this probably wouldn't be decisive in a conflict between the countries, said Nathan Hughes, Director of Military Analysis for Stratfor, an intelligence company based in Austin, Texas.
The Colombian military is among the most skilled in Latin America, while Venezuela's armed forces have been weakened by political appointments, Hughes added.