States Can't Count on Bailout, Obama Appointees Say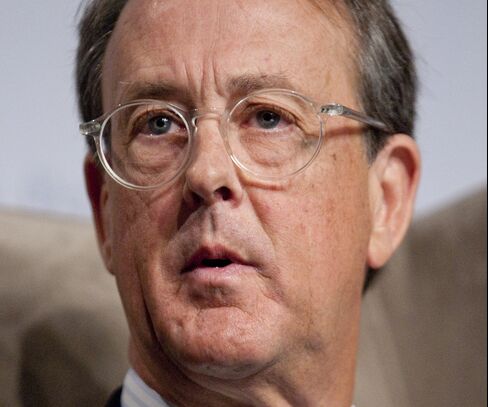 States can't count on the federal government for more budget bailouts, the heads of President Barack Obama's debt commission told governors.
States expecting Congress to authorize more assistance are "going to be left with a very large hole to fill," said Erskine Bowles, co-chairman of the National Commission on Fiscal Responsibility and Reform. States including New York and California have urged Congress to extend stimulus spending authorized to combat the recession, including extra Medicaid funding and money to pay public school teachers.
"I don't think we can count on the federal government again," Bowles, White House chief of staff under former President Bill Clinton, said yesterday at the National Governors Association meeting in Boston. "They just do not have the financial resources."
While the economy has been expanding, states have yet to recover from the longest recession since the Great Depression. The rout cut into tax collections and led them to raise taxes and slash spending on schools, social services and other expenses. States have projected total budget deficits of $127 billion through 2012, according to a report last month by the governors association and the National Association of State Budget Officers.
Call for Help
The governors of New York, Pennsylvania and Michigan on June 30 led states pressing Congress to extend higher financing for Medicaid, the health-care program for the poor whose use surged during the economic crisis.
David Paterson of New York, Edward Rendell of Pennsylvania and Jennifer Granholm of Michigan and three other governors, all Democrats, traveled to Washington to appeal for funds after the Senate failed to approve $16 billion in extra financing for Medicaid and extended jobless benefits. Congressional Republicans opposed the measure's cost.
"We need more help from Washington to protect against job cuts and health-care cuts," Illinois Governor Pat Quinn, a Democrat, said on July 10 at the Boston gathering. "If we don't do that, we're following Herbert Hoover economics."
Earlier this year, 47 Republican and Democratic governors urged Congressional leaders to extend the Medicaid help, signing a letter asking for a six-month extension. Fewer are demanding a bailout now because the stimulus is unpopular, West Virginia Governor Joe Manchin said in an interview yesterday.
"People are concerned that the amount of debt we've incurred hasn't really stimulated the economy," said Manchin, a Democrat.
Recommendations Due
Forty-three percent of voters think the American Recovery and Reinvestment Act hurt the economy while 29 percent think it helped, according to a national telephone survey of 1,000 likely voters conducted July 1 by Rasmussen Reports, which has a margin of error of plus or minus 3 percentage points.
After championing deficit spending to counter the economic downturn, Obama this year formed a commission to recommend ways to reduce the federal debt, which is projected to reach 90 percent of the U.S. economy by 2020. The panel's recommendations are due Dec. 1, after the midterm elections in November.
Former Republican Senator Alan Simpson of Wyoming, the panel's other co-chairman, told governors yesterday that the depth of the federal government's spending imbalance is "shocking," which limits the help it can provide for strained state budgets.
"The pig is dead," said Simpson, referring to so-called pork-barrel spending that Congress directs to states. "There's no more bacon."
Tax Collections Drop
State fiscal woes will be "just as tough" next year because the economy is on pace to grow at a "lackluster" rate of about 3 percent a year, Yolanda Kodrzycki, an economist at the Federal Reserve Bank of Boston, told governors July 10 at the gathering. The budget pressure will be compounded by the need to help cities and towns faced with a drop in property-tax collections, she said.
Property-tax collections fell in the first quarter for the first time since the onset of the real-estate market's crash, to $107.7 billion from $108.4 billion a year earlier, the Census Bureau said on June 29.
South Carolina Governor Mark Sanford said the "worst is yet to come" for the states because the economy is bound to fall back into a recession as government spending contracts both in the U.S. and elsewhere.
Kodrzycki said researchers at the Fed have become "much more sensitive" to the prospect of a so-called double-dip recession. She said the economy needs to grow at an annual average rate of about 4 percent in order for the unemployment rate to fall back to 5 percent by 2015.
"The road to economic recovery is a long one," she said. "It's a sobering picture."
Before it's here, it's on the Bloomberg Terminal.
LEARN MORE