Bank Swaps Show Stress Fears Ebb as Bonds Rally: Credit Markets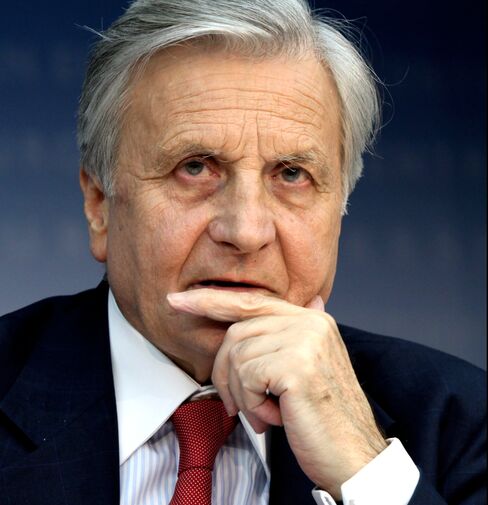 Bond investors are gaining confidence in the ability of banks to ride out Europe's government deficit crisis, driving the difference in the cost of insuring financial and corporate debt from default to near the lowest in three months.
The Markit iTraxx Financial Index of credit-default swaps on 25 banks and insurers from Banco Santander SA in Spain to Germany's Deutsche Bank AG fell more than 25 basis points last week, the most in two months. The bank swaps index pared that decline today, though it's still just 19 basis points wider than the Markit iTraxx Europe Index of corporates, down from a record 55 basis points on June 4.
Investors are buying bank bonds at the fastest pace in six months on speculation the examination by the Committee of European Banking Supervisors will confirm lenders can withstand a shrinking economy and a drop in the value of government bonds. Europe's budget deficit crisis triggered concern banks would suffer crippling losses from sovereign debt holdings.
"There was a fear the financial system would collapse," said Philip Gisdakis, a Munich-based strategist at UniCredit SpA. "There's a high probability the stress tests will show the core of the financial system is healthy and sound in the sense it can weather the storm."
A weekly survey of money managers by Jersey City, New Jersey-based Ried Thunberg ICAP, a unit of ICAP Plc, the world's largest inter-dealer broker, found that 95 percent of the 22 respondents controlling $1.39 trillion said most major European banks will receive favorable test ratings.
Bond Sales Rebound
Financial firms in Europe sold the most bonds last week since the start of January, raising 11.4 billion euros ($14.4 billion), or 93 percent more than this year's weekly average of 5.9 billion euros, according to data compiled by Bloomberg.
Elsewhere in credit markets, the extra yield investors demand to own corporate bonds rather than government debt fell to the lowest in almost seven weeks. Spreads shrank 5 basis points last week to an average of 192 basis points, or 1.92 percentage points, the narrowest since May 24, according to Bank of America Merrill Lynch's Global Broad Market Corporate Index. The gap reached a low this year of 142 on April 21 before expanding to as much as 201 on June 11. Yields fell to 3.97 percent, from 3.98 percent on July 2.
'Positive Outlook'
"Overall sentiment feels like it has shifted, giving investors a more positive outlook," Payden & Rygel, a Los Angeles-based investment firm overseeing $50 billion led by Joan Payden, said in a report to clients.
Oracle Corp. plans a benchmark sale of 10- and 30-year debt in its first bond offering in more than a year, according to a person familiar with the transaction. The Redwood City, California-based software maker sold $4.5 billion of debt in June 2009 to help finance its acquisition of Sun Microsystems Inc., which was completed in January, Bloomberg data show.
Toyota Motor Corp., through its finance arm, plans to sell $1.25 billion of bonds backed by debt on vehicles, a person familiar with the offering said. SLM Corp., the student lender known as Sallie Mae, plans to sell $869 million of bonds tied to private loans, or those that don't carry a government guarantee, another person said.
Wal-Mart Stores Inc., the world's biggest retailer, started marketing five-year Samurai bonds, according to a person familiar with the matter. The retailer told investors it may price fixed-rate bonds to yield between 30 basis points and 40 basis points more than the yen swap rate.
Credit-Default Swaps
The cost of protecting corporate bonds from default in the U.S. rose for the first time this month. Credit-default swaps on the Markit CDX North America Investment Grade Index, which investors use to hedge against losses on corporate debt or to speculate on creditworthiness, climbed 1.36 basis points to a mid-price of 111.8 basis points as of 11:26 a.m. in New York, according to Markit Group Ltd. In London, the Markit iTraxx Europe Index of 125 companies with investment-grade ratings increased 1.14 to 116.6, Markit prices show.
The indexes typically rise as investor confidence deteriorates and fall as it improves. Credit-default swaps pay the buyer face value if a borrower fails to meet its obligations, less the value of the defaulted debt. A basis point equals $1,000 annually on a contract protecting $10 million of debt.
Bermuda Offering
In emerging markets, the extra yield investors demand to own bonds instead of government debt rose 4 basis points to 315 basis points, according to index data from JPMorgan Chase & Co. The spread has ranged from as low as 229 on April 15 to as high as 359 on May 25.
Bermuda plan to sell as much as $500 million of 10-year bonds, according to people with knowledge of the offering. HSBC Holdings Plc is managing the issue, the people said.
Rising confidence in Europe's banks can also be seen in their so-called Tier 1 bonds, which are used by lenders to bolster capital ratios. The securities have gained 1.52 percent this month, compared with a loss of 0.07 percent for a global index of the debt maintained by Bank of America Merrill Lynch and 0.02 percent for corporate bonds in the region.
"There is a tendency from the outside to be excessively pessimistic," European Central Bank President Jean-Claude Trichet said at a news conference in Frankfurt after the ECB left its benchmark interest rate at a record low of 1 percent on July 8. "The figures don't confirm this pessimism."
'Encouraging' Signs
Europe's economy is showing "encouraging" signs, Trichet said, with exports and industrial production rising and employment stabilizing.
The stress tests will cover 65 percent of the area's banking industry and include 14 German lenders, six from Greece and four from the U.K., the European bank committee said July 7. The results will be disclosed July 23.
Yields on financial company bonds in euros have climbed 60 basis points relative to benchmark rates since April 30 to 250 basis points, according to Bank of America Merrill Lynch's EMU Financial Corporate Index. The spread on euro corporate securities widened 47 basis points in the same period.
Financial credit-default swaps approached an all-time high in Europe last month amid concern that Greece, Portugal and Spain may be forced to restructure debt to ease budget deficits that are more than three times the European Union limit.
Greek attempts to cut the budget deficit are "positive," indicating that 2010 targets may be met and reducing the medium-term risk of default or an imminent debt restructuring, Citigroup Inc. analysts wrote in a July 9 report. European government measures to curb government spending and boost taxes are also taking the pressure off banks.
"There is renewed faith in the banks," Suki Mann, a credit strategist at Societe Generale SA in London, wrote in a note to investors. "If the results of the impending earnings season prove strong, financials will continue to outperform corporates soundly."
Before it's here, it's on the Bloomberg Terminal.
LEARN MORE