Private Colleges in U.S. Outspend Publics on Teaching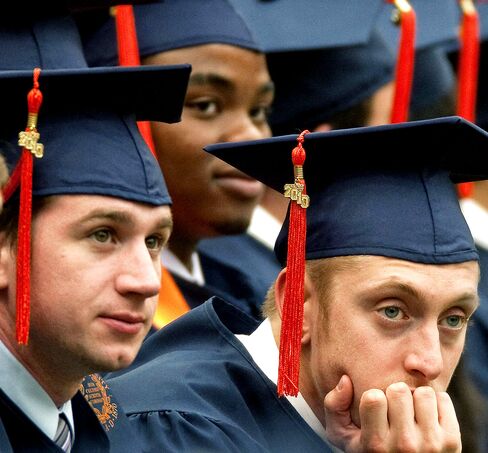 Private research universities in the U.S. spent twice as much as their public counterparts to teach each student in the 2007-2008 school year, widening a cost gap that can make private colleges unaffordable to students without financial aid.
The private institutions, on average, laid out $19,520 for each student for instruction that year, a 22 percent increase from a decade earlier, the Delta Project on Postsecondary Education Costs, Productivity & Accountability, a Washington- based nonprofit research group, said today. Public universities spent $9,732 for each student, up 10 percent in the decade, according to the report.
The spending rate in 2008 "may turn out to be a high point in funding for higher education," the Delta Project said in its report. The recession that began in December 2007 forced colleges to cut budgets, beginning in the second half of 2008, as endowment income fell and states cut subsidies.
"I expect we're going to see revenues are not going to continue to grow and institutions are going to be having to pay much more attention to permanent changes in how they spend their resources," Jane Wellman, an author of the report and the Delta Project's executive director, said in an interview.
Falling Revenue
Higher education in the U.S. "has seen a permanent reduction of roughly 10 percent of its revenue base -- more in some areas of the country, less in others -- money that won't be coming back, and can't realistically be made up in tuition increases," the authors wrote.
College tuitions in the U.S. have risen faster than inflation and family incomes, according to the report.
"The steadiest source of new revenue in all sectors was from tuition," the authors wrote.
The Delta Project report doesn't name any colleges. The biggest private research universities in the U.S. by enrollment are New York University and the University of Southern California in Los Angeles, according to a ranking published last August by the Chronicle of Higher Education.
The largest public research universities in the nation are Ohio State University in Columbus, the University of Florida in Gainesville, and the University of Texas at Austin, according to the Chronicle listing.