Yuan Pressure May Mount With Widening Trade Surplus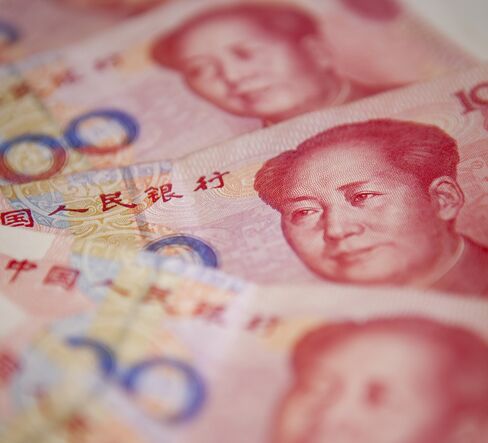 China's June export and import data may signal a return to sustained surpluses that could fuel overseas pressure for a faster pace of yuan gains.
The trade gap almost doubled to $15.6 billion last month from a year earlier, as cooling domestic investment capped imports, according to the median estimate of 24 economists in a Bloomberg News survey. That would be the third surplus after a deficit in March. The data is due tomorrow.
China's trading partners are monitoring the pace of yuan appreciation after the government scrapped a peg to the dollar and allowed a 0.7 percent gain in the past three weeks. Policy makers in the world's biggest exporting nation may be reluctant to move too quickly as Europe's sovereign-debt crisis threatens external demand just as the domestic economy is slowing.
"The deceleration of imports may outpace that of exports in coming months, leaving sizable trade surpluses," said Lu Zhengwei, a Shanghai-based economist at Industrial Bank Co. "Faster yuan appreciation would multiply the negative impact on exporters who are already facing weaker overseas demand and rising labor costs."
Any slide in European demand has yet to hit Chinese exports, which may have climbed 38 percent from a year earlier, compared with 48.5 percent in May, the survey indicated. The estimated $132 billion value of sales would be close to May's level and also the record set in the third quarter of 2008 before the financial crisis deepened.
Treasury Report
The U.S. said the yuan "remains undervalued" after the nation ended its peg to the dollar while stopping short of branding China a currency manipulator.
China took a "significant step" last month when it began to allow markets to drive the currency higher, the U.S. Treasury Department said in a report to Congress yesterday. The report, initially due April 15, also said it's not yet clear whether the policy shift will correct the yuan's undervaluation.
Signs that global trade remains buoyant include container-shipping line AP Moller-Maersk A/S reporting shortages of cargo boxes. The International Monetary Fund yesterday raised its 2010 global growth forecast to 4.6 percent, up 0.4 percentage points from an April estimate, while also seeing risks from financial-market turmoil.
China's estimated trade surplus would be the second highest this year, after May's $19.5 billion. JPMorgan Chase & Co sees surpluses of between $10 billion and $15 billion in coming months, and possibly larger amounts by year end.
Cooling Demand
The nation's export rebound will weaken "as the U.S. economic recovery passes its peak and fiscal consolidation in the euro zone cools demand," said Wang Qian, a Hong Kong-based economist for JPMorgan. Chinese officials "may frontload some yuan appreciation while export gains are still handsome and then limit the pace if they see notable downside risks."
On top of a strengthening currency, some export manufacturers face higher labor costs as 20 provinces and cities raise minimum wages this year and companies including Toyota Motor Corp. and Honda Motor Co. increased salaries after strikes.
President Barack Obama said June 27 that the U.S. expects the yuan, or renminbi, to gain "significantly" and will monitor progress over coming months. In contrast, China's central bank said June 20 that there's no basis for "large-scale appreciation" as the nation moves closer to balanced international payments.
U.S. Deficit Widens
America's trade deficit with China grew 5.7 percent to $71 billion in the first four months of 2010 from a year earlier, according to U.S government data, with the U.S. alleging that Chinese exporters benefit from a weak currency that makes their products cheaper in overseas markets.
While the survey of economists shows imports increasing 35.4 percent in June from a year earlier, the slowest pace in seven months, their value -- about $118 billion -- would be the third-highest on record, lagging behind only April and March figures.
The surge in imports, which drove a 60 percent decline in China's trade surplus in the first five months of this year, may moderate as commodity prices weaken. Government efforts to cool the real-estate market, limit local-government borrowing for infrastructure, and curb some polluting and energy- intensive ventures could also limit demand.
"China's import trend, especially purchases of commodities and machinery, is closely related to the cycle of investment in fixed assets," said JPMorgan's Wang. "Softening investment and manufacturers reducing stocks of raw materials may damp import demand in coming months."
Manufacturing Slows
China's manufacturing growth weakened for a second month in June and a raw-material inventory index contracted, a purchasing managers' survey released by the Federation of Logistics & Purchasing showed July 1. The report indicated a "sharp" decline in orders for industries including oil and metal processing.
Economic growth may gradually decelerate to 8.5 percent in the fourth quarter of this year, after an 11.9 percent expansion in the January-March period from a year earlier, according to UBS AG.
Before it's here, it's on the Bloomberg Terminal.
LEARN MORE