Dutch Using Cruder Approach in Try for Nation's First World Cup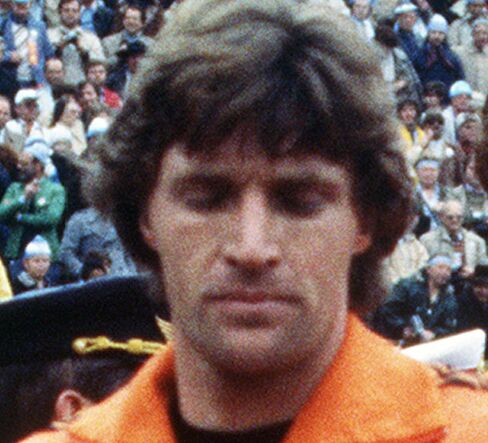 The Netherlands team is trying to give the nation its first global title with a cruder approach than the "total football" style that lost it two soccer World Cup finals in the 1970s.
The Dutch, who go into tomorrow's final against European champion Spain having committed a tournament-high 98 fouls, need one more victory to become the first team since Brazil in 1970 to win all its games at the World Cup.
"Playing good football isn't enough," former Netherlands captain Ruud Krol, who played in the 1974 and 1978 final defeats to Germany and Argentina, said in a telephone interview. "It remains a long story that we played so nicely and didn't win. Maybe they play not as nice but they can win something."
"Total football," where each player is comfortable in possession in numerous positions, is synonymous with those losing teams and players including three-time European Footballer of the Year Johan Cruyff.
At Johannesburg's Soccer City, it will be opponent Spain, rather than the Dutch, that plays in a style more in keeping with that pioneered by former Netherlands coach Rinus Michels.
The Spanish have found a teammate with 81 percent of their passes, a better rate than any of the other 31 participants, and have successfully completed nearly 1,000 passes more than the Netherlands.
Better With Ball
"We feel better when we have the ball," Spain coach Vicente Del Bosque said after his team's 1-0 semifinal win over Germany. "If we don't have the ball then we suffer."
Krol, who captained the Dutch in the 1978 World Cup, said Spain's resemblance to the team he played in is no accident.
Michels revamped 20-time Spanish champion Barcelona's playing style between 1971 and 1975, while Cruyff spent five years there as a player before coaching the team for eight more. He's been followed by Dutch countrymen Louis Van Gaal and Frank Rijkaard. Current coach Josep Guardiola played under Cruyff.
"The Dutch influence is clearly there," Krol said. "The playing lessons are from Michels and Cruyff."
Seven of Spain's 11 starters for the semifinal play for Barcelona. Del Bosque says he's fortunate to have a nucleus of players including Barca's Xavi Hernandez and Andres Iniesta, who were shortlisted for FIFA's World Player of the Year in 2009.
"I don't know if it looks like the Dutch style, but it is always based on the quality of the people in the midfield," Del Bosque said. "It is an organized midfield and if you have order then you can really showcase individual talent."
Spain restricted a Germany team that had scored a tournament-high 13 goals to five shots and was given the time to circulate the ball in search of openings of its own. Defender Carles Puyol got the only goal with a 73rd-minute header.
'The Best'
Netherlands winger Arjen Robben said the Dutch risk losing for the first time in 14 competitive matches if they follow Germany's tactics.
"I was really surprised with how freely Germany let them play," Robben told reporters. "When you give them room to play they're the best. We have to start pressing them earlier, higher up the field."
Robben and Netherlands midfielder Wesley Sneijder were teammates at nine-time European champion Real Madrid before the Spanish club sold them before the start of last season. Sneijder went on to win the Champions League with Inter Milan following the Italian team's victory over Barcelona in the semifinals.
'More Motivation'
Playing Spain "gives them more motivation on Sunday," said Krol, who played 83 times for the Netherlands. "The others will want to shine too, but for them it is extra special."
Before the current squad's run, Dutch teams had failed to match the achievements of the 1970s, often losing in the knockout stages following a strong start. The 1998 team reached the semifinals before falling to Brazil in a penalty shootout.
"You have to fight against the history of '74 and '78," striker Robin van Persie told reporters after the semifinal win over Uruguay. "They were such great players and they didn't do it somehow, and we have the chance to do it now."
Victory against Spain may help some former players put at least one of those final defeats behind them, according to Rene van de Kerkhof, who played in both matches.
"Many of the players that lost the final in '74 have been traumatized and a win would compensate part of the loss," Van de Kerkhof said in a telephone interview. "The team can do it this time as they are focused and determined to win this game. They know the importance of this opportunity."
Spain is the 4-7 favorite to lift the World Cup for the first time, according to U.K. bookmaker William Hill. The Netherlands are a 6-4 chance, meaning a successful $4 bet on the Dutch brings in $6 plus the original stake.
Whatever the result at Soccer City tomorrow, soccer will get its first new world champion since France in 1998. Krol said he doesn't mind how victory is achieved as long as the trophy goes to the Netherlands.
"If they win with nice football that would be great, but for me winning is the most important thing," Krol said.
Before it's here, it's on the Bloomberg Terminal.
LEARN MORE