Dizzee Rascal Joins Party as Serpentine Reveals Summer Pavilion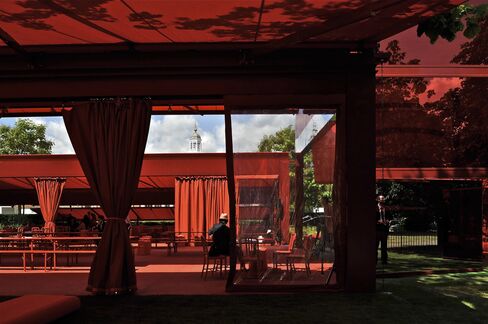 Dizzee Rascal was the surprise performer last night for a party at the Serpentine Gallery's summer pavilion, designed this year by the Pritzker Prize-winning Jean Nouvel.
"It's the Serpentine gig: Check it out," said the rapper, who was born 24 years ago as Dylan Mills. For the fundraising event in London's Hyde Park, he wore a gray suit to bounce around a red podium with a cordless mike, belting out hits including "Holiday" and "Bonkers."
He was watched by Serpentine Gallery Director Julia Peyton-Jones and Duran Duran lead singer Simon Le Bon. Artists Tracey Emin and Mark Wallinger, former Rolling Stone Bill Wyman and model-actress Lily Cole also attended the party. Guests sipped champagne and watermelon cocktails, and then danced on a mirrored floor set up for the evening inside the pavilion.
The gallery has grown way beyond its tearoom origins. For the 10th straight year, it has assigned a prominent architect to set up a pavilion on its lawn. This year, visitors can get a recording of their heartbeats for all time, or play ping-pong and chill in Nouvel's blood-red structure.
Nouvel -- tall, Kojak-bald and dressed top-to-toe in black -- spoke about his building design. Having watched young and old play in the park, he devised his pavilion as an amusement ground.
There are ping-pong tables, chess boards, card games, backgammon sets, kites and Frisbees. The space is dotted with red stools, and hammocks, and has a red bar outfitted with matching Smeg fridges.
Natural Club
"It has to be like a very easy and natural club," said the 64-year-old architect in an interview before the party. "You can go on the blankets on the lawn, and you can sleep, or read a book, or have a picnic: You can do what you want."
Red, color of London's buses and phone booths, brings out the park's lush green. "It's to celebrate the summer," he said. "I wanted something with this optimistic sensation."
Nouvel made a splash in 1987 with his Arab World Institute in Paris and its facade of latticework screens that recall Arab patios. He is working on an offshoot of the Louvre Museum on Saadiyat Island in the Gulf. It's going well, he said: "All the piling is done. We will now begin the building itself, and will complete in 2013 or 2014."
When not at his Paris studio, Nouvel spends time in Saint-Paul-de-Vence, near Nice, where he has brainstorming sessions with like-minded friends. "For me, architecture is not always work: It's also my life," he said.
Heartbeat Record
French artist Christian Boltanski, 65, has set up a little white booth outside the Serpentine to record visitors' heartbeats. The sound files will add to the 35,000 stored at the Benesse Art Site Naoshima Foundation, on the island of Eijima, near Naoshima -- a day's journey from Tokyo by plane and boat.
The artist said he hoped that, years from now, someone who lost their mother would make the "pilgrimage" to the island to listen to her heartbeat.
"It's like going on a tomb, it's like looking at a photo album," said Boltanski, dressed in a hound's tooth jacket and jeans.
As an artist, Boltanski is obsessed with the transience of human life -- how "after three generations, everybody disappears." Ultimately, he said, "you can preserve all the photos of somebody, you can preserve all the clothes of somebody, but you can't preserve the person."
In another doomed attempt at capturing life, he is having his studio filmed 24 hours a day until he dies. Images are beamed live to a Tasmanian cave, and can be seen after he dies.
Venice Challenge
The artist was born in Paris in September 1944, after the end of Nazi occupation; his Jewish father spent the war years hiding under the apartment floorboards. While some of his earlier works carry echoes of the Holocaust, he intends his art to have universal meaning. Boltanski's latest challenge is the French pavilion at next year's Venice Biennale.
I headed over to get my heartbeat recorded. An attendant in a white tunic made me sign a paper saying that I was donating my heartbeat as an artwork and not a medical recording. In a notebook, she stamped the number 000014 beside my name, and then struggled to locate my heartbeat. Finally, she captured half a minute of pulse, handing me a CD copy of the sound that will be forever available on the Japanese island.