BP Bonds Rebound as Swap Curve Inversion Eases: Credit Markets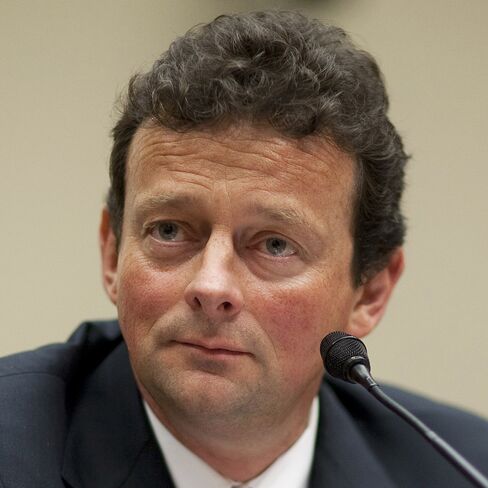 July 9 (Bloomberg) -- BP Plc is staging a comeback in credit markets as investors, who three weeks ago priced in more than 40 percent odds the energy company would be forced into bankruptcy, speculate that mounting costs from the biggest oil spill in U.S. history will be contained.
BP's $1 billion of 4.75 percent notes due in 2019, which plunged almost 25 cents to as low as 80.5 cents on the dollar in the two months following the April explosion in the Gulf of Mexico, have gained 10 cents as they climb for the seventh straight trading day. Credit-default swaps protecting against a BP default for a year declined for the eighth day, falling by more than half from their peak four weeks ago.
Bondholders are gaining confidence that London-based BP will stem the flow of as much as 60,000 barrels of oil a day into the Gulf as soon as this month, giving the market a means to begin estimating the financial toll. BP may stanch the gusher within the next four days by accelerating installation of a tight seal between the damaged wellhead and surface production vessels, National Incident Commander Thad Allen said today.
"People can make much more of an investable story out of it right now," said Matthew Eagan, a money manager at Loomis Sayles in Boston, which oversees $145 billion in equity and fixed-income assets. "There is a bit of hope built into the prices here. But people are saying we can see the light at the end of the tunnel, and we're willing to make that leap of faith."
Credit-Default Swaps
While it still costs more to protect BP bonds against default for one year than it does for five, the difference has narrowed to the tightest since June 22. Five-year credit-default swaps, which reached 594 basis points on June 29, now trade at 372, the lowest in a month, CMA DataVision prices show. That implies a 27 percent chance of default within five years, assuming a 40 percent recovery on the debt, according to CMA.
Elsewhere in credit markets, the extra yield investors demand to own company bonds instead of government debt fell 2 basis points to 194 basis points, or 1.94 percentage point, the Bank of America Merrill Lynch Global Broad Market Corporate Index shows. Yields averaged 3.971 percent.
The cost of protecting corporate bonds from default in the U.S. fell to the lowest in more than two weeks.
Credit-default swaps on the Markit CDX North America Investment Grade Index, which investors use to hedge against losses on corporate debt or to speculate on creditworthiness, fell 1.84 basis points to a mid-price of 111.47 basis points as of 2:33 p.m. in New York, the lowest since June 21, according to Markit Group Ltd.
The Markit iTraxx Europe Index of 125 companies with investment-grade ratings declined 2.87 basis points to 114.69, Markit prices show.
New York Life
The indexes typically fall as investor confidence improves and rise as it deteriorates. Credit-default swaps pay the buyer face value if a borrower fails to meet its obligations, less the value of the defaulted debt. A basis point equals $1,000 annually on a contract protecting $10 million of debt.
New York Life Insurance Co., the biggest U.S. life insurer owned by policyholders, boosted its offering of 3.5-year notes to $400 million from $300 million, according to a person familiar with the transaction.
The notes, which will be sold through New York Life Global Funding, may yield 85 basis points more than similar-maturity Treasuries, said the person, who declined to be identified because terms aren't set.
BP Bonds
BP's 4.75 percent notes rose 0.25 cent to 90.5 cents on the dollar today, according to Trace, the bond-price reporting system of the Financial Industry Regulatory Authority. One-year credit-default swaps on BP dropped 45 basis points to 465 basis points, according to CMA. The swaps reached a high of 997 as recently as June 16.
Capping the well would give investors a means to start estimating the total costs BP will face from the spill and gauge the potential impact on its ability to repay creditors, Loomis Sayles's Eagan said. BP pledged to set aside $20 billion on June 16 to compensate the spill's victims and finance the cleanup. The company halted dividend payments and planned to sell $10 billion in assets to pay for it.
BP is drilling two relief wells to plug the leak and interception may occur ahead of schedule, Allen said. Previous failed attempts to stop the leak and forecasts for as many as 14 hurricanes in the Atlantic this year are keeping investors guarded.
'Unlimited Liability'
While the market may have priced in the worst, investors remain exposed to the risk the costs continue to escalate, said Stephen Antczak, head of U.S. credit strategy at Societe Generale in New York. The one-year implied default rate is almost 10 percent, assuming 59 cents on the dollar recovery on the debt, Antczak said.
"It's still an unlimited liability until they plug the hole and they get through the hurricane season," said Mirko Mikelic, a senior money manager at Fifth Third Asset Management in Grand Rapids, Michigan. "Fundamentally, nothing's changed."
BP bonds have handed investors returns of 3.96 percent this month, second only to the 5.82 percent return on the notes of Anadarko, among the 50 largest issuers in Bank of America Merrill Lynch's global energy index. Anadarko, based in The Woodlands, Texas, owns 25 percent of the leaking well.
"The worst is behind us," said Brian Gibbons, an analyst at CreditSights Inc. in New York, who said investors started to regain confidence after BP's agreement with President Barack Obama to set up the compensation fund.
To contact the reporters on this story: Shannon D. Harrington in New York at sharrington6@bloomberg.net; John Glover in London at johnglover@bloomberg.net
To contact the editors responsible for this story: Alan Goldstein at agoldstein5@bloomberg.net; Paul Armstrong at Parmstrong10@bloomberg.net