NYC Hits Record High Again Amid Northeast Heat Wave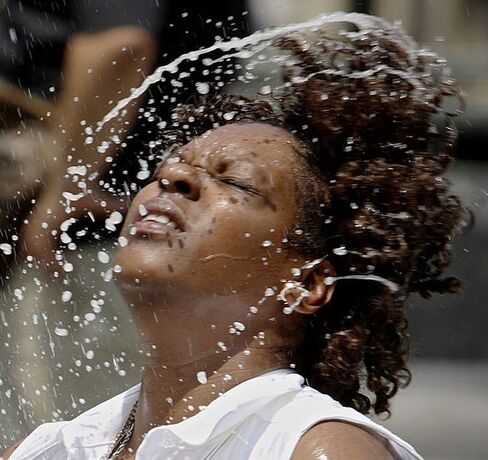 Temperatures in New York City passed 100 degrees today for a second day in a row, the first back-to-back readings that high since 1999, the National Weather Service reported.
The reading in Central Park was 101 degrees Fahrenheit (38.3 Celsius) at about 2:50 p.m., breaking the daily record of 98 set in 1986 and tied in 1993. It reached 103 yesterday, besting the old daily record by two degrees and coming within three degrees of the city's all-time high, the National Weather Service said.
The heat wave that began over the weekend has strained power grids and slowed rail service across the Northeast. Above- average temperatures will hang on through the week, said Joe Bastardi, chief meteorologist at AccuWeather Inc. in State College, Pennsylvania.
U.S. nuclear production rose to the highest level in at least 17 years, 98,740 megawatts, as the heat wave boosted demand for electricity, the Nuclear Regulatory Commission reported.
Utilities asked customers to curb electricity use as the high temperatures from Virginia to Maine strained air conditioners and raised power use in New York to 33,450 megawatts, just below the record of 33,939 set in August 2006, according to the New York Independent System Operator.
Conservation Urged
Consolidated Edison Co. urged its customers in the New York City area to conserve power during the day. The company reduced voltage to several Queens and Brooklyn neighborhoods by 5 to 8 percent last night and this morning because of problems with electrical cables.
About 375,400 customers in those neighborhoods, which included Flushing, Gowanus, Forest Hills and Brooklyn Heights among others, were affected. About 6,934 ConEd customers are without power in the metropolitan area, according to company outage maps.
In Rhode Island, the heat overloaded the electric grid, which is still damaged from flooding in March, according to National Grid. The company shut power down intermittently to about 1,600 customers, according to a statement on its website.
"With temperatures approaching 100 degrees yesterday and today, the local system in its compromised state simply cannot handle the demand being placed upon it," the company said.
Mid-Atlantic Heat
Temperatures today reached a record 102 in Washington, 101 in Baltimore and 103 in Richmond. Yesterday, Reagan Washington National Airport recorded 102 and Baltimore-Washington International posted a mark of 105 degrees.
The heat forced Amtrak and commuter trains to slow down between Washington and Boston, according to a statement by the railroad.
A series of weak cold fronts will "do battle with this dome of heat" as the week goes on, said Jim Rouiller, a senior energy meteorologist at Planalytics Inc. in Berwyn, Pennsylvania. While those fronts will knock temperatures down from record levels, they will still be in the upper 80s to 90s through next week.
"The record-breaking heat should come to an end tomorrow," Rouiller said by telephone today. "The trouble is, the 90s and 100s will be replaced by 80s and 90s, so the heat goes on."
La Nina
The current weather pattern also tends to confuse the National Oceanic and Atmospheric Administration's Global Forecasting System model, Rouiller said. The model will predict cooler temperatures, and traders will speculate on that even though the cool air fails to materialize, he said.
Rouiller and Bastardi agreed the heat wave is a familiar pattern that occurs after an El Nino, a warming in the Pacific Ocean, collapses and is replaced by a La Nina, a cooling of the same region.
"This shows a strong correlation to a rapidly emerging La Nina," Rouiller said. "La Nina supports hot summers."
The Australian Bureau of Meteorology said this morning that sea surface temperatures in the Pacific are as much as 4 degrees Celsius below normal, indicating a La Nina is developing.
Heat advisories and air quality alerts stretch today from Virginia through New York and Vermont to Canada. In Montreal, temperatures hit the 90s yesterday, according to Environment Canada, that nation's weather service.
Heat Warnings
Heat advisories mean the high temperatures may have serious health consequences while air quality advisories warn that pollution and ground level ozone will be dangerous for people with breathing problems.
An excessive heat warning has been issued for Philadelphia, eastern Pennsylvania and parts of New Jersey and Delaware. Temperatures in the area aren't supposed to be as high as yesterday but there will be greater humidity, making it feel just as hot, the weather service said.
A heat wave is defined as at least three days in a row of temperatures of 90 or more, and temperatures in New York reached the upper 90s on July 4. New York's last weeklong heat wave was in August 1998, while the longest was 12 days from Aug. 24 to Sept. 4, 1953, according to agency records.
The longest stretch of consecutive 100-plus days on record at Central Park came in 1993, when it rose from 100 on July 8 to 102 on July 10.
A daily record high temperature of 102 degrees was set at T.F. Green International Airport in Warwick, Rhode Island, yesterday, breaking the mark of 97 set in 1999, according to the weather service.
Northeast Records
A record high temperature of 102 degrees was also set at Bradley International Airport in Windsor Locks, Connecticut, breaking the old mark for the day of 99 in 1999, the weather service said.
Connecticut opened more than 100 "cooling centers" where residents can get into air-conditioned buildings and out of the heat, according to a statement from Governor Jodi Rell, a Republican. It was 97 in Hartford at 1:53 p.m., according to the weather service.
Bastardi expects July will be much warmer than normal across most of the country. Another heat wave will probably arrive after July 15, bringing temperatures of 100 or higher to the northern Great Plains and Chicago, he said.
"I don't think this is the last of the heat," Bastardi said in an interview. "The next time it comes back it may not be as extreme on the East Coast, but the Northern Plains, Chicago and Minneapolis are liable to broil for the last two weeks of July."
Not Over
Rouiller said all the indicators point to above-normal heat to continue for much of the U.S.
"I think more likely than not, July will go down as much hotter than normal for a large part of the country," he said.
Richard Castro, a weather service meteorologist in Upton, New York, said the high temperatures in New York will only be in the 90s as the week goes on and by the weekend will be in the high 80s. He said normal high temperatures for this time of year are in the 80s.
The cooling degree days value at Central Park yesterday was 27, or 16 above the normal value of 11, according to the weather service.
Cooling degree days, calculated by subtracting a base of 65 degrees from the average daily temperature, is a value designed to show energy demand, according to the weather service. The higher the value, the warmer the weather, and thus the more energy is probably consumed to cool homes and businesses.
For the month, the value in Central Park is 94, or 29 above the normal value of 65. In Philadelphia, it's 88, or 19 above the normal of 69; and in Boston it's 76, 29 above the normal of 47, according to weather service records.