Lady Gaga Does Piano by Foot, Charms 'Monsters' in N.Y. Concert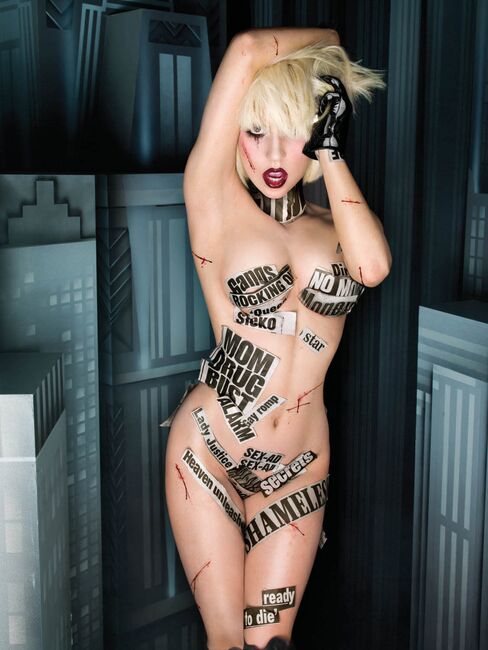 "Do ya think I'm sexy?" Stefani Germanotta, aka Lady Gaga, asked a capacity crowd of about 15,000 last night at Madison Square Garden. "Because I think you're sexy!"
The first of a three-show New York engagement by the 24-year-old pop phenomenon was an exuberant display of mutual admiration. My Radio Shack sound-level meter measured an ear-splitting 91 decibels before she sang a note. Were Beatles fans at Shea Stadium in 1965 this loud?
Gaga is a singer/songwriter/exhibitionist/dancing queen from the Madonna school. With a boffo world tour and addictive club records, her income was $62 million in the past year, according to a Forbes magazine estimate.
Like Madonna, she sometimes affects a faint English accent, even though she grew up on Manhattan's Lower East Side. Also like Madonna, she's a master of self-promotion and music videos, and already a target of at least one amusing lampoon (by Broadway's Jackie Hoffman).
Gaga's cinematic flair and understated live television performances, with such English pop gods as Elton John and the Pet Shop Boys, hint at a dry wit and sophistication. Her patter last night to fans -- she calls them "little monsters" -- suggests otherwise.
"The monster ball will set you free!" "Little monsters reign supreme!"
Most of the songs, including the hits "Just Dance" and "Telephone," were egregiously loud and tinny, as if played on an old stereo with the treble turned up. She ruined her lovely ballad "Speechless" by delegating the choruses to the crowd and banging on a piano with her foot.
While her singing and dancing were assured, the pump-and-grind choreography was generic aerobics class stuff.
Possibly Latex
Gaga appeared variously in a black bra and panties, camisole body suit and a transparent getup, possibly latex, with two pieces of white tape on her chest. Some outfits were inventive, but each change was preceded by a pretentious art video (in one she is vomited on with a strange bluish fluid).
Underscoring a fuzzy message about fame and its perils, she ended the show with a huge octopus-like monster chasing her onstage as she sang "Paparazzi."
Most entertaining were the fashion tributes in the crowd: iridescent wigs, hot pants, sunglasses, leotards. Trousers appeared to be a no-no, with one young woman -- in an extreme case of Gaga-itis -- wearing nothing downstairs but a frilly thong. (A look that's better in theory than in practice.)
The little monsters exited the Garden smiling. Removing my earplugs, I left less of a little monster than when I arrived. Rating: **
Lady Gaga plays Madison Square Garden tonight and Friday night. Although the show is listed as sold-out, tickets are available at ticketsnow.com, ebay.com, admitone.com and other sites. As of this morning, there were single tickets at ticketmaster.com.
What the Stars Mean:
****       Do Not Miss
***        Excellent
**         Average
*          Poor
(No stars) Worthless
(Philip Boroff writes for Muse, the art and leisure section of Bloomberg News. The opinions expressed are his own.)