Half-Price Wine, Truffle Pizza Heat Up Monday Mobs at Accademia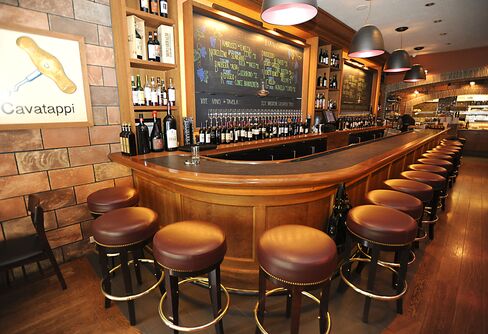 People were stacked three deep at the bar and every table was taken. This wasn't your typically slow Monday night, given the raucous vibe at Accademia Di Vino as patrons crunched thin-crusted pizza with truffle pate and addictive fritters stuffed with Parma's favorite exports, prosciutto and cheese.
Even more surprising, the Upper West Siders, happily a frugal crowd, quaffed $100 wines that were neither French nor smuggled in from someone's secret stash of an unknown Sonoma winery. They were from Italy.
The draw? Monday night is bargain night at Accademia: Take half off for reds over $80 and whites over $60. Same deal at sister restaurants 'Cesca, a few blocks down Broadway at 75th Street, and Accademia on the Upper East Side.
"Most people don't have any experience of high-end Italian wines," says Anthony Mazzola, 66, managing partner of the restaurant group.
Mazzola recently took over the spot vacated by Docks, a seafood joint on the west side of Broadway between 89th and 90th streets. He ditched the fish-house look of Docks, turning it into a mini-Me of Accademia east (which seats 230; the Broadway version seats 116), with barrel-vaulted rooms, high-top tables for casual diners and better lighting.
Real Deal
Not to mention pretty good comfort food, well-enough turned out to complement those wines, which are the real story here.
"I owned a wine shop, Sutton 57, and then moved to Italy, where I spent a year and a half, going to every vineyard and learning the wines," Mazzola said during a telephone interview from South Carolina, where he has a home and nurses plans to open an enoteca in Charleston. "Italian wines are our strength and where my love is."
Looking to boost business on slow nights and to get patrons to step up from $12 glasses of Soave at the bar, Mazzola started wine night two years ago at 'Cesca and quickly expanded to include the Accademias.
"Some people come in every week just to experiment," he said. "Of course, we hope they'll come back on one of the other six days as well."
So Many Choices
Chef Kevin Garcia is a bit like Mario Batali in overdrive - - there are many crudo and tartare selections, pannini and more pastas than you knew existed. The menu just goes on and on, and you can go giddy reading it. We loved those $12 fritters, perfectly fried, greaseless and light yet heady from the parmigiano and teeny chunks of ham. And you'd better plan to share the $18 pizza with robiola, black truffle pate and pecorino because it will disappear before you've unfolded your napkin.
I asked Mazzola what high-end wines to order with those two delectables. A native of Sicily, he went with the Planeta Merlot for a red choice, $85 on the list, $42.50 on Monday, for a luscious mouthful of fruit with a deep, long finish. On the white side, St. Michael Eppan Schulthauser, a pinot bianco, big and slightly citric on the palate; $60 on the list, $30 on Monday night.
I didn't much care for a $29 filet of halibut sauced with an apple and horseradish glaze that overwhelmed the fish and was too sweet despite the horseradish kick. But the pastas ($19 to $25) are reliable and anyway, I'd go to do what Mazzola intends: try a big old complicated wine at a bargain price with a tasting menu of appetizers. Maybe someday I'll even spend $85 for a merlot, though not, I must admit, any time soon.
Accademia Di Vino is at 2427 Broadway, near West 89th Street. Information: +1-212-787-3070; http://www.accademiadivino.com
Rating (for Monday nights): ** 1/2
What the Stars Mean:

****         Incomparable food, service, ambience.
***          First-class of its kind.
**           Good, reliable.
*            Fair.
No stars     Poor.
(Jeremy Gerard is an editor and critic for Muse, the arts and leisure section of Bloomberg News. The opinions expressed are his own.)
Before it's here, it's on the Bloomberg Terminal.
LEARN MORE