Plummer Charms as Prospero in Dreamy 'Tempest': Jeremy Gerard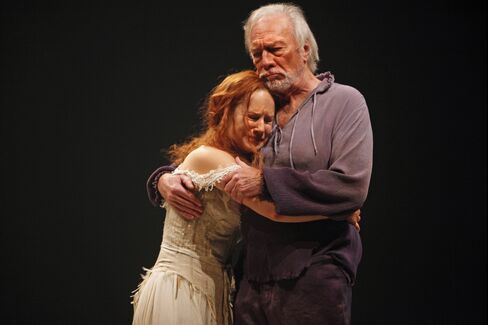 Launched in 1953 by Sir Tyrone Guthrie, Canada's Stratford Shakespeare Festival attracts many of the best directors and stars, who tend to keep coming back for more. It's the most consistent Woodstock for Shakespeare fans on the continent.
Among the regulars has been Christopher Plummer, teaming up this season with artistic director Des McAnuff for "The Tempest."
Prospero may declare, at the play's closing, that his charms "are all o'erthrown," but in truth there's charm to spare in McAnuff's elegant staging of Shakespeare's valedictory and in Plummer's Prospero, as playful as he is soulful in orchestrating his last hurrah.
Conjuring the storm that brings to his island prison those who have brutally wronged him, especially his usurping brother Antonio, Prospero exchanges his magical powers for the more human virtue of forgiveness. But not before he has set things right, restoring his throne, securing his daughter's future and freeing not only his enslaved sprite Ariel (Julyana Soelistyo) but that scary monster Caliban (Dion Johnstone) as well.
"The Tempest" gives both the director and his star the opportunity to breathe new life into a familiar story. Always a commandingly visual director, McAnuff starts with an image not found in Shakespeare: Ariel in blue (looking a bit like a Navi escaped from "Avatar") diving head-first from high above, free-stroking down to retrieve the very book of magic that her master will later promise to "drown."
Goodbye, Sprite
Then comes the storm as Prospero, spyglass in hand, pops up in different nooks of the Festival Theater to be certain his guests arrive shaken but unharmed. Plummer lets us know with each more-lingering glance and gentle instruction that he will release Ariel to her freedom almost as reluctantly as he will release Miranda (Trish Lindstrom) to the extremely eager prince Ferdinand (Gareth Potter).
The scenes among the four of them are suffused with love, fear and anticipation that McAnuff keep in perfect balance, a symmetry of wisdom that reminded me why "The Tempest" is catnip to directors, no less than divos, of a certain age.
Less effective are the scenes when Prospero is offstage: The Stephano (Geraint Wyn Davis) and Trinculo (Bruce Dow) farce (an actual vaudeville slapstick makes an unwelcome appearance) as they drunkenly plan their coup d'etat with Caliban, and the gathering of the Milanese, have a generic quality.
But when Plummer, in a near-whisper, says, "Why that's my dainty Ariel. I shall miss thee; but yet thou shalt have freedom. So, so, so," those last three syllables have a tugging poignancy. Rating: *** 1/2
'As You Like It'
McAnuff, a frequent Broadway visitor ("Jersey Boys," "The Who's Tommy"), can be something of an esthetic chameleon: You'd be hard-pressed to identify "As You Like It," Shakespeare's leafy comedy on the same mainstage, as the work of the same director. He exploits the parallels between the two plays (a usurped monarch, exile from the city) while exploding the canvas with funny, sticky visual references to Dali and Magritte.
And, as with "The Tempest," he takes some liberties, though less welcome ones here, such as starting off the acts with scenes of violence intended to remind us of what brought Duke Senior and his court-in-exile to the Forest of Arden in the first place. Well no, thanks. The opposition of styles and tones is effect for effect's sake.
Still, there are plenty of other pleasures to be had in this, one of 12 productions unfolding on Stratford's three stages in a season running through the end of October. Not least is the attention to music, offered by a terrific jazz trio during "Under the Greenwood Tree."
The lithe Andrea Runge is touching both as Rosalind and in her male guise as Ganymede, sporting a tweed suit and smart hat. Randy Hughson all but steals the show as the Old Shepherd. Best of all is Brent Carver's Jaques, the knowing philosopher who manages to utter discomfiting truths without being too much of a wet blanket. Rating: ***
Among the other productions on the Stratford slate this summer are "Kiss Me, Kate," "Dangerous Liaisons" and "Evita." Information: http:www.stratfordfestival.ca.
The Stratford Festival is an easy 2-hour drive from Toronto. There are plenty of hotel choices, but for luxe comfort in an art-filled, lavishly appointed bi-level suite (buttery soft leather couches, king-size beds, whirlpool baths), book Over the Top, above the Gallery Indigena, 69 Ontario St. Information: +1-519-271-7881; http://www.galleryindigena.com
Similarly, Stratford abounds in decent restaurants but for the moment, the best is Bijou, a French-Asian fusion spot deft with local ingredients, including pan-sauteed Lake Erie perch and loin of elk. At 105 Erie St., Stratford. Information: +1-519-273-5000; http://www.bijourestaurant.com
What the Stars Mean:
****       Do Not Miss
***        Excellent
**         Average
*          Poor
(No stars) Worthless
(Jeremy Gerard is an editor and critic for Muse, the arts and leisure section of Bloomberg News. The opinions expressed are his own.)
Before it's here, it's on the Bloomberg Terminal.
LEARN MORE