Huge HIV Virus Made of Glass Puts Plague in Your Face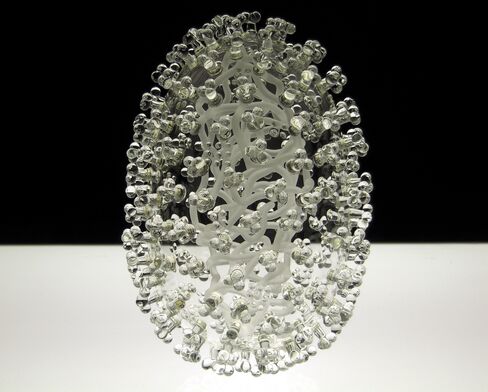 A swine flu virus, looking like a Faberge egg, is one of the giant bugs in "Infectious Beauty," an unusual exhibition at Heller Gallery in New York's Meatpacking District.
Enlarged a million times their original size, the nasty viruses are made from blown glass and shimmer like Baccarat crystal on their mirrored pedestals. HIV is as round as a ball. An E. coli bacterium resembles a spiky amoeba.
Created by Luke Jerram, a 35-year-old artist based in Bristol, England, these transparent, fragile-looking spheres exude a strange tension that propels them beyond the merely decorative.
"I make them to contemplate the global implication of each virus," said Jerram when we recently met at the gallery. "You are drawn in by the beauty of these objects and repelled by what they represent."
Jerram also produced the "Play Me, I'm Yours" art project that brought 60 pianos to the streets of New York.
For "Infectious Beauty," he said he was inspired by the colorful images of viruses in newspapers and magazines. He felt suspicious of the visual representation, he said.
'Very Fuzzy'
"You can't see them with your naked eye," he said. "When you look at them through the electron microscope they look very fuzzy. You can just about make out the shape."
The printed images he saw reflect scientists' decisions on what things look like and how to present them visually to the public, he said.
In reality, viruses are transparent, which is why he had them made of glass, he said. Their surfaces are dotted with spikes, worms and suction cups, representing proteins. Inside, milky glass forms in shapes that bring to mind coral reefs or a DNA chain.
"The genetic material is coiled up on the inside and the proteins are on the outside," said Jerram. "They act as keys to unlock the surface of a cell so that the virus can go in and replicate."
Smallpox is the deadliest of the viruses in the show, which also includes SARS and avian flu.
"It's an absolutely horrible disease," Jerram said. "But it's also something to be celebrated because this year marks the 30th anniversary of the global eradication of smallpox."
The artist worked with a virologist, poring over medical and chemical diagrams to come up with the most accurate images. When the virologist signed off on the design, Jerram asked the glassblower to turn the squishy-textured virus into hard-surfaced sculpture.
Colorblind Artist
"These are as accurate as I can make them," said Jerram, whose colorblindness prompted his exploration of perception in art and science. "We are right at the edge of what scientific technology allows us to see. We also want to be at the edge of what glassblowing is capable of."
Prices range from $3,000 to $22,000 for the glass works, which come in editions of five. Color photographs of the works are available for $450.
"Infectious Beauty" runs through July 31 at Heller Gallery, 420 W. 14th St. Information: +1-212-414-4014; http://www.hellergallery.com
(Katya Kazakina is a reporter for Bloomberg News. The opinions expressed are her own.)