Ramsay to Close Suburban Kitchen That Supplies His London Pubs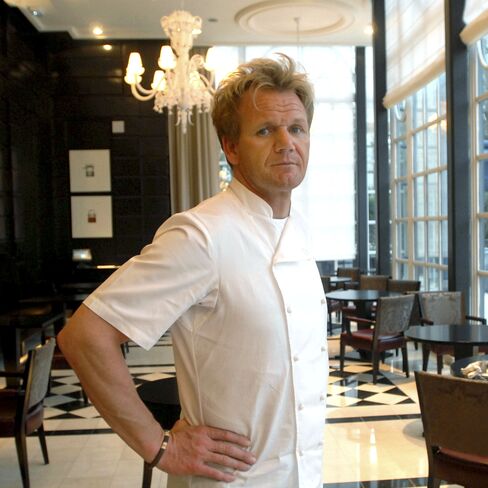 Gordon Ramsay is closing GR Logistics Ltd., the suburban kitchen that earned unwelcome headlines when the Sun reported that it produced meals in bags that were sent to the TV chef's eateries for reheating.
The ending of the business on Wandsworth Road follows Ramsay's decision to shut down one of his three pubs, the Devonshire. GR Logistics supplies the Warrington and the Narrow as well as Ramsay's Chelsea bistro, Foxtrot Oscar.
"GR Logistics is a catering production company which will close at the end of July following a review of its services." Gordon Ramsay Holdings Ltd. said today in an e-mailed statement.
The company, incorporated on April 1, 1993, was bought from the Roux family of chefs and was previously called House of Albert Roux Ltd. The Sun reported on its activities on April 17, 2009, under the headline, "Ramsay serves up coq au van."
The newspaper quoted GR's head chef, Darran Ridley, as saying a coq au vin portion cost only 2.60 pounds ($3.94). The Linkedin.com website indicates Ridley left the company four months later and now works on the Queen Mary 2 cruise liner.
A call to GR Logistics this morning went straight to voicemail.
(Richard Vines is the chief food critic for Muse, the arts and leisure section of Bloomberg News. Opinions expressed are his own.)
Before it's here, it's on the Bloomberg Terminal.
LEARN MORE