Gillard Aims to 'Wreck' People Smuggling in Australia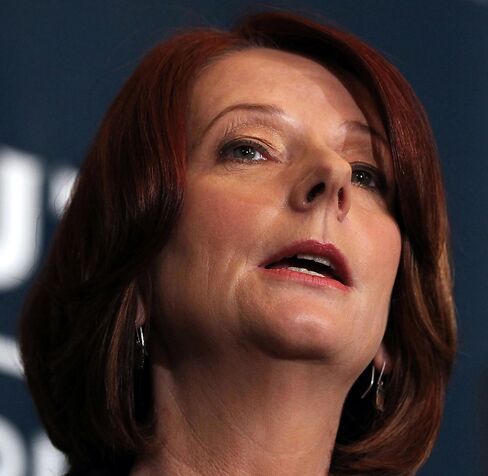 Australian Prime Minister Julia Gillard said her government would introduce policies to strengthen border protection and "wreck" the people smuggling trade, key issues in this year's election.
"We believe building a sustainable regional protection is the most effective way to address irregular migration," she said in a speech to the Lowy Institute in Sydney today. "The purpose would be to ensure that people smugglers have no product to sell."
The speech came less than two weeks after Gillard ousted former Prime Minister Kevin Rudd, whose border protection policies were blamed for an influx in asylum seekers. About 3,532 arrived on 75 boats so far this year, Immigration Department figures show, compared with 2,726 on 60 boats in 2009.
Gillard has spoken to United Nations High Commissioner for Refugees Antonio Guterres about establishing a regional center to process asylum seekers. She lifted a ban on processing asylum claims from Sri Lanka while maintaining a similar ban on people from Afghanistan.
Gillard said she has talked with East Timor President Jose Ramos-Horta and New Zealand Prime Minister John Key about the regional center. Australia will buy eight new patrol boats for border surveillance and her Labor government will toughen penalties for people smugglers if it wins this year's election, she said.
Poll Lead
Gillard last week cut a planned tax on resources profits, ending a three-month dispute with companies such as BHP Billiton Ltd. and Rio Tinto Group, an issue that gave Tony Abbott's opposition Liberal-National coalition an election-winning lead in opinion polls.
In her first two days in office, Gillard restored Labor's advantage in opinion polls, with a Nielsen survey published in the Age newspaper on June 26 and a Galaxy poll in the Herald Sun newspaper the same day showing the government now having an election-winning lead.
Abbott has pledged to re-establish processing centers offshore for asylum claims, refuse claims from those who discard their identification and turn back refugee boats if his coalition wins the election.
Australia will accept 13,750 refugees and people who qualify under special humanitarian rules in the 12 months ending June 30, 2010, up from 13,507 in the previous year. The nation accepted just 0.6 percent of the world's asylum seekers, Gillard said.
'Pacific Solution'
Rudd, who won office in November 2007, moved to dismantle former Prime Minister John Howard's "Pacific Solution" policy of detaining refugees in island camps in third countries and pledged to speed up the assessment of asylum claims. In 2008, the government closed detention centers on Nauru and Manus, a province of Papua New Guinea.
"The prime minister and Mr. Abbott are backing a return to Howard's Australia," Greens Senator Sarah Hanson-Young said in an interview from Adelaide. "We have a brand new Pacific Solution that relies on a poor country like East Timor to carry our humanitarian load."
As of July 1, there were 2,573 people in detention on Christmas Island, an Australian territory more than 800 kilometers (497 miles) off the northwestern coast.
About 1,503 people, who arrived by boat were transferred to mainland detention centers in Sydney, Darwin, Melbourne, Brisbane, Perth and regional centers in Curtin and Leonora in Western Australia and Port Augusta in South Australia state.