Dollar May Drop to $1.2660 Versus Euro on Economy, CMC Says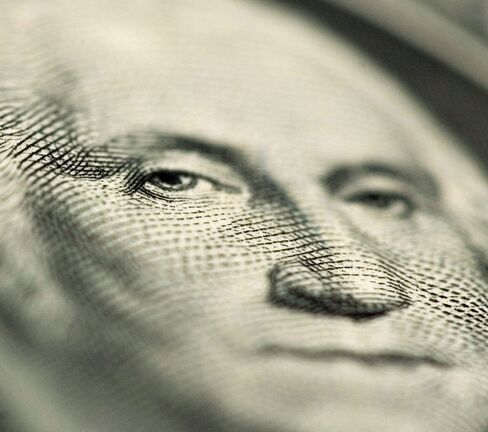 July 6 (Bloomberg) -- The dollar may extend its decline to a level versus the euro last seen in May as concern shifts from Europe's sovereign-debt crisis to slowing U.S. growth prospects, according to CMC Markets.
"The onslaught of disappointing U.S. figures, ranging from new home sales to net job losses, accelerated the decline in U.S. yields," wrote Ashraf Laidi, chief market strategist in London at CMC, an online trading company, in a note to clients today. "Consequently, the U.S. dollar could only head lower."
The dollar may decline to $1.2660 versus the euro, a level last reached May 21, and slide to 85.70 U.S. cents versus the Australian dollar.
The yield on the 10-year Treasury note dropped last week for a third straight week to 2.98 percent after falling on July 1 to 2.8793 percent, the lowest level since April 2009. The Standard & Poor's 500 Index tumbled 5 percent last week following a 3.7 percent loss in the previous week.
The Dollar Index, which IntercontinentalExchange Inc. uses to track the greenback against the euro, yen, pound, Canadian dollar, Swiss franc and Swedish krona, dropped last week for a fourth week, falling to 84.427. It reached 84.132 on July 2, the lowest level since May 10.
U.S. nonfarm payrolls decreased in June for the first time this year, losing 125,000 jobs, Labor Department figures showed last week. The number of contracts to purchase previously owned houses in the U.S. plunged 30 percent in May, the National Association of Realtors reported. That is more than twice as much as economists in a Bloomberg News survey forecast.
To contact the reporter on this story: Catarina Saraiva in New York at asaraiva5@bloomberg.net
To contact the editor responsible for this story: Dave Liedtka at dliedtka@bloomberg.net