Deripaska Says Voloshin Will Be Reinstated as Norilsk Chairman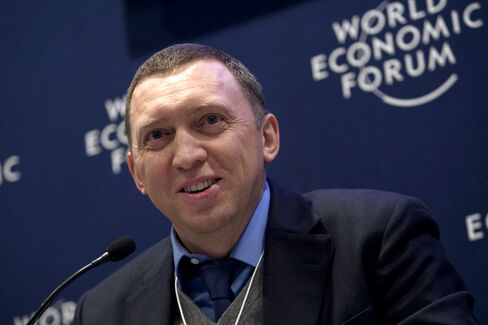 Alexander Voloshin, who was ousted as chairman of OAO GMK Norilsk Nickel last week following a disputed board election, will be reinstated at the next meeting of the company's investors, United Co. Rusal said.
"Voloshin will be elected at the next shareholder meeting," Rusal Chief Executive Officer Oleg Deripaska told reporters in London today. Rusal owns 25 percent of Norilsk.
"We have a government request to restore Voloshin as a chairman because he was nominated by Vnesheconombank," Deripaska said. State-owned Russian lender Vnesheconombank, which isn't a Norilsk shareholder, is able to vote because it gave Rusal a $4.5 billion emergency bailout at the end of 2008.
The disagreement has renewed tensions between Deripaska and fellow Norilsk investor Vladimir Potanin, whose Interros Holding Co. won four seats on the board while Rusal got three. A feud between the two men over Norilsk's management in 2008 only ended when they agreed not to seek board seats for themselves or pursue plans to merge Norilsk and Rusal for three years.
Rusal, controlled by Deripaska, said yesterday the outcome of the June 28 vote was the result of "manipulation" and it will call an investor meeting to re-elect board members. Voloshin's candidacy had been agreed on with Interros and backed by the state, Rusal said last week.
Deripaska Demands
Rusal is seeking a bigger dividend payout from Norilsk, the world's largest nickel producer. Deripaska has demanded Norilsk improve the profitability of its nickel and copper mining and sell its stake in U.S. precious-metals producer Stillwater Mining Co., as well as assets acquired when Norilsk bought LionOre Mining International Ltd. in 2007.
Deripaska, who was elected to Norilsk's board last week, said he doesn't envisage a repeat of the previous spat with Interros.
"I can't see that they would go to such extremes," he said. "We can restore Rusal's position on the board."
Rusal, the world's largest aluminum producer, wants four to five people on the board and would be "happy" to have three independent directors, Deripaska said. "Seven out of 13" seats "would guarantee corporate governance is in place," he said.
Andrei Kirpichnikov, a Moscow-based spokesman for Interros, declined to comment.