Abertis Loan Shows Bank Appetite for Mergers: Credit Markets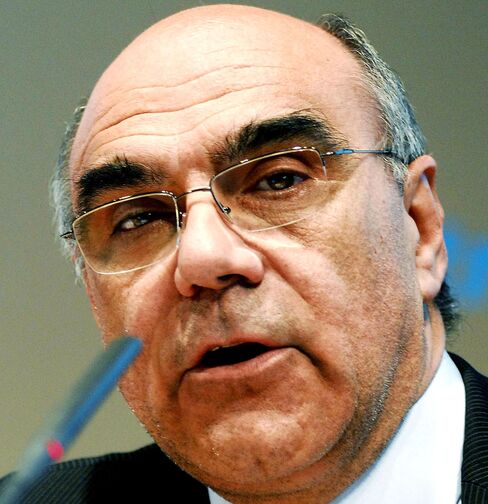 Banks committed as much as 7 billion euros ($8.8 billion) in loans to fund the acquisition of Spain's Abertis Infraestructuras SA as lenders boost financing for takeovers and shrug off concern that a slowing economy will weaken credit markets.
The highway operator's two main shareholders and buyout firm CVC Capital Partners Ltd. are in talks with banks for the biggest leveraged buyout financing commitment since May, when Blackstone LP lined up $10 billion of debt to back a failed takeover bid of Fidelity National Information Services Inc.
"If this deal goes through, it shows that banks are willing to offer funding for LBO-type transactions," Suki Mann, head of credit strategy at Societe Generale SA in London, wrote in a note to clients.
The transaction may signal that banks from around the world have diminished concern that Europe's fiscal crisis will slow the global economic recovery or that stress tests on the region's financial institutions will reveal inadequate capital. In the U.S., lenders have provided $175.5 billion in financing to high-yield, high-risk companies in 2010, compared with $167.8 billion in all of 2009.
Mediobanca SpA will syndicate the loan for Abertis to at least 14 banks next week, according to two people familiar with the plans who declined to be identified because the talks are private. Criteria CaixaCorp SA, Actividades de Construccion y Servicios SA and London-based CVC are considering a bid for all of Abertis, Criteria and ACS said in filings to regulators. No decision has been made on whether to proceed, said Criteria, which owns 28.5 percent of Barcelona-based Abertis, and ACS, which holds 25.8 percent.
Ending Rally
Elsewhere in credit markets, credit-default swaps tied to U.S. investment-grade corporate debt fell for the fourth time in five business days, indicating improving investor confidence, and Bank of America Merrill Lynch reduced its estimate of investment grade bond issuance to $700 billion from $800 billion this year.
Credit-default swaps on the Markit CDX North America Investment Grade Index, which investors use to hedge against losses on corporate debt or to speculate on creditworthiness, slipped 1.9 basis points to a mid-price of 119.8 basis points at 11:53 a.m. in New York, according to index administrator Markit Group Ltd.
Time Warner Inc. may sell at least $1.5 billion of 5-, 10.5- and 30-year debt, according to a person familiar with the transaction. The notes may be sold as soon as today, said the person, who declined to be identified because terms aren't set.
European High Yield
European high-yield corporate bonds snapped the longest winning streak in more than two weeks as doubts about the strength of the economic recovery overshadowed yesterday's successful Spanish bond sale. Telefonica SA plans to sell as much as 6 billion pesos ($463 million) of bonds in Mexico today.
The cost of insuring against losses on European company debt fell, with the Markit iTraxx Crossover Index of default swaps on 50 mostly high-yield borrowers falling 2.43 basis points to 558.5 at noon in New York, according to Markit. The index fell for the previous three days, signaling an improvement in perceptions of credit quality and the longest run of gains since June 21.
Credit-default swaps on Spanish debt pared yesterday's decline and advanced 1.5 basis points to 253.5, compared with the all-time high closing price of 274.5 on May 6, CMA DataVision prices show.
Spain Sale
Credit-default swaps pay the buyer face value if a borrower fails to meet its obligations, less the value of the defaulted debt. A basis point equals $1,000 annually on a swap protecting $10 million of debt.
Spain, which is struggling to plug the euro region's third-largest budget deficit, sold 6 billion euros of bonds due October 2020 yesterday in its first issue through a bank syndicate since February, according to data compiled by Bloomberg. The southern European nation's new bonds fell in the first day of trading after the Institute for Supply Management said yesterday that service industries in the U.S. expanded more slowly in June than forecast.
"I remain in the camp that's concerned about medium-term growth prospects but think that we'll avoid a complete meltdown," Gary Jenkins, a strategist at Evolutions Securities Ltd. in London, wrote in a client note today.
Emerging Markets
In emerging markets, the extra yield investors demand to own bonds instead of Treasuries narrowed 8 basis points to 329 basis points, according to a JPMorgan Chase & Co. index. The spread has ranged from a low this year of 229 on April 15 to as high as 359 on May 25. Madrid-based Telefonica plans to split its proposed offering between 10-year fixed-rate and four-year variable rate bonds, it said in a filing with the Mexican stock exchange.
Bank of America Merrill Lynch cut its forecast for U.S. investment-grade debt sales in 2010 to $700 billion from $800 billion, citing growth in company cash balances.
U.S. corporate investment-grade bond issuance slowed to $387.8 billion in the first half of this year, the least since 2005, amid concern among investors that Europe's sovereign debt crisis would spread, hampering the economic recovery. In response to the recession, nonfinancial borrowers boosted cash and equivalents from $814 billion in 2008 to $1 trillion in the first quarter of this year, according to Bank of America data.
"Many issuers in high grade have flexibility to stay on the sidelines because balance sheets have become increasingly liquid over the past couple of years both for banks and industrials," Bank of America analysts Hans Mikkelsen and Yuriy Shchuchinov wrote yesterday in a report.
Buyout Lending
Lending to buyout firms slumped 85 percent to $7.5 billion in Europe last year after credit markets seized up, according to data compiled by Bloomberg. Banks shunned the riskiest borrowers after taking $12.4 billion of writedowns on leveraged loans in 2008 and 2009.
With credit markets opening up, financing for takeovers is more available. Private equity firms have agreed to $56.3 billion worth of LBOs this year, compared with $74.7 billion in 2009, according to data compiled by Bloomberg.
The Abertis loan will be distributed to banks as leveraged-loan buyers in the U.S. have bought almost three times more of the debt than a year ago even with borrowing costs at the highest levels since Dec. 17, according to Standard & Poor's Leveraged Commentary and Data.
Mediobanca, along with UBS AG and Citigroup Inc., plan to lend as much as 500 million euros each to fund the purchase, according to the people. Raising a third of the money through debt might push Abertis' debt to 9.1 times its earnings, from 5.9 times, according to Andrew Belton, an analyst at CreditSights Inc. in London.
Abertis Bonds
Abertis bonds fell on concern a takeover would pile on more debt and lead to losses for investors, while shares jumped to the highest in more than five months. Abertis's 1 billion euros of 4.625 percent notes due in 2016 dropped 1. 5 cent to a bid price of 88.57 cents on the euro in London today, according to HSBC Holdings Plc prices.
"There is a real risk of a potentially significant rise in leverage," Belton said in a note to clients. Belton's estimate assumes that the deal will be financed with 8 billion euros of debt and 4 billion euros of equity.
UniCredit cut Abertis's debt to "underweight" from "overweight given the expected weakening credit profile and expected negative rating actions in case of a successful takeover by CVC and its partners," the bank said in a note to investors.
'Very Surprising'
In a leveraged buyout, a buyer funds its acquisition with money borrowed in the target company's name. The result is typically a cut in credit ratings and a decline in the value of the acquired company's bonds. Abertis is ranked BBB+ by Standard & Poor's, the third-lowest investment grade, and a step higher at A- by Fitch Ratings.
"It's very surprising," said Prashant Agarwal, who helps oversee 250 million euros in high-yield assets as a fund manager at Pictet & Cie. in Geneva. "From a shareholder's perspective it makes sense. Are the credit markets ready to fund it? I'm not too sure of that."