Kan Election Gambit Asks Japan Voters to Consider Higher Taxes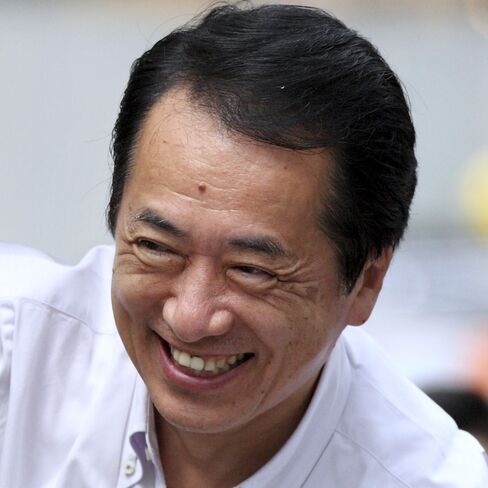 Japanese Prime Minister Naoto Kan heads a party that has stumbled in the polls, jettisoned the previous leader and may lose its upper-house majority on July 11. His strategy to lure voters: suggest they pay higher taxes.
Half of the 242 seats in the Diet's upper chamber are up for grabs. The contest will serve as a referendum on the Democratic Party of Japan's first 10 months in office, a start marred by money scandals and a dispute with the U.S. that led to last month's departure of Kan's predecessor, Yukio Hatoyama.
Kan since June 17 has called for a debate on whether to as much as double the 5 percent sales tax, stressing that Japan must confront a debt amounting to $80,000 per person to avoid the kind of fiscal crisis that has made Europe a riskier bet for investors. His suggestion has split the electorate, with about half in favor and half opposed.
Opening the door to a tax increase "is politically astute," said Naomi Fink, Japan strategist at Bank of Tokyo- Mitsubishi UFJ Ltd. in Tokyo. "It's a symbol of Japan's commitment to fiscal responsibility. He's setting decisive goals, which is a sign of leadership."
While saying any rise in the tax is "at least two to three years off," Kan casts the debate in terms of the need to pay for Japan's rising social welfare costs and contain its 883 trillion yen ($10 trillion) public debt.
At almost 200 percent of gross domestic product, it is the largest among developed nations. Kan said on taking office that he expected public debt to rise even with new bond issues limited to 44 trillion yen next fiscal year.
Aging Population
Almost 23 percent of the country's 126 million people will be older than 65 this year, compared with 13 percent in the U.S., according to data compiled by Bloomberg. A 1 percentage point increase in the sales tax would generate annual revenue of about 2.5 trillion yen, according to Ministry of Finance figures.
Kan last month released plans to boost the economy by lowering the corporate tax rate from as high as 40 percent while balancing the budget in 10 years, which won praise from world leaders at the June 26-27 Group of 20 summit in Toronto. At a press conference with President Barack Obama, Kan, 63, said he was "strongly encouraged" by Obama's support.
Tokyo corporations pay almost 41 percent in taxes, including local levies, higher than China's 25 percent and France's 33.3 percent, according to the Finance Ministry.
"We expect each party to clarify their positions and tackle issues to achieve fiscal health," Hiromasa Yonekura, head of the Tokyo-based Japan Business Federation, the country's biggest lobby, wrote on the group's website on June 24.
Improved Prospects
The ruling party's prospects have improved since Kan took over on June 8. Hatoyama's approval rating fell below 20 percent before he resigned over his handling of a pledge to relocate a U.S. military base from Okinawa. He instead gave in to U.S. pressure to move the base elsewhere on the island, angering local residents.
Kan's latest approval rating is 47 percent, according to a Mainichi newspaper poll taken July 2-4, down 5 percentage points from the previous week.
Support for the DPJ was at 30 percent, compared with 15 percent for the main opposition Liberal Democratic Party. The LDP lost power after 50 years of almost uninterrupted government rule in last August's election for the Diet's more powerful lower house.
Forty-five percent of voters favored raising the consumption tax, compared with 49 percent who opposed it, according to the survey of 40,373 people. It gave no margin of error.
'Anyone's Guess'
"It's anyone's guess if the slight dip in the polls is because of the tax-hike discussion or just a wearing-off of the initial euphoria," said Koichi Nakano, a political science professor at Sophia University in Tokyo. "People are certainly more reassured since Kan took office."
One stumbling block is that the People's New Party, the DPJ's coalition partner, opposes any increase in the consumption tax. PNP head Shizuka Kamei said June 11 that raising the tax shows a "lack of understanding" about people's suffering.
In order for Kan to keep a majority in the upper house and ensure the smooth passage of legislation, the DPJ must retain all 54 of its seats being contested and the PNP win two. Kan told reporters at the G-20 that he "will discuss various options with other parties" should he fall short.
Hiroshi Miyazaki, chief economist at Shinkin Asset Management Co. in Tokyo, says Kan is broaching the tax issue too early. Reports last week showed the unemployment rate reached a five-month high of 5.2 percent in May, while wages and household spending fell, more evidence that the end to deflation is nowhere in sight.
Gains in Growth
On the other hand, the Bank of Japan's quarterly Tankan report of business sentiment rose to a two-year high, according to a July 1 report. The world's second-biggest economy grew at a 5 percent annual pace in the first quarter, the biggest gain since the second quarter of 2009.
"Japan's steady recovery is a tailwind for the government," Miyazaki said. "It will make it easier to work on fiscal consolidation. Still, it's too early to raise taxes and place a burden on households who haven't felt the benefits of the recovery. That will have a negative impact on the economy."