Van Bronckhorst Seeks Dutch World Cup Win as Career's Last Act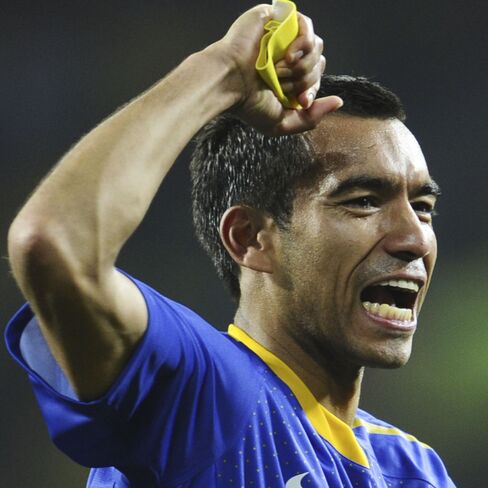 Playing each game as if it's your last is one of soccer's more popular mantras. For Netherlands captain Giovanni Van Bronckhorst, that's particularly relevant as his country seeks a first World Cup title.
Van Bronckhorst, 35, ended his 17-year club career in May with his retirement from Feyenoord and will move into coaching after the tournament. The Dutch face Uruguay in the semifinals today in Cape Town, with the winner facing Spain or Germany in the July 11 final.
"Every game here could have been the last of my career," Van Bronckhorst said in an interview after a victory over tournament favorite Brazil in the quarterfinals. "I'm very happy that I could play two more games."
The Netherlands, who have won all 13 qualifying and tournament matches for the 2010 World Cup, are on the brink of their first final since 1978, when they lost to host Argentina. That defeat followed a loss to West Germany in the previous championship decider in Munich.
The Oranje, as the Dutch team is known, were outplayed by Brazil in the first half of their July 2 match in Port Elizabeth and were trailing at halftime to Robinho's 10th-minute goal.
Wesley Sneijder tied the game after his free kick deceived goalkeeper Julio Cesar and went into the net via the head of midfielder Felipe Melo. Sneijder scored again to seal the Netherlands' first World Cup win over Brazil since 1974.
"It gives a lot of confidence if you can beat Brazil," said former Netherlands defender Frank De Boer. "But you can't walk around for two, three days thinking 'We beat Brazil.' You have to focus on the next game."
Knockout Blows
Van Bronckhorst has experienced previous letdowns, having been part of five squads that failed to build on good starts at major tournaments as the Netherlands exited in the knockout rounds.
Van Bronckhorst is playing in his third World Cup. He and fellow defender Andre Ooijer are the only members of the squad that lost to Brazil on penalties in the 1998 semifinal. Teammates from that year including De Boer and Phillip Cocu are on the current coaching team.
"If you'd told me that I would be here when I moved back to Holland I wouldn't have believed it," said Van Bronckhorst, who returned home after winning the Champions League with Barcelona in 2007. "I've experienced many good moments and World Cups but I've never reached the final."
Bert Van Marwijk, who previously coached Van Bronckhorst at Feyenoord, appointed the son of Indonesian immigrants as captain after he took charge of the national team in 2008. Van Bronckhorst became the fourth Dutchman to play 100 times for his country in its World Cup opener against Denmark.
'Quiet Guy'
"He is not someone who bosses people around and yells," Van Marwijk said before the Netherlands' June 24 win over Cameroon. "He is a very quiet guy who has the respect of all the players, and that is very important."
The Netherlands team, which has experienced high-profile internal disputes at previous tournaments, has presented a united front in South Africa. As well as the captain, the coach deserves credit, according to striker Robin Van Persie.
"The manager, he's a winner," Van Persie told reporters after the Brazil game. "We have lots of meetings and he always tells us we have to believe in each other and help each other. Uruguay will be tough opponents but we believe we can do it."
For Van Bronckhorst, who made his international debut in 1996, the squad has the "hunger" and "belief" to give him the chance to lift the World Cup in what would be his last game.
"We are getting closer and closer," he said. "Thinking that two more wins and we're world champions gives you confidence and determination to do it."