China Growth Weakens in Car Sales, Services Industry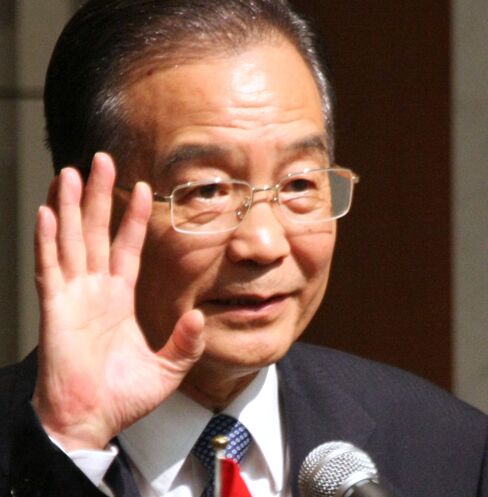 July 5 (Bloomberg) -- China's auto sales grew at a slower pace in June and a services-industry index slid to a 15-month low, adding to signs that the economy leading the world recovery is cooling.
Passenger-car purchases rose 10.9 percent from a year earlier, down from May's 25 percent gain, the China Automotive Technology & Research Center said today. The services-industry measure fell to 55.6 from 56.4, HSBC Holdings Plc and Markit Economics said in an e-mailed statement.
Today's data adds to weaker numbers in June for manufacturing indexes and a second measure of the services industry after the government cracked down on property speculation and as the effects of stimulus measures fade. A slowing economy could lead officials to delay returning to pre-crisis policies.
"It looks like growth will slow to 8 percent in the fourth quarter of this year with risks on the downside," said Paul Cavey, an economist with Macquarie Securities Ltd. in Hong Kong. "The government will be worried" at that point and may loosen policies, he added.
The Shanghai Composite Index fell 0.8 percent to close at a 15-month low, extending this year's decline to 28 percent.
Yuan Forwards
Non-deliverable yuan forwards fell 0.1 percent as of 5:30 p.m. in Hong Kong as investors pared bets for gains against the dollar in the next 12 months. The contracts suggest the Chinese currency will climb 1.5 percent. The yuan fell 0.1 percent to 6.7762 per dollar, snapping three days of gains.
HSBC's purchasing managers' index for services covers more than 400 companies in transport and communication, financial intermediation, business services, computing and information technology, hotels and restaurants.
The latest reading "reflects the effect of property market tightening measures," said Qu Hongbin, a Hong Kong-based economist at HSBC. "This, combined with the moderating manufacturing production, implies the economy is cooling off sequentially."
China, the world's fastest-growing major economy, expanded 11.9 percent in the first quarter from a year earlier, the fastest pace in almost three years. Goldman Sachs Group Inc. last week cut its 2010 growth forecast to 10.1 percent from 11.4 percent.
'Very Complicated'
Baosteel Group Corp., China's second-biggest steelmaker, said today that demand for the metal, including from auto makers, has weakened. Sales of cars, sport-utility vehicles and multipurpose vehicles rose to 839,228 last month, the China automotive center said.
Premier Wen Jiabao reiterated the government will both stay flexible and maintain continuity in setting policy amid "very complicated" situations at home and abroad, in a statement posted on a government website yesterday.
The government focused in the first half of the year on cutting the risk of property-price bubbles, using tools such as increased down-payment requirements, and restraining consumer prices.
"Property market transactions have slowed too much -- the measures have not only stopped speculation but also stopped upgraders and first-time buyers," Macquarie's Cavey said. "So construction will slow and the government will therefore have to backtrack" on some of its tightening policies, he said.
Austerity measures in European economies could also pose a threat to export demand in the second half of this year.
Crisis Policies
China is part-way through exiting crisis policies, after raising banks' reserve requirements, scrapping the yuan's peg to the dollar and setting a reduced target in 2010 for new lending after a record increase in credit in 2009. Benchmark interest rates are yet to rise.
Revised figures released today showed that the nation's current-account surplus was higher than previously estimated in the first quarter, at $53.6 billion, from $40.9 billion reported in May.
Wei Fengchun,a Beijing based economist at China Securities Co., said the economy was coming in for a "soft landing." The government would shift during the second half of the year to tackling long-term challenges such as the gaps between the incomes of rich and poor and urban and rural dwellers, Wei said in an interview.
Meantime, Yin Zhongqing, vice chairman of the National People's Congress's finance committee, said he was concerned that government departments could overreact to any slowdown and over-stimulate the economy, the Economic Observer reported today.
A media report on power usage also pointed to a moderation in China's expansion.
Heavy Industries
June consumption growth eased "sharply" on a high comparison base last year and as demand from heavy industries showed signs of slowing, Shanghai Securities News said, citing energy authorities it didn't name. Demand growth in July and August may also slow "significantly," the newspaper said.
China's property prices will likely see a correction in about three months' time, the Securities Times cited Land and Resources Minister Xu Shaoshi as saying.
Last week, the government's manufacturing index fell more than economists forecast to the lowest level in 16 months, excluding a Lunar New Year-affected February 2010. A non-manufacturing index released by the Federation of Logistics and Purchasing on July 3 slid to 57.4 from 62.7 in May.
To contact Bloomberg News staff for this story: Sophie Leung in Hong Kong at sleung59@bloomberg.net
To contact the editor responsible for this story: Chris Anstey at canstey@bloomberg.net