Biden Urges Iraqis to End Deadlock, Form Government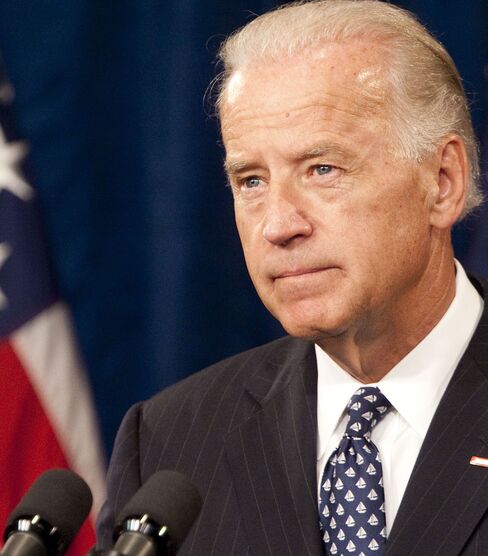 Vice President Joe Biden urged Iraqi leaders to resolve their political differences and speed up the formation of a new government, officials in Baghdad said.
Biden, who traveled to Iraq to celebrate the U.S. Independence Day holiday yesterday with American troops, spent two hours with Ayad Allawi, the former premier whose Iraqiyah bloc won the most seats in the March 7 parliamentary elections, according to a statement posted on the bloc's website today.
Biden didn't present any proposals for ending the deadlock, Iraqiyah said. The group is vying with Prime Minister Nuri al-Maliki's State of Law alliance for the right to name the premier and choose a cabinet. The maneuvering coincides with U.S. preparations to cut its force in Iraq to 50,000 from 86,000 by September, before a full withdrawal next year.
Deputy Prime Minister Rafie al-Issawi and the U.S. ambassador to Baghdad, Christopher Hill, were also present when Biden met with Allawi, according to the statement.
Biden, a former chairman of the Senate Foreign Relations Committee, held talks with other Iraqi leaders including al-Maliki and President Jalal Talabani.
In a statement e-mailed from his office in Baghdad today, Talabani described Biden as "a friend" and said they had discussed ways of "finding a solution."
Under Iraq's constitution, the leader of the largest bloc of lawmakers gets first option to try forming a government. Allawi and al-Maliki, who both claim to lead the largest bloc, met for the second time last week for talks on ending the impasse.
'Meaningful Role'
The Shiite Muslim-led State of Law bloc came second in the elections, garnering 89 seats to the 91 won by Iraqiyah, which was backed by Sunni Muslim and secular voters. The Iraqi National Alliance, also Shiite-led, polled third with 70 seats, and the Kurdistan Alliance came fourth with 43. State of Law merged last month with the INA, securing a total of 159 seats.
All of Iraq's political groups "have to play a meaningful role in this new government for it to work," Biden said on arriving in Baghdad, in a speech released by the White House. "My plea to you is to finish what you started."
Several mortar shells were fired yesterday at the fortified Green Zone that houses government buildings and foreign missions, Agence France-Presse reported. Violence has increased since the elections, though attacks haven't reached the levels of 2006-2007, when Iraq tipped toward civil war.