AgBank Shrinking Discount Makes Record IPO Hard Sell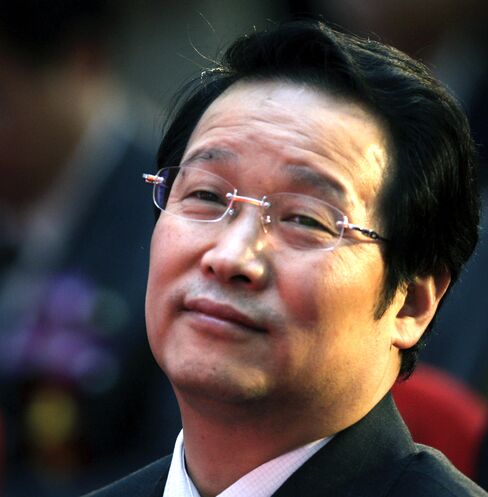 July 5 (Bloomberg) -- Agricultural Bank of China Ltd.'s valuation discount to its closest rivals has more than halved in eight trading days, making the world's biggest initial public offering in almost four years less appealing to investors.
Shares in the Hong Kong part of Agricultural Bank's IPO are valued at an average 4.3 percent less than its three biggest competitors as measured by book value, based on the top end of the IPO price range and data compiled by Bloomberg. When the bank priced the offering on June 24, the gap was 10.5 percent.
The narrowing discount, the result of a drop in shares of publicly traded rivals such as Industrial & Commercial Bank of China Ltd., may make it harder for Chairman Xiang Junbo to raise the maximum $20.1 billion he's seeking in Hong Kong and Shanghai. It might also dim the prospect of eclipsing ICBC's record $21.9 billion IPO in October 2006, even when taking into account an option to boost the sale by 15 percent.
"We're not in an environment where people are going to be blasé about valuations, and as things have sold off, it's put some pressure on them," said William Fries, a fund manager at Santa Fe, New Mexico-based Thornburg Investment Management, which oversees about $57 billion.
Beijing-based Agricultural Bank, China's biggest by number of customers, expects to set a final IPO price on July 7. The company is also selling stock in Shanghai.
Valuations
ICBC, the world's largest bank by market value, exercised an option to expand its IPO after listing to meet excess demand. Without the so-called overallotment, the sale would have raised $19 billion. Agricultural Bank can increase its IPO to as much as $23.1 billion.
"Investors were very enthusiastic about our share sale, and the booked demand has been very strong," Agricultural Bank President Zhang Yun said today in remarks broadcast over the Internet. "We're very confident with the IPO and listing."
Agricultural Bank is offering 25.4 billion shares in Hong Kong at HK$2.88 to HK$3.48 apiece, representing 1.55 to 1.79 times 2010 book value as estimated by the IPO's underwriters.
Hong Kong-traded shares of ICBC, Construction Bank Corp. and Bank of China Ltd. have lost an average 5.9 percent since June 24, trimming valuations to 1.87 times estimated book value, data compiled by Bloomberg show.
'A Test'
Agricultural Bank may be able to sell the Hong Kong shares for at least HK$3.3, or 1.7 times forecast book value, according to Jonathan Siu, an analyst at Core Pacific-Yamaichi International (HK) Ltd. That price would allow the bank to raise as much as $19.5 billion before the overallotment.
Xiang is taking his bank public after almost 50 companies worldwide shelved IPOs in the past three months amid concern that the end of government stimulus and widening budget gaps from Greece to Spain will curb the global economic recovery, data compiled by Bloomberg show.
The Hang Seng China Enterprises Index, which includes shares of ICBC, Construction Bank and Bank of China, has fallen for nine straight days, the longest losing streak since 1996.
"Markets have been quite volatile and this is a test for them," Simon Yuan, head of financial institutions for Greater China at Credit Suisse Group AG, said at an investment banking conference in Singapore today. "It's a question of the price that will be finally set but I'm quite sure it's a deal that will be pulled off successfully."
Credit Suisse isn't among the IPO's arrangers.
Rivals' Fundraising
Domestic rivals are also competing for investors' cash. Bank of China, the nation's third-largest by market value, said July 2 it plans to raise as much as 60 billion yuan ($8.9 billion) in a rights offer to replenish capital.
Construction Bank last month won shareholder approval to raise as much as 75 billion yuan in a rights offer.
"With Bank of China's share placement and then CCB's, AgriBank should be willing to leave some profit on the table," said Claude Tiramani, who manages $50 million at Lutetia Capital in Paris. "So I wouldn't be expecting the shares to be priced at the top end of the range."
Agricultural Bank is selling 22.2 billion shares in Shanghai at 2.52 yuan to 2.68 yuan each, implying a price-to-book ratio of 1.56 to 1.65 times for that tranche, according to Hong Yuan Securities Co.
Shanghai Gap
At the top end, the valuation matches the average for ICBC's, Construction Bank's and Bank of China's Shanghai shares. It was at least 4.1 percent cheaper when the range was set.
Yuan-denominated equities traded on the Shanghai and Shenzhen bourses, which are only partially open to foreign investors, are commonly referred to as A shares. Chinese-incorporated companies listed in Hong Kong are called H shares.
"Agricultural Bank will probably be able to price its A share offering at top end of the range, but I doubt they can do the same with the H shares," said Jenny Cai, a portfolio manager at Beijing-based Springs Capital, which oversees $300 million.
To contact Bloomberg News staff of this story: Luo Jun in Shanghai at jluo6@bloomberg.net
To contact the editor responsible for this story: Philip Lagerkranser at lagerkranser@bloomberg.net