U.S. Stocks Drop as Jobs, Factory Data Signal Slowing Recovery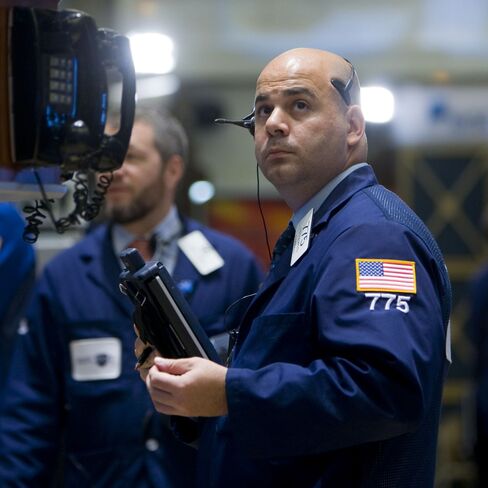 U.S. stocks dropped, giving the Dow Jones Industrial Average its longest losing streak since the 2008 financial crisis, on concern the economic rebound is slowing after companies added fewer jobs than estimated and factory orders slumped.
General Electric Co., Caterpillar Inc. and Bank of America Corp. lost at least 1.2 percent to lead the Dow to a seventh straight decline. Equity Residential, the largest publicly traded U.S. apartment landlord, slumped 2.4 percent after Citigroup Inc. downgraded the shares. Airlines retreated while drugmakers rallied on takeover speculation.
The S&P 500 slipped 0.5 percent to 1,022.58 at 4 p.m. in New York, its lowest close since Sept. 4 and its fifth consecutive retreat. The Dow decreased 46.05 points, or 0.5 percent, to 9,686.48.
"The word that jumps into my mind about the sentiment of the market is 'guarded,'" said Hugh Johnson, who oversees $1.85 billion as chairman of Albany, New York-based Johnson Illington. "Many of us believe the stock market is undervalued or cheap based on a reasonable estimate for earnings, but the market is sending a message, and the message is that our estimates for the economy and earnings may be way too optimistic."
The S&P 500 fell 5 percent this week as slowing growth in manufacturing, an unexpected jump in jobless claims and a slump in home sales fueled concern the economic recovery was faltering. Today's 83,000 increase in private payrolls trailed the median estimate in a Bloomberg News survey for 110,000. Factory orders fell 1.4 percent in May, a separate report showed, almost three times as much as forecast.
Biggs Sells
Barton Biggs, whose purchase of stocks in March 2009 gave Traxis Partners LLC a 38 percent gain last year, said concern the economy is about to contract spurred him to sell almost all his U.S. technology shares this week.
Biggs said he reduced the proportion of bullish bets in his hedge fund by up to 40 percentage points on speculation the withdrawal of government spending will turn a "soft patch" into a recession. On June 29, Biggs said long investments made up 70 percent of his fund's holdings.
"I've changed my mind," Biggs said in an interview. "I'm not wildly bearish, but I don't want to have a lot of risk at this point."
The S&P 500 trimmed losses late in the session, before resuming its retreat, as gains in health-care and telephone companies helped the market recover from an earlier slump spurred by concern the economic rebound is slowing.
Shorts Covering
"The rally was just people covering short positions for the week, nothing more," said Jason Weisberg, director of institutional trading at Seaport Securities Corp. in New York. "It's on low volume ahead of the long weekend."
Equity Residential slumped 2.4 percent to $40.67, helping lead real-estate companies in the S&P 500 down 2.1 percent, for the biggest loss of 24 industries. The shares were cut to "sell" from "hold" at Citigroup, which said residential and self-storage real-estate stocks are expensive compared with growth prospects.
Airlines slumped, with Continental Airlines Inc. retreating 9.3 percent to $20.10. The carrier had its second-quarter earnings estimate reduced by Solebury Research LLC analyst James Higgins after Continental yesterday said June revenue from each seat flown a mile increased 22 percent, falling short of Higgins's 27 percent estimate.
LaGuardia
Delta Air Lines Inc. fell 5.9 percent to $11.03 and US Airways Group Inc. lost 5.3 percent to $8.19. The carriers won't pursue a swap of slots in New York and Washington, the companies said today in a U.S. Transportation Department filing, and will challenge in federal court a U.S. requirement that they give rivals more access to flights at LaGuardia Airport in New York and Ronald Reagan Washington National Airport.
Allergan Inc., Genzyme Corp. and Biogen Idec Inc. posted the biggest gains in the S&P 500, rising more than 5.7 percent, after five people with knowledge of the situation said Sanofi- Aventis SA, France's biggest drugmaker, is preparing a major acquisition in the U.S.
Allergan, which sells the Botox wrinkle smoother, climbed 7.2 percent to $62.29. Biogen, the largest maker of multiple-sclerosis treatments, advanced 5.8 percent to $49.42. Genzyme, the biggest maker of drugs for rare genetic diseases, rose 5.9 percent to $52.80.
Blockbuster Inc. tumbled 23 percent to 18 cents, after sinking to 15 cents earlier, the lowest intraday price since March 2009. The money-losing video-rental chain said the New York Stock Exchange informed the company it will begin the process of delisting its common stock. Shareholders rejected a proposal for a reverse split of the shares needed to boost the price and comply with the exchange's listing requirements.
Before it's here, it's on the Bloomberg Terminal.
LEARN MORE