Maradona Nude Streak Won't Secure Kirchners' 2011 Win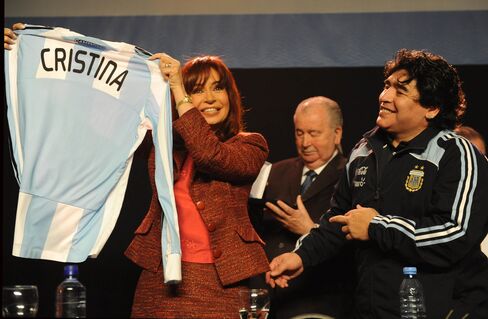 A World Cup championship for Argentina would mean more than a third title for the South American country and a victory lap run naked by soccer idol Diego Maradona. With an election due next year, it could boost the popularity of President Cristina Fernandez de Kirchner -- temporarily.
"There's a strong link between politics and soccer," said Rosendo Fraga, a political analyst who runs Nueva Mayoria, a polling company in Buenos Aires. "Winning a World Cup has political effects, but they last weeks or months."
Maradona, who as a player led Argentina to its second world title in 1986, is overcoming criticism of his coaching abilities by Buenos Aires newspapers including La Nacion and Ole. While Argentina barely qualified for the tournament, it advanced to play Germany in tomorrow's quarterfinal. If the team wins the cup, Maradona pledged in an interview aired by Radio Metro in May, he will jog naked through downtown Buenos Aires.
Fernandez, 57, and her husband and predecessor Nestor Kirchner, 60, may have more difficulty surviving criticism of their policies, which have slowed investment and pushed inflation above 20 percent. Investors betting on a change of government have no need to be concerned that any post-World Cup popularity surge would last long enough for one of the Kirchners to win election in 2011, said Siobhan Morden, a debt strategist with RBS Securities Inc. in Stamford, Connecticut.
"You can have spasms of patriotism, as you did for the bicentennial, but that's not going to carry them" to re-election, Morden said in a telephone interview this week. In May, Argentina celebrated the 200th anniversary of the revolution that shook off Spanish rule.
Higher Yields
Argentine debt probably will gain as investors with an abundance of cash created by expansive monetary policies worldwide pursue higher yields, Morden said. Policy reforms by a new government, such as reducing utility and transportation subsidies and ending underreporting of inflation, could boost gains, she said.
The yield on benchmark 7 percent dollar bonds due in 2015 has risen 225 basis points, or 2.25 percentage points, this year to 13.04 percent, as the European debt crisis sapped demand for higher-yielding emerging-market debt. The price has fallen 6.48 cents to 79.4 cents on the dollar.
Television Rights
Fernandez has taken steps to help Argentines view their favorite sport. In the months before the World Cup, she gave away almost 1.2 million digital cable-television decoders to provide access to high-definition coverage of matches on free government channels.
Last year, she secured the television rights to transmit Argentine Soccer Federation games for free after the league broke an existing contract with cable providers.
"We're taking a big step in the democratization of Argentine society," Fernandez said at a ceremony last August in Buenos Aires alongside Maradona, 49. She likened pay-per-view soccer matches to "kidnapping" goals, "like they kidnapped and disappeared 30,000 Argentines" during the seven-year military dictatorship that began in 1976.
When Argentina hosted the 1978 World Cup, junta leaders cheered from the stands. After the national team's 3-1 win over Holland in the final, crowds poured onto the streets to celebrate.
Popular Support
"The dictatorship considered the organization of the event and the possibility of an Argentine triumph as something that would ease tensions, and hoped to benefit from it," said Mario Toer, 66, a University of Buenos Aires professor, who spent more than five years as a political prisoner and followed the tournament through detainees who were allowed to watch news. "They succeeded in easing tensions, but only for a short time."
Fernandez and her husband, both of whom are eligible to run in next year's election, are counting on a triumph in South Africa to revive popular support, though neither has a chance of winning, said Jorge Giacobbe, who runs Buenos Aires-based polling company Giacobbe & Asociados.
"They think that a cheerful society will vote for them, but the Kirchners' cycle is over," Giacobbe said in a June 29 telephone interview. "The government is worried, if not desperate to improve its relationship with society, and it grasps any opportunity. It was the bicentennial celebrations in May and now it's the World Cup."
Presidential spokesman Alfredo Scoccimarro didn't respond to phone calls placed this week to his cell phone, office and e-mails seeking comment.
Farm Conflict
Higher inflation and a conflict with farmers over an increase in export taxes led Fernandez to lose her majority backing in both houses of Congress in June 2009 midterm elections. Even so, she overcame congressional resistance this year to her plan to tap central bank reserves to pay debt and to her firing of the central bank president, Martin Redrado.
Confidence in the government rose 1.3 percent in June from May to 1.61 points, on a scale of zero to five, after climbing 14.4 percent the previous month, according to a poll by Buenos Aires-based Poliarquia Consultores. Since the 2009 election, voter confidence has climbed 20 percent. The poll of 1,200 people, conducted June 2 to June 11, had a margin of error of 3.2 percentage points.
Voter satisfaction is closely tied to economic growth and inflation, and another term by one of the Kirchners could occur if they improve, said Daniel Kerner, an analyst at Eurasia Group, in a telephone interview this week from New York.
Argentina's economy expanded in the first quarter at the fastest annual pace since 2008, growing 6.8 percent from a year earlier, according to government statistics.
Growth Forecast
RBS this week lifted its forecast for 2010 growth to 7 percent from 4.4 percent, citing the likelihood that Fernandez will fuel consumption ahead of the election.
Fast growth, bolstered in part by rising demand for Argentina's soybeans and grains as the world economy recovers, will push inflation above 25 percent this year, RBS economist Boris Segura wrote in a June 30 report.
Government inflation data has been questioned by economists and politicians including Vice President Julio Cobos since January 2007, when Kirchner began changing personnel at the National Statistics Institute. Morgan Stanley and RBS estimated that 2009 inflation was about double the 7.7 percent the government reported.
Any euphoria generated by a third soccer title would soon be forgotten as rising prices eat into household budgets, said Hugo Godoy, a leader of the union that represents state workers.
Wave of Strikes
Employees of Buenos Aires province, who won a 17 percent pay rise earlier this year, want to reopen negotiations to lift the increase to 30 percent to offset inflation, Godoy said in a telephone interview from the provincial capital of La Plata. If the demand isn't met, a wave of strikes will occur this year, he said. The province is home to more than a third of all Argentines.
While workers would enjoy the spectacle of Maradona's naked jaunt, World Cup victory won't sway their votes, he said.
"Manipulation of such events is nothing new," Godoy said. "The people aren't stupid and they will demand what they are due."
Before it's here, it's on the Bloomberg Terminal.
LEARN MORE