Toyota May Shift Some Japan Car Output to Thailand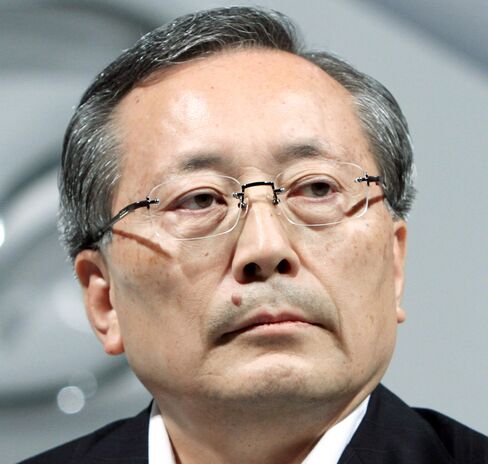 Toyota Motor Corp., the world's biggest carmaker, may move production of some cars to Thailand, reducing its reliance on Japanese factories.
"We are starting consulting with Toyota Motor Japan, but things are not finalized yet," about moving some production to Thailand, Kyoichi Tanada, president of Toyota Motor Thailand Co., said in an interview in Bangkok. He declined to say which models are being considered and said a final decision may take as long as two years.
Automakers including Nissan Motor Co. and Ford Motor Co. are moving production to Thailand as manufacturing costs rise in other regions. Nissan plans to produce 90,000 March compact cars in the Southeast Asian nation this year, the company said yesterday. Ford, which has cut its U.S. workforce 47 percent since 2006, plans to make its Focus model at a new $450 million factory in Thailand by 2012.
Toyota, the largest automaker in Thailand, assembles its one-ton Hilux Vigo pickup truck and Fortuner sport-utility vehicle in the country for export. Lower costs and a strong supplier base are among Thailand's advantages, Tanada said.
The automaker, whose Vios is the best-selling car in the country, has raised its sales forecast for Thailand to 270,000 vehicles this year from an earlier estimate of 250,000, as the nation's economy recovers following the global recession, Tanada said.
Thai Success Story
"Thailand is the success story of Southeast Asia," said Tim Armstrong, Paris-based managing director at consulting company IHS Global Insight. "They've got the right policies to attract carmakers."
Toyota fell 1.1 percent to 3,045 yen in Tokyo at 12:56 p.m. in Tokyo. The benchmark Nikkei 225 Stock Average dropped 2.1 percent.
A stronger Japanese currency makes exports from Japan less competitive. It also increases the attractiveness of other nations, such as Thailand, as production sites. The yen today advanced to 88.08, its highest since May 6. The currency rose to 107.32 per euro on June 29, the strongest since November 2001.
Auto output in Thailand doubled in the first five months of the year, and the Finance Ministry raised its 2010 economic growth forecast for the second time in three months yesterday as soaring exports offset the impact of recent political unrest.
Mazda Motor Corp. has not been able to produce vehicles quickly enough in Thailand to meet demand, Chief Executive Officer Takashi Yamanouchi said today.
550,000 Vehicles
Toyota, which operates three assembly plants in the nation, has the capability to make up to 550,000 vehicles each year there, according to its website.
The carmaker, based in Toyota City, Japan, has no immediate plans to roll out a new car under the country's eco-car program. Under the scheme, which benefits Nissan's March, Thailand's government offers tax incentives for carmakers that produce small and fuel-efficient cars.
Toyota is taking a wait-and-see approach and won't take part in the program in the next three years, Tanada, 55, said.
The carmaker will increase its focus on selling hybrids in Thailand, Tanada said. Toyota, which offers a hybrid version of its Camry sedan in Thailand, plans to introduce a new gas-electric model soon, he said without elaborating.
Toyota aims to cut production capacity in Japan by about 20 percent within five years as it shifts output to other countries, particularly emerging markets, the company said on May 12.
The carmaker plans to reduce domestic capacity to about 3.2 million vehicles by 2015 from 3.9 million currently, company spokeswoman Ririko Takeuchi said.
'New Concept Vehicles'
Factories in Japan will specialize in "new concept vehicles," cars with new technology and innovative low-cost production systems, Executive Vice President Atsushi Niimi said.
Nissan, Honda Motor Co. and Ford have also built plants in Thailand, Southeast Asia's second-biggest economy, as a global economic recovery boost exports and domestic demand grows in the nation of 67 million people. Automakers may produce a record 1.6 million vehicles in the country this year, 60 percent more than in 2009, according to Kasikorn Research.
"Everything the government has done to facilitate investments has done great results," Nissan's Chief Executive Officer Carlos Ghosn said yesterday. "Thailand is a big export country for all the car industry, and the cars exported from Thailand are extremely competitive in the world car market."