Steak Chef Sharpens Knives in City Restaurant After Honeymoon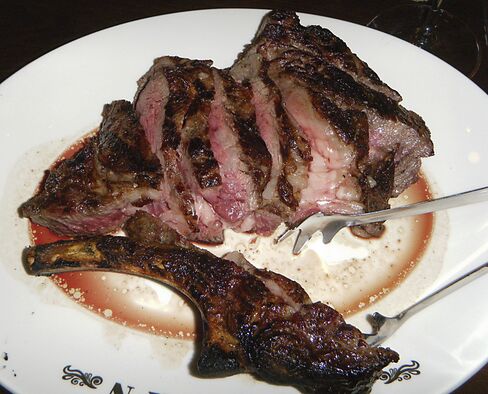 John Cadieux got married in Canada a few weeks ago.
It was a short honeymoon.
"I had a big delivery of meat coming on the Friday, so I had to get back in time for that," said Cadieux, 36, head chef at Goodman, the London steak house that has been packing in carnivores since opening in Mayfair in November 2008.
Now, a second branch is taking shape in the City financial district, and Cadieux is focused on the challenge.
The restaurant, on Old Jewry, will feature an open kitchen and a meat store in the dining room so that diners will get a little theater along with their rib eye, fries and creamed spinach. Opening is currently scheduled for Aug. 2.
"People ask me a lot what's my favorite steak, and I would say a good piece of meat would be the best answer," Cadieux said as he displayed different cuts in the basement kitchen of the original restaurant. "Sometimes, I like the grain-fed because it's got less of a chew but lots of juice. But then you can't get away from a nice dry-aged English piece of meat that has a lot of fat on it and a good chew on it as well."
Cadieux was born in Ottawa and previously worked for five years in Whistler, British Columbia. Was he surprised when he first came to London and found how much Britons enjoyed steak?
"Yes I was," he said. "People were ordering 700, 800, 900 grams. We had a fellow in last week he had a 2.2 kilo (4.9 pound) porterhouse. It took him about an hour and a half to eat. And he wants a picture of himself on the wall and if anyone eats more than him, he'll buy it for them."
Hawksmoor, Maze
"We were lucky when we opened: There weren't that many steak houses in town. There was Hawksmoor, a very good steak house, Maze Grill and then the chain steak houses like Gaucho and Aberdeen. We weren't really going for that market," he said.
Given Goodman's big cuts of American meat and an authentic New York-influenced menu, you might be forgiven for not knowing that this is a Russian company, with branches across Moscow. About 30 percent of customers in London are American, Cadieux said, and most diners are male, particularly in the evening.
"At night, it's very male dominated," he said. "But the women that do come in here are very, very confident, very comfortable in that environment so you'll have them ordering the shots and them ordering the big steaks sometime so they know what they're getting into when they come here."
City, Economy
How has the economic slowdown affected Goodman? Is Cadieux nervous about opening in the City at this time?
"We haven't really felt it because this meat costs a lot and it is fair value," he said. "We've never asked anyone to pay for a steak they didn't enjoy. The City will be a very different crowd, a very busy crowd. Mayfair's a universe unto itself. In the City, we're going to have a larger bar and a private area. I'm looking forward to the City."
The romantics among you may be pleased to hear that Cadieux has managed to spend plenty of time with his new wife, Justyna Rezla, who comes from Belchatow, in central Poland.
She works in the restaurant.
Goodman, 26 Maddox Street, London, W1S 1QH. Information: +44-20-7499-3776 or click on http://www.goodmanrestaurants.com/.
Goodman, 11 Old Jewry, London, EC2R 8DU.
(Richard Vines is the chief food critic for Muse, the arts and leisure section of Bloomberg News. Opinions expressed are his own.)
Before it's here, it's on the Bloomberg Terminal.
LEARN MORE