Fujimori Nostalgia in Peru Fuels Daughter's Candidacy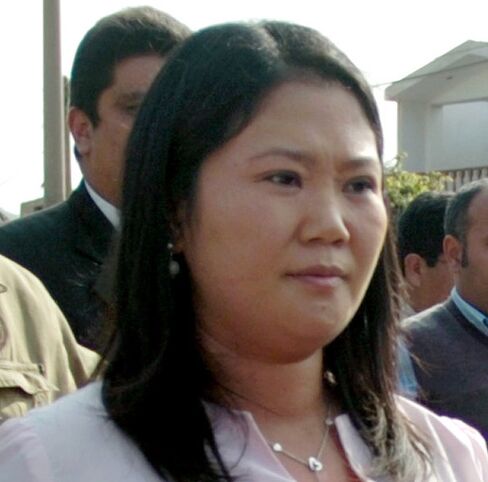 Keiko Fujimori, a contender in Peru's 2011 presidential race according to polls, travels to a prison outside Lima every week for campaign advice from an inmate with political experience: her father.
Former President Alberto Fujimori was sentenced to 25 years in jail in 2009 for human rights violations committed by government-linked death squads. Nostalgia for his role stabilizing the economy and defeating Maoist guerrillas helped push his daughter into first place in a recent poll even though the first-term congresswoman comes from a new political party.
"My father's advice is always to visit the towns to feel what the people need," Fujimori, 35, said in an interview from her home in Lima alongside her 8-month baby girl Kaori. "During my father's government people felt the state was their ally -- now they feel forgotten."
While investors are wary of Fujimori's inexperience, lack of policy detail or the risk she may follow in her father's authoritarian footsteps, they're more concerned with thwarting Ollanta Humala, an ally of Venezuela's Hugo Chavez, said Miguel Palomino, head of the Peruvian Institute of Economics. Humala lost the presidency by five percentage points in 2006.
"There's no doubt Keiko would pursue her father's policies to promote a free-market," Palomino said in a phone interview from Lima. "Humala represents uncertainty -- we don't know what policies he would set in place."
The cost of protecting Peruvian bonds against non-payment for five years tumbled 46 basis points, or 0.46 percentage point, to 131 in the past year, according to data compiled by CMA DataVision. Credit-default swaps for Brazil, whose debt shares Peru's Baa3 rating by Moody's Investors Service, fell 37 basis points in the same period.
Outsider Status
With 10 months to go before Peruvians elect President Alan Garcia's successor, Fujimori had 22 percent support in a poll taken June 16-18 by Ipsos Apoyo, compared with 18 percent in May. Lima mayor Luis Castaneda had 21 percent, while Humala is in third place with 13 percent in the poll of 1,200 people, whose margin of error is plus or minus 2.8 percentage points.
Fujimori says her 2011 Force party can defeat Humala in the Andean highlands where his support is strongest. Like her father, her minority status as a descendent of Japanese immigrants endears her to millions of indigenous peasants who haven't benefited from 11 years of uninterrupted economic growth, she said.
"Indigenous Peruvians feel like outsiders too," said Fujimori, who became first lady at the age of 19 following her parents' divorce. "They hear the country is growing a lot, but they don't see the benefits in their community."
Peru's economy expanded 9.3 percent in April, and the International Monetary Fund forecasts it will grow 6.3 percent this year, the most in the Western Hemisphere. In 2008, Peru won its first ever investment-grade rating. The sol has strengthened 15 percent against the dollar since Garcia took office in July 2006, and the Lima General Index has gained 60 percent.
Not a Radical
Unlike Humala -- who led an uprising against Alberto Fujimori in 2000 and in his 2006 campaign threatened to renegotiate contracts with foreign mining companies -- Keiko Fujimori says she won't take Peru down a ''radical'' path that scares away investment.
Still, her ''candidacy raises questions among the middle class about whether what has been gained will be lost,'' said Michael Shifter, president of the Inter-American Dialogue, a Washington policy institute.
First Lady at 19
Fujimori was elected to Congress in 2006 with more votes than any winning candidate. Her legislative experience and an MBA from Columbia University in New York -- where she met her American husband Mark Villanella -- qualify her to assure Peru develops and reduces poverty like Brazil has under President Luiz Inacio Lula da Silva, she said.
Memories of her father delivering clean water and electricity to remote corners of the country during his 1990 to 2000 tenure are drawing voters, said Julio Carrion, a Peruvian-born professor of politics at the University of Delaware in Newark.
"She's running on her family name rather than her record," said Carrion, the author of "The Fujimori Legacy: The Rise of Electoral Authoritarianism in Peru."
Fujimori as president cut inflation from 7,650 percent to 3.5 percent, floated the currency and sold off hundreds of money-losing state companies. He also put an end to the Shining Path, a Maoist insurgency that controlled more than half the countryside.
Five days after shutting down Congress in April 1992, his approval rating surged to a record 81 percent from 53 percent the previous month, according to Ipsos data.
Resignation Via Fax
His rule started to unravel in September 2000 when his intelligence chief, Vladimiro Montesinos, was caught on videotape bribing opposition lawmakers. Two months later, El Chino, as Peruvians liked to call their president, submitted his resignation by fax from Tokyo.
After returning from exile to Chile in 2005, he was arrested and became Peru's first former leader to be extradited and imprisoned. In January, the Supreme Court upheld his conviction for ordering a paramilitary squad to carry out the killings of suspected rebel sympathizers.
Fujimori's appeal is broader than her father's loyal base, said Shifter. After previously vowing to pardon her father if elected, she now says she will wait for the Constitutional Court to rule on an appeal before deciding.
"There isn't just a groundswell of support for her father," said Shifter, who worked in Lima for the Ford Foundation when Fujimori was first elected. "If she didn't have real political talent she wouldn't be doing so well."